45 Tasty Coconut Recipes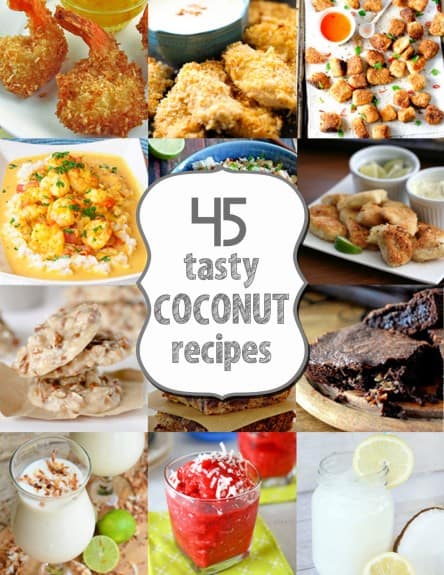 Hey friends! A few weeks ago I shared all these amazing Lime recipes that I have been loving and craving and Lisa shared her favorite Lemon recipes! What can we say? Our tastebuds are craving summer flavors, so today I am sharing some Delicious Coconut Recipes! I am telling you, all these yummy flavors have gotten me so excited for warm weather and I am ready to plant flowers in my pots, go swimming and on evening bike rides! Anybody else with me?
Ahhh coconut! Why are you seriously so good? I have never found a recipe that I feel would be better without coconut in it! It really does make everything SO MUCH BETTER!
Here are some of my favorite meals, drinks and desserts that have coconut in them! Enjoy!

Coconut Shrimp | Crispy Coconut Chicken | Coconut Crusted Salmon Bites

Coconut Salmon | Coconut Milk Hawaiian Haystacks | Thai Coconut Chicken Curry

Noodles in Coconut Sauce | Coconut Lime Chicken | Coconut Crusted Chicken w/ Mango Salsa

Coconut Shrimp Curry | Thai Cashew Rice Salad | Coconut Crusted Mahi Mahi

Banana Coconut Breakfast Bowl | Coconut Cream French Toast | Coconut Pecan Breakfast Bars

Coconut Lime Rice | Coconut Pineapple Rice | Jamaican Red Bean Rice

Coconut Curry Cauliflower | Coconut Creamed Spinach | Brazilian Sticky Rice

Mango Sticky Rice | Coconut Cream Pie | Coconut PB No Bake Cookies

Coconut Cream Pull Apart | Coconut Cream Cake | Coconut Toffee

No Bake Praline Pecan Cookies | Magic Bars | Coconut Pecan Brownies

Coconut Lime Dipping Sauce | Pina Colada Dipping Sauce | Coconut Syrup

Coconut Limeade | Dirty Dr. Pepper | Frozen Coconut Limeade

Creamy Tropical Smoothie | Coconut Raspberry Slush | Lemon Coconut Italian Soda

Coconut Hot Chocolate | Pina Colada Floats | Coconut Milk Yogurt

Coconut Water | Sonic Ocean Water Copycat | Pina Coladas
Pam Dana
I am a wife and mom that is over the moon for family, traditions and fun! I love to share lots of printables, DIY's, kids activities and my families favorite recipes! I am married to my husband, Scott, and we have 3 beautiful children and together they are my world!