Easy DIY Eyeball Halloween Wreath
Hey guys! It's Kari here, from Life PreKARIous. I'm so excited to show you guys this fun eyeball Halloween Wreath!
Halloween is my absulote favorite time of year. Some of my spooky decorations have been out for almost a month, but now that October is finally here, I'm going all out…starting with this Halloween wreath!
Here's what I used to make my eyeball wreath:
wreath or wreath form
feather trim or boa
platic eyeballs
burlap for bow
hot glue and gun
I already had a plain grapevine wreath on hand, so that's what I used. A styrofoam wreath form would work great too.
First, I simply wrapped the feather trim around the wreath. I used hot glue to secure the feathers to the wreath. I just used one small dot of glue each time I wrapped the feathers around. You may need more glue if you are using a styrofoam wreath form to keep the feathers from sliding. The grapevine wreath kept the feathers in place really well without a lot of glue.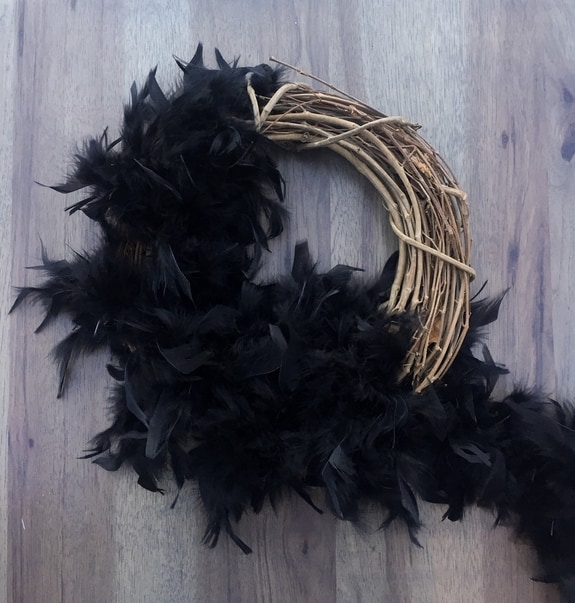 I left about three inches of the wreath bare. This is where I attached the bow.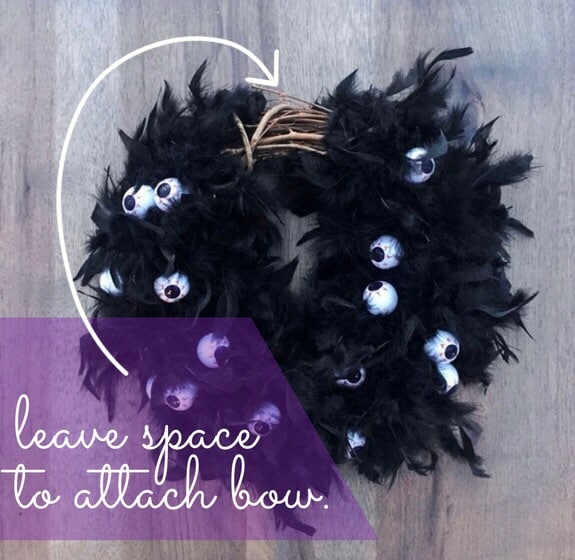 Once the wreath was wrapped in feathers, I attached the eyeballs using hot glue. This works best if you hold the feathers to the side and glue the eyeballs directly to the wreath instead of on top on the feathers.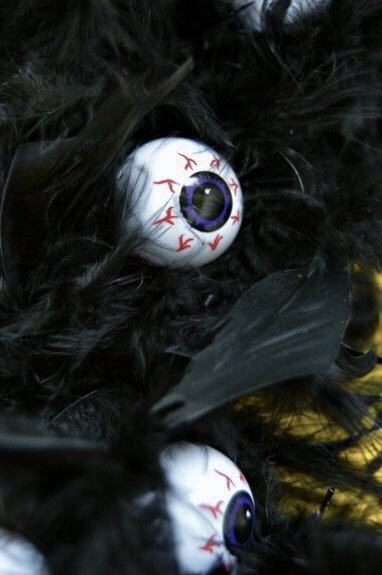 To finish it off, I added a big burlap bow. Again, I used hot glue to attach the bow to the wreath.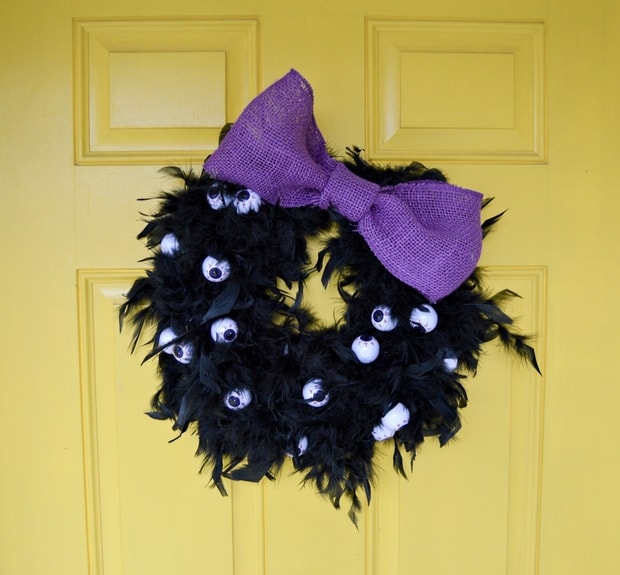 I am SO happy with how it turned out! Head over the Life PreKARIous to see all the other fun Halloween stuff I'm working on, inluding a bunch of Halloween Printables and some eyeball cookies!
XOXO
-Kari
Kari | Life PreKARIous
Hi, I'm Kari! I'm a wife, mother of two, and craft supply addict. I could eat pizza for every meal of every day! My hair color changes about as often as well…you know, and I laugh at my own jokes. I'm a yard sale junky, mess maker, and a really good project starter. I blog, when all the stars align and nap time permits, at www.lifeprekarious.com!