Hungry Thanksgiving Turkey – Idea & Printable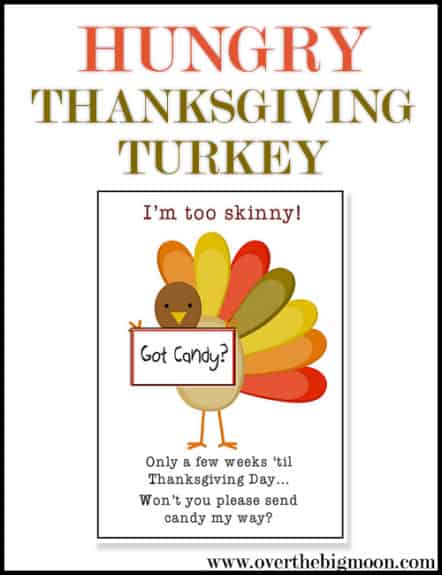 Each year, after Halloween, one of my favorite traditions is putting candy out for the Hungry Thanksgiving Turkey! I love Halloween, but I do not love the crazy amounts of candy that my kids collect. I try to be a nice mom and let my kids enjoy a few pieces of candy each day for about a week, but then I just can't handle it around anymore! So, I stick to this tradition to help me get rid of most of it! I know your family will love this Hungry Thanksgiving Turkey Printable too!
Like I said before, we usually do this like a week after Halloween. That way they've had a week to enjoy their bag handing around and eat there favorites. Then we have the Hungry Thanksgiving Turkey stop by and leave his printable plea for candy! I've delivered it a few different way – on the doorstep, in the mail, door bell ditched, etc!
Then, I let them go through and choose one piece of candy per day for the rest of November. Then, all the rest of it, they give to the Hungry Thanksgiving Turkey!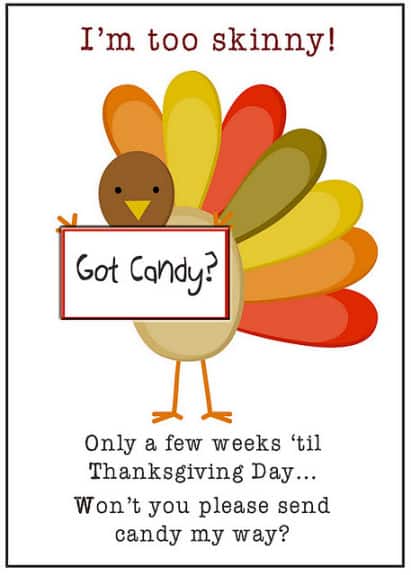 I hope you guys enjoy this idea as much as I do! Have a great Thanksgiving!
Pam Dana
I am a wife and mom that is over the moon for family, traditions and fun! I love to share lots of printables, DIY's, kids activities and my families favorite recipes! I am married to my husband, Scott, and we have 3 beautiful children and together they are my world!