Oreo Apples from Kinna's Kreations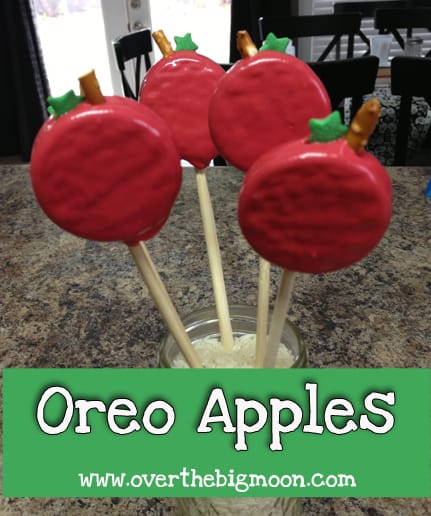 Hi! I am McKinna, from Kinna's Kreations & just LOVE to decorate cakes, cupcakes, cake-pops, etc! I have been baking and decorating since 2010, & have LOVED every project & challenge I have been given! Please head on over to
my blog
& check out the other Kreations I have done!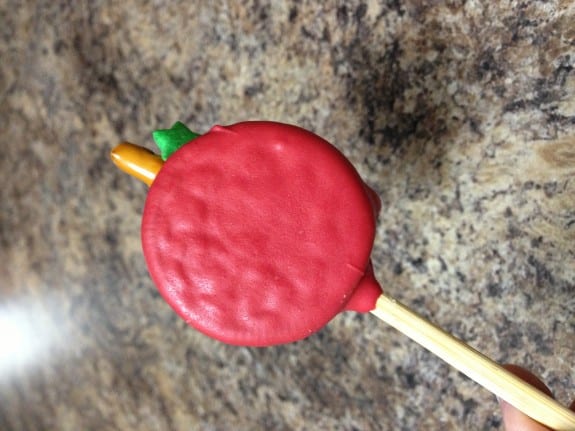 Needed:
Red Melting Chocolate
Pretzel Sticks, broken up
Any kind of green sprinkle to resemble a leaf – I just used a star for these ones!
& of course, OREO'S!
Directions:
Melt your chocolate according to package. Carefully separate the Oreo's. Dip the tip of the stick into the red chocolate, place stick on the crème in the center of the Oreo and then replace its other half; pressing down firmly. Let dry. Have your broken pretzel pieces & green sprinkle ready! Dip the Oreo all the way in the chocolate, making sure to cover it all! Gently shake off the excess chocolate; turn upright and attach the pretzel piece & green sprinkle. Stand to fully dry. I just use a jar full of rice & the sticks stayed perfectly in there! When dry – bag it and bow it and then you're done!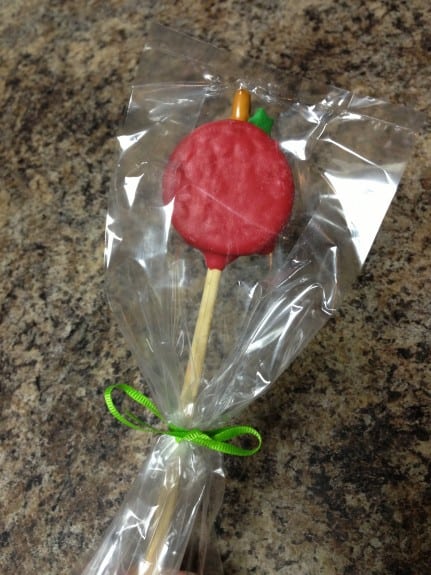 **Thanks McKinna for sharing your talent with us! Can't wait to try these for Nathan's teacher!
Want to keep up with us at Over the Big Moon….click here to learn how to subscribe!
Pam Dana
I am a wife and mom that is over the moon for family, traditions and fun! I love to share lots of printables, DIY's, kids activities and my families favorite recipes! I am married to my husband, Scott, and we have 3 beautiful children and together they are my world!