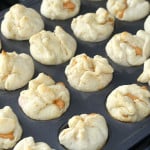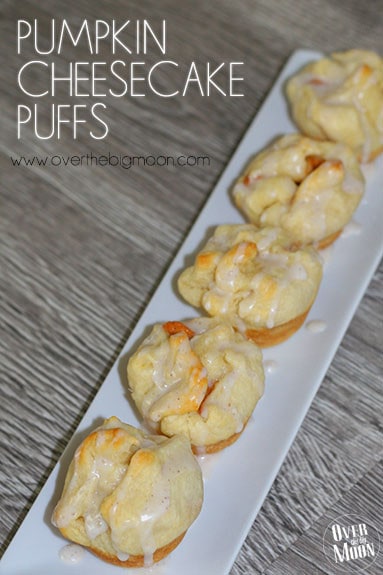 I am getting excited for Fall you guys! I was chatting with a friend about how ready I am for the cooler weather and all the fun Fall traditions we do each year and somehow (shocker!) it transitioned into our favorite Fall desserts! I couldn't help but go to the store later that day for some Pumpkin Puree, so I could make one of my favorites – Pumpkin Cheesecake Puffs! This is my go to Fall dessert when I'm wanting something that is a little less heavy!
To get started make your Pumpkin Cheesecake Filling! Take 8 oz of softened cream cheese (make sure it's softened), 1 cup Pumpkin Puree, 1/2 cup powdered sugar, 1 1/2 tsp pumpkin pie spice and 1/2 tsp vanilla and combine it together using a hand mixer!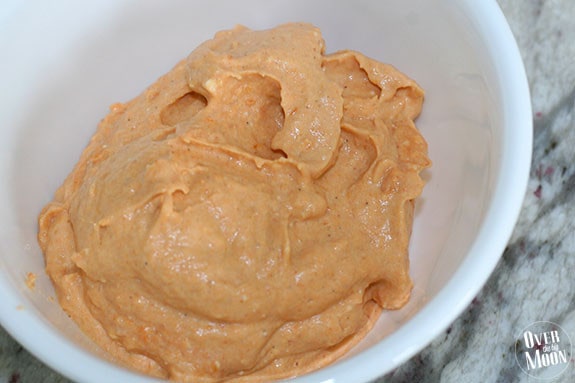 Next get a mini cupcake pan and grease all the spots! Each mini cupcake pan has 24 spots, so you'll need two tubes of crescent rolls to have enough dough.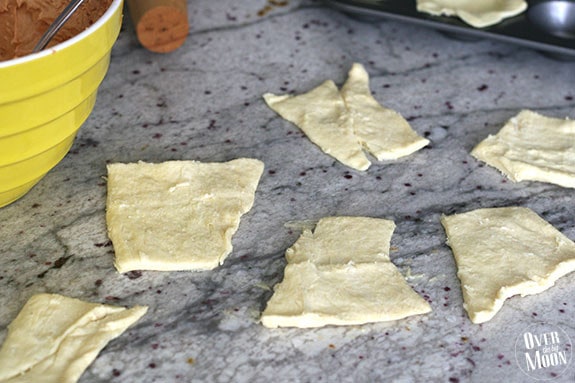 Take your crescent rolls and cut off the smaller half of all the "rolls." Then you take the smaller ends of 2 of the rolls and piece them together. For each tube of 8 crescent rolls, you will be able to create 12 puffs. Reference the picture above and 2 below to get a better idea of what I'm talking about.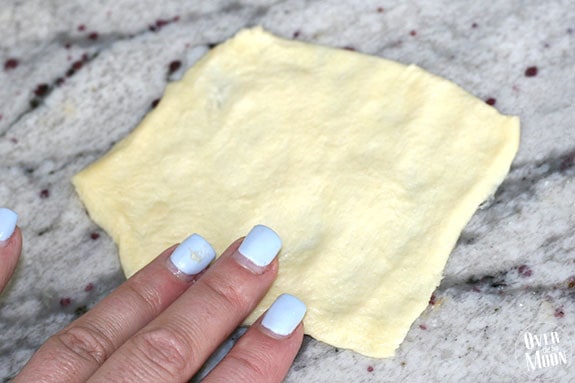 Then just use your fingers to press the dough out to make it a little bit bigger. You want it approx. 5″ square (give or take).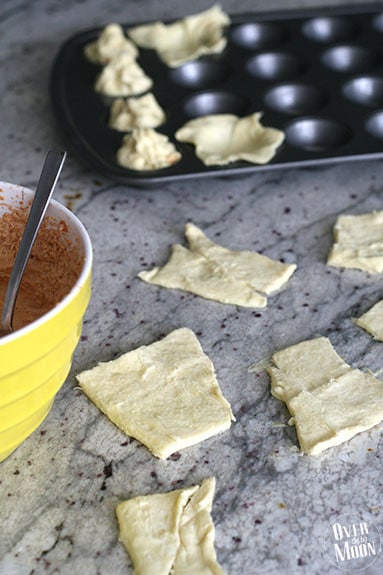 Take the pressed out crescent roll and place it in one of the mini cupcake spots! Then take a spoonful of filling and fill the dough!
Then take your fingers and pinch the sides of the dough together. Then take the there sides and pinch them together. Make sure the top is all pinched closed! It's okay if a little of the filling seeps out!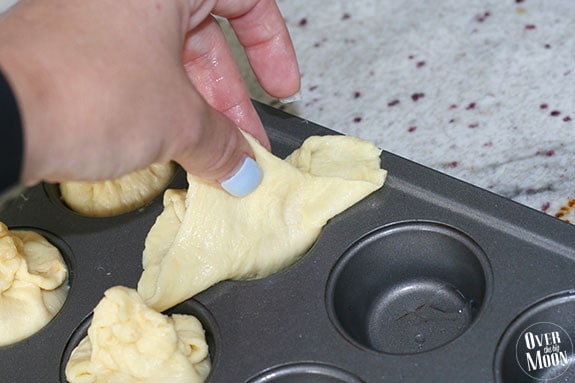 Once the entire pan is done, pop it into the oven and cook at 350 degrees for about 12 minutes or until the tops are lighting golden!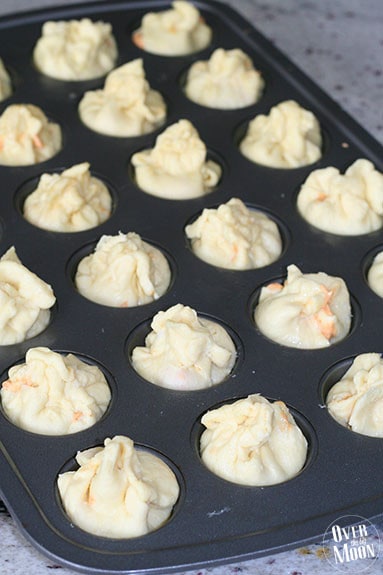 Once the tops are lightly golden, take them out and let them cool for a few minutes until they're firm enough for you to slide out of the pan!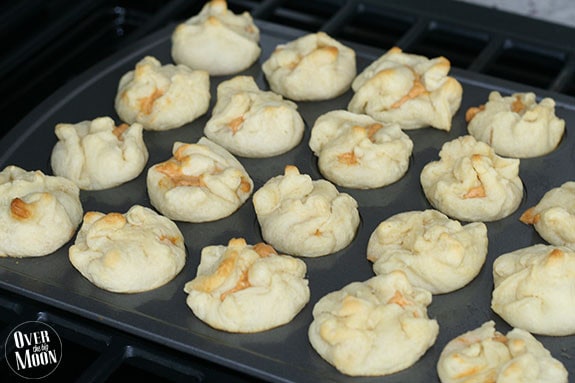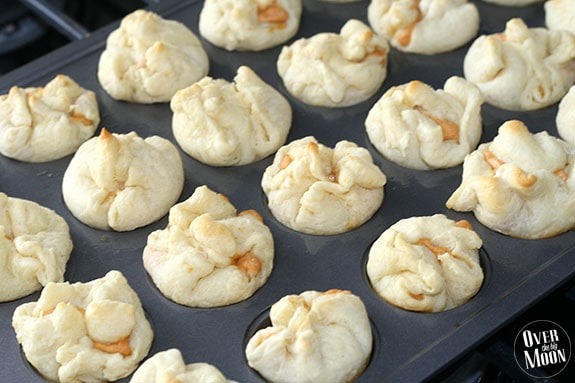 While they're cooling, put together the Pumpkin Spice Glaze! Combine 1/2 c. powdered sugar, 1 tablespoons milk and a heaping 1/2 tsp of pumpkin pie spice and combine! Once the puffs are cool enough to remove from the pan, drizzle the glaze on top of the Pumpkin Cheesecake Puffs and enjoy!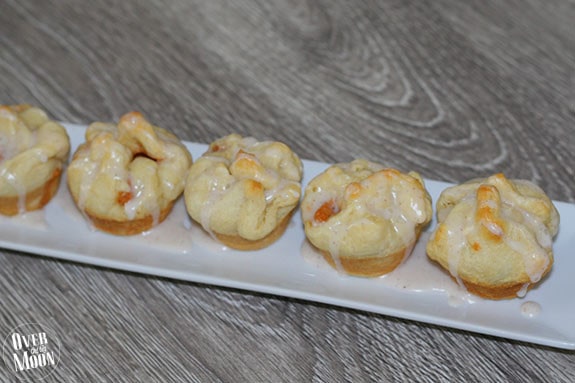 Don't judge me for eating it straight out of the pan! Haha! You really just can't resist them when they're fresh out of the oven! ENJOY!!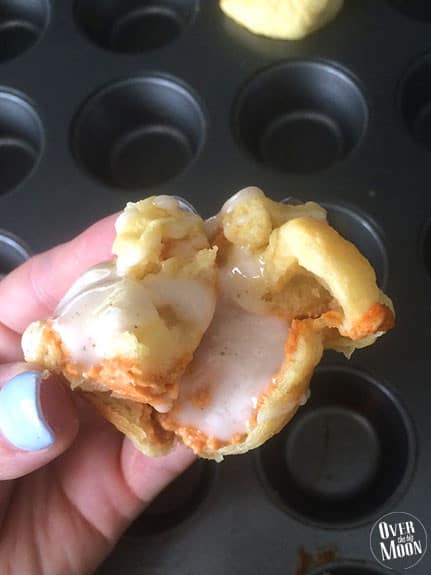 ---
Pam Dana
Pam is a stay at home working mama that enjoys all phases of life! Between her 3 kids, fur baby (a beyond cute Goldendoodle), wonderful husband, friends and working, she stays pretty busy! But, she is loving every aspect of her life! Here on Over the Big Moon, she loves to share DIY's, recipes, printables, organization tips and more!
---