Rathskeller Pork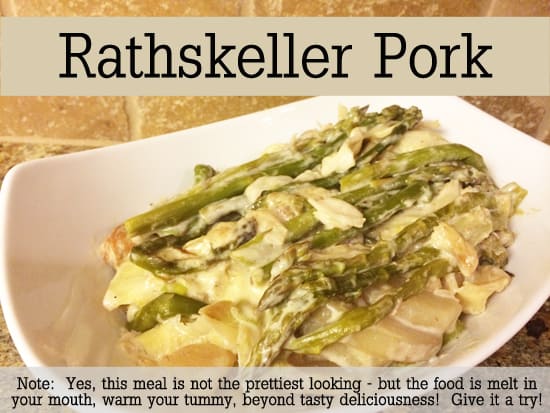 Happy Friday everybody! I haven't shared a recipe for a while and so I thought I would today! This is an amazing recipe that is seriously unlike any other recipe that you have probably eaten! The reason I haven't jumped to share it on here – is cause honest, it's not a very pretty meal. I was introduced to this recipe from my mom, who got it from my aunt. When I initially saw it, it for sure didn't make my mouth water. However, once I tasted it, I was hooked! It is AMAZING and in my opinion the perfect Fall or Winter dinner! It is amazing tasting, warms your tummy, completely different from the everyday dinner and also beyond easy! What's better than that, right?!? So, I seriously URGE you all to step outside your standard "10 meal" cookbook and give this a shot! I promise you – you will not regret it! Here's what you need: 4 to 5 pork steaks (approx 3/4″ thick) 1 tbs salad oil 2 can cream of asparagus soup 1 c. chopped green onions 2 tsp seasoned salt 1 tsp seasoned pepper 1/2 cup water 4 potatoes, sliced 1/2 bunch asparagus (optional) 4-5 cups shredded cabbage 1 cup whipping cream
Start out by browning both sides of each chop in a large skillet on your stove top and drain any excess fat. You don't want to skip this step, because by searing the sides it locks in the moisture. Otherwise, you'll probably end up with dry pork.
Next, combine undiluted soups with onions, seasoned salt, pepper, and water.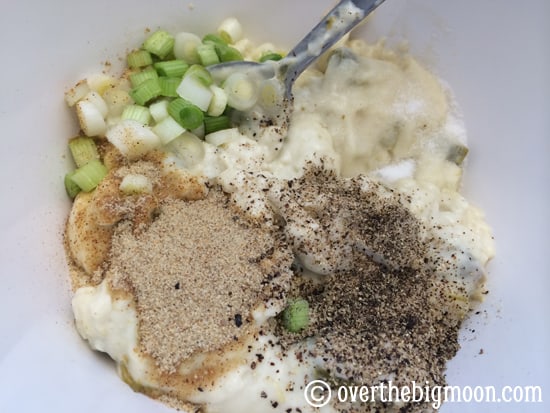 Arrange layers of meat, potatoes, cabbage, asparagus and 1/2 the sauce and then repeat with the 2nd 1/2 of the foods in slow cooker.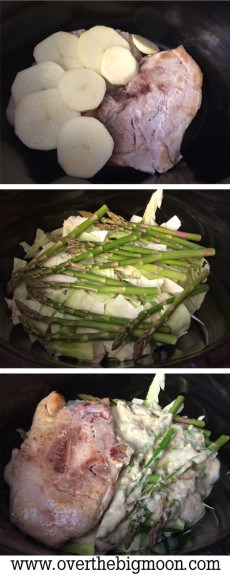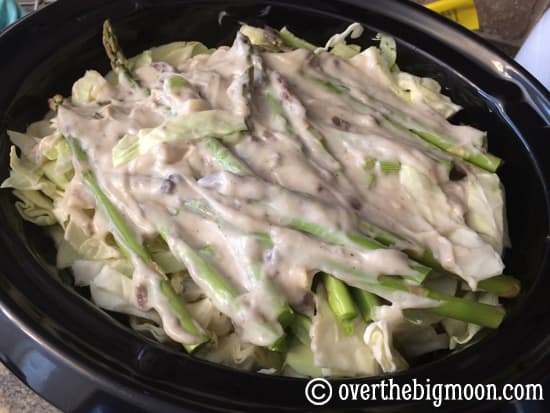 Cover and cook on low 6-8 hours or on high for 3 – 3 1/2 hours. Add whipping cream, cover and cook on high for another 20 minutes. At this point my crockpot is full to the brim. This recipe makes A TON of food, so if you have a smaller family or smaller crockpot – you could cut the recipe in half!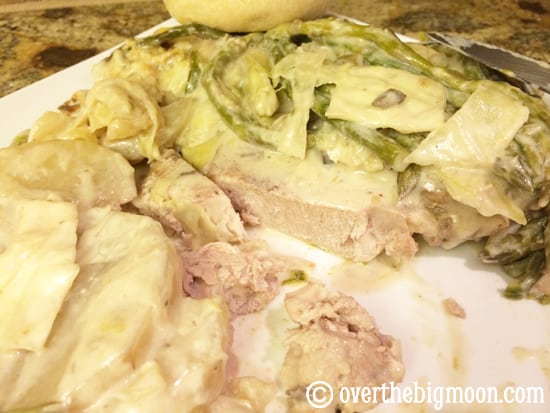 Enjoy – and I'd love you to comment if you try this, so others can see how much you all loved it! Cause, I'm THAT confident that you will!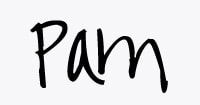 Want to keep up with us at Over the Big Moon….click
here
to learn how to subscribe!
Pam Dana
I am a wife and mom that is over the moon for family, traditions and fun! I love to share lots of printables, DIY's, kids activities and my families favorite recipes! I am married to my husband, Scott, and we have 3 beautiful children and together they are my world!