Thai Coconut Chicken Curry

Hey friends! I was able to share this recipe on my friend, Alli, from The Cupcake Diaries a few weeks ago and I wanted to make sure all my readers saw it too! Ali has a new (NICU) baby at home and is getting to spend a little extra time snuggling on him! I shared my new obsession – CURRY! I don't know why I went to so long in my life not eating it! Why didn't anybody tell me about the goodness I was missing out on?
I had to learn to cook it, because let's be honest, I can't afford to go out multiple times a week! haha 🙂 One of my favorite things about making my own Curry is that I can customize it with my favorite ingredients! So, today I'm sharing my favorite Thai Coconut Curry that is perfect for Fall thanks to the hint of cinnamon in it!! Enjoy!
Thai Coconut Chicken Curry
2014-10-21 22:30:44
A yummy Thai Coconut Chicken Curry with a hint of Cinnamon
For Sauce
1 Yellow Onion, chopped
6 Cloves of Garlic, minced
2 Cans of Coconut Milk
3 Tablespoons Red Curry Paste
2 Tablespoons Fish Oil
1 tsp Cinnamon
1 tsp Cumin
1 tsp Tumeric
Fresh Ginger, shaved
For Soup
1 Small Rotisserie Chicken, shredded
1 Large Zuchinni, diced
1 Large Red Potato, diced
1 Bunch of Asparagus, chopped
1 bunch Green Onions, chopped
1 cup mushrooms, diced
1 handful Cilantro
Instructions
In a pot, put a few tablespoons of oil, and cook the chopped Yellow Onion until it is cooked. Add Garlic Cloves and cook for approx 30 seconds, until the aroma is strong. Poor in the 2 cans of Coconut Milk, Red Curry Paste, Fish Oil, Cinnamon, Cumin and Ginger. Bring sauce to a boil and then turn heat to Medium.
Add the diced potatoes, zucchini, asparagus, mushrooms and green onions to the sauce. Feel free to add any other vegetable that you prefer! Red peppers are very common in Curry. Allow to simmer for 45 minutes to an hour on a Medium-Low heat. Feel free to turn down to Low once you know you potatoes are cooked through!
While your Curry is simmering, cook your rice!
Right before serving, add 1 handful Cilantro!
Serve over a Rice!
Over The Big Moon http://overthebigmoon.com/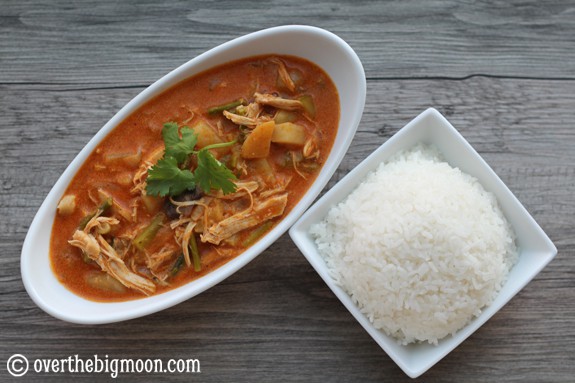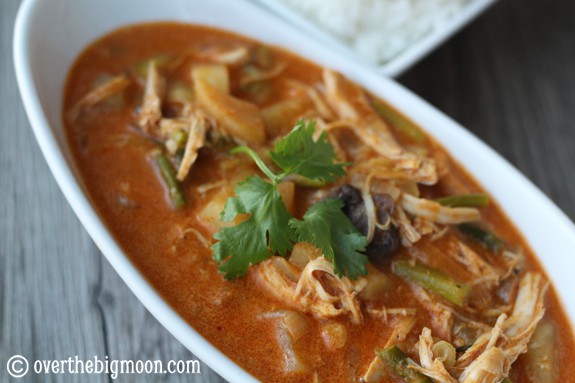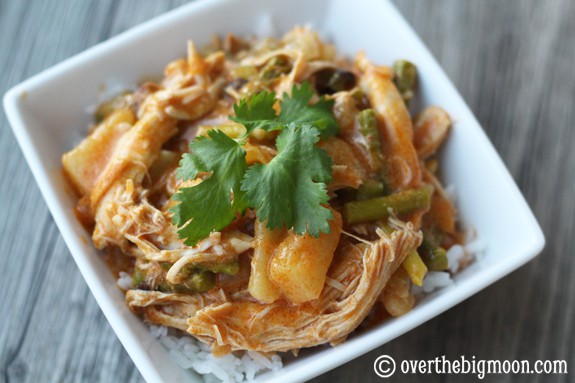 Seriously, doesn't it look tasty?!? Enjoy!!
Pam Dana
I am a wife and mom that is over the moon for family, traditions and fun! I love to share lots of printables, DIY's, kids activities and my families favorite recipes! I am married to my husband, Scott, and we have 3 beautiful children and together they are my world!