1 Denim Shirt – 5 Ways
I can't believe how fast a month goes by. Here I am, posting again. I hope all of you are loving the fall season so far. I can't believe the holiday months are here already. Thanksgiving and Christmas are right around the corner. I just love this time of year! I also love everything about denim right now. You can wear it so many different ways. Here are five different ways I love to wear denim, especially during these colder months!
1. Replace your white tee with your favorite denim shirt and wear it under your favorite jacket or Cardigan.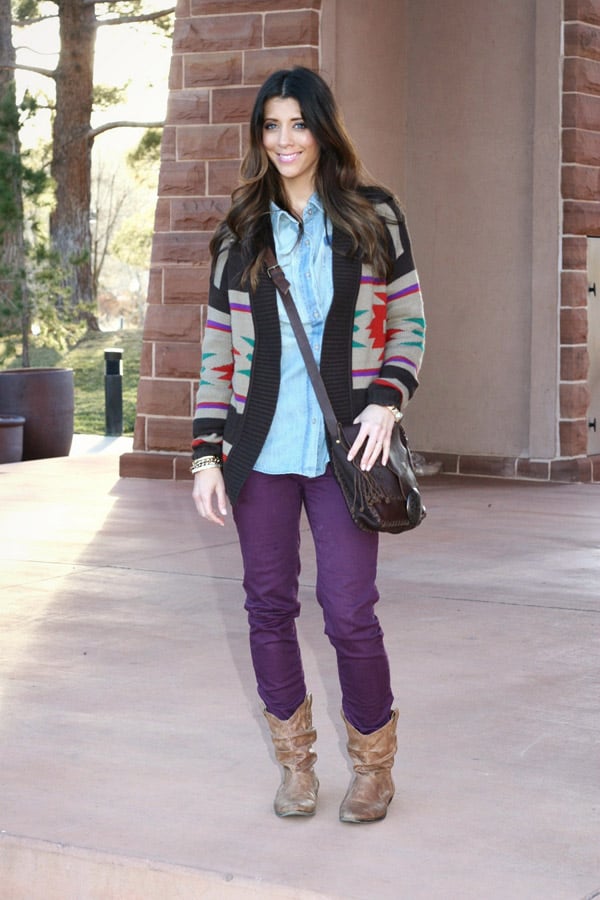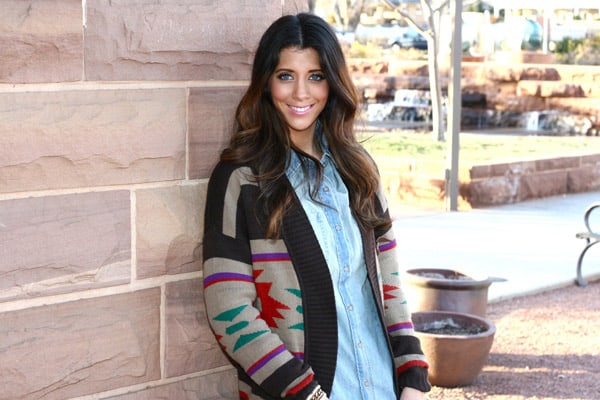 Outfit details HERE

MY LATEST VIDEOS
MY LATEST VIDEOS
2. Wear it with you favorite skirt, flowy or pencil, they both look great. And you can't go wrong pairing it up with leopard print.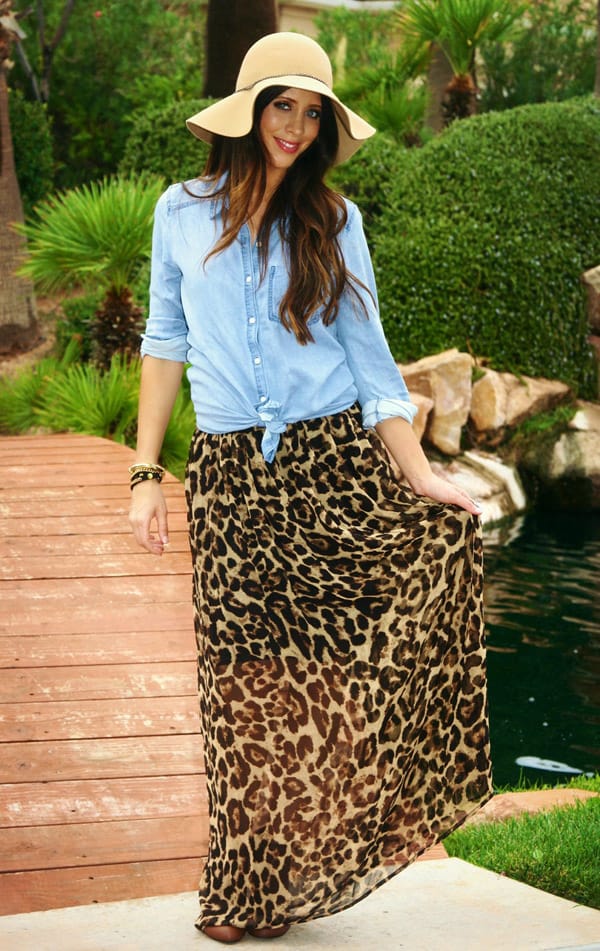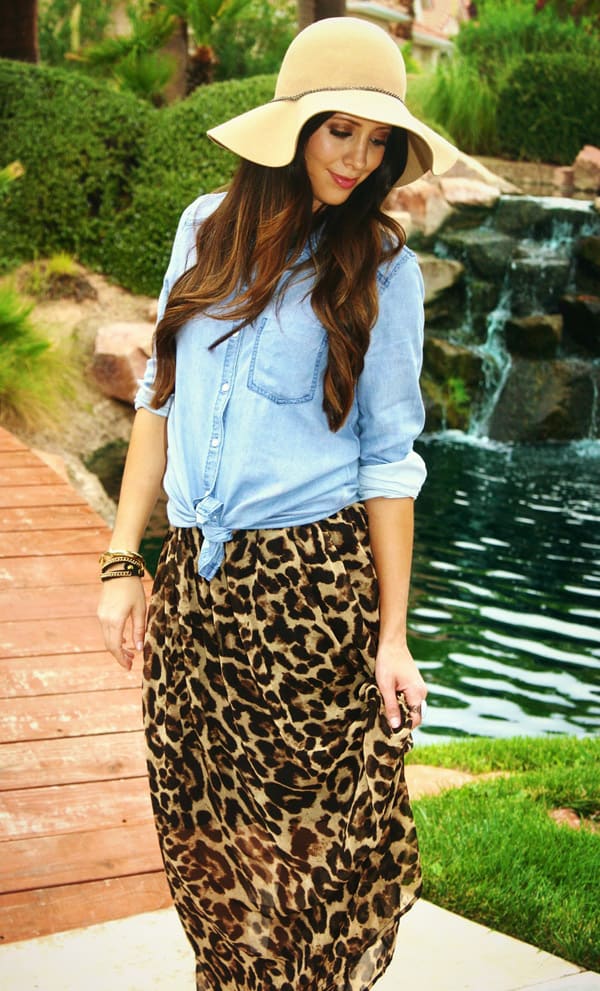 Outfit details HERE
3. You also can't go wrong pairing it with a different shade of denim. It's such a fun trend right now and they look great together. Just make sure they are different shades of denim and not the same color. Having a contrast looks the best. I like it best with tighter jeans, like the skinny jeans I am wearing.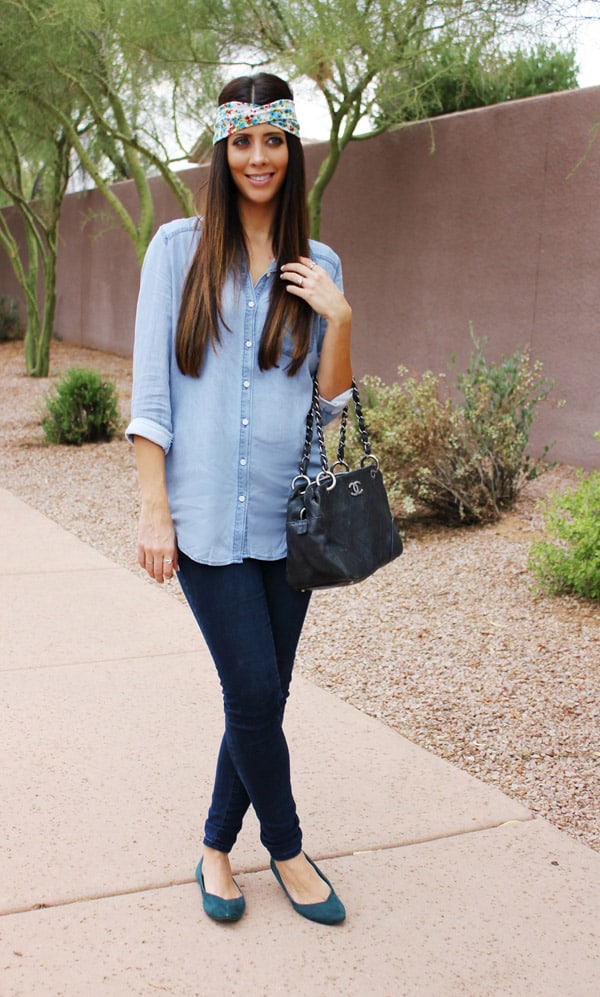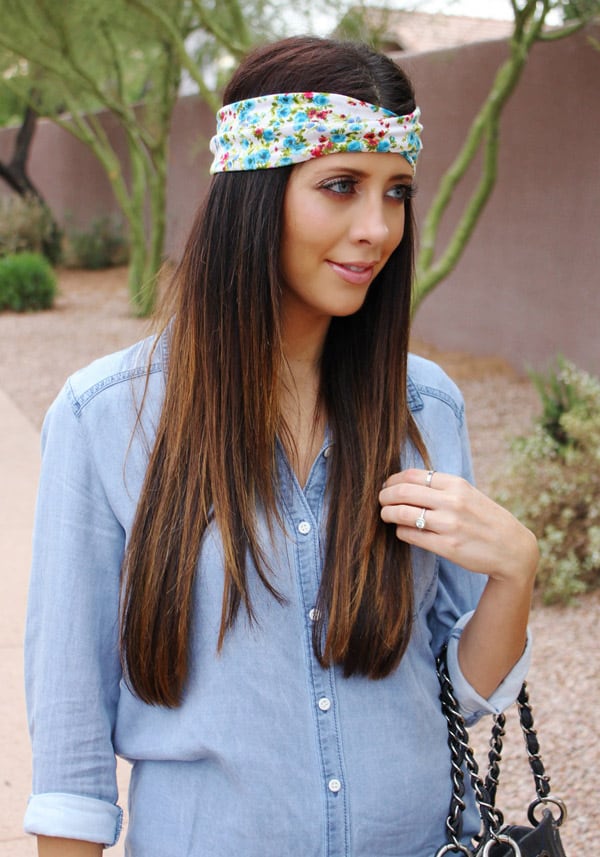 Outfit details HERE
4. Transition your favorite summer dress by throwing on a denim shirt or jacket. I had to add my son and show how denim looks good on kids also.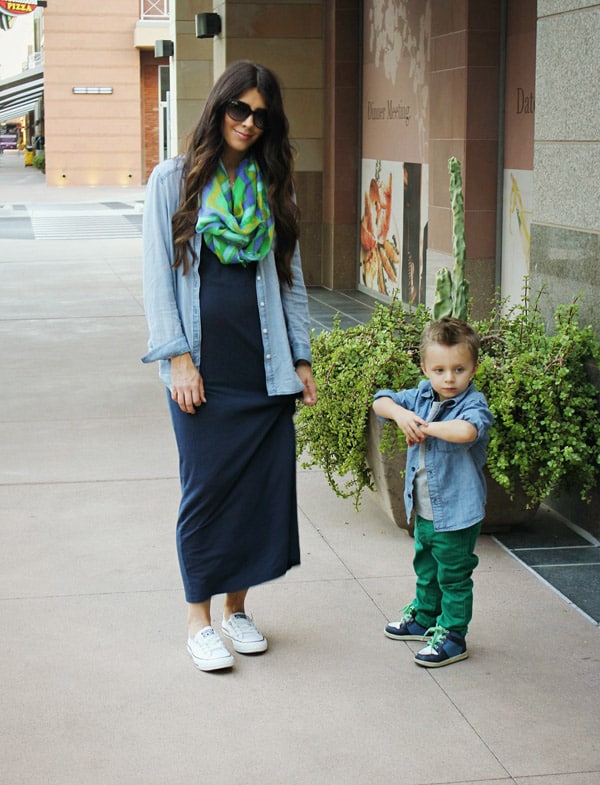 Dont mind my 32 week bump in these pictures!! It seems to get bigger each day.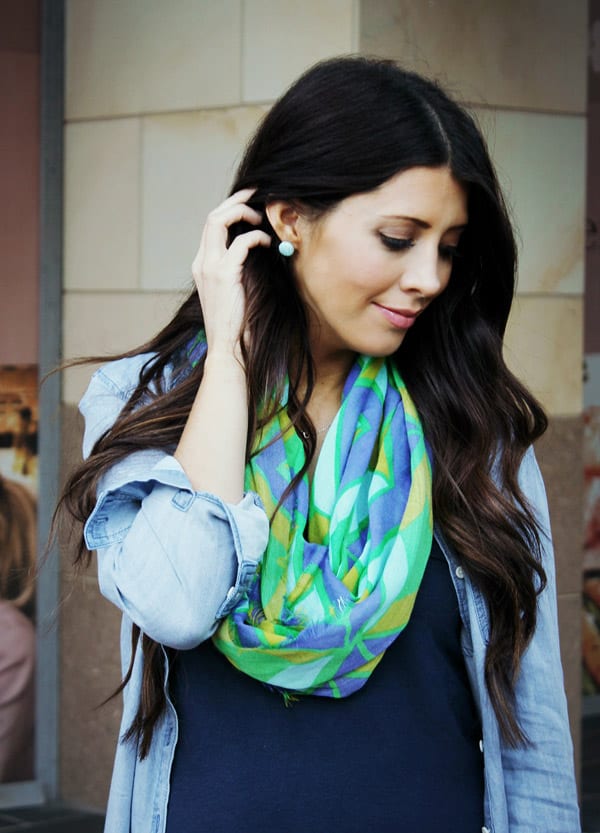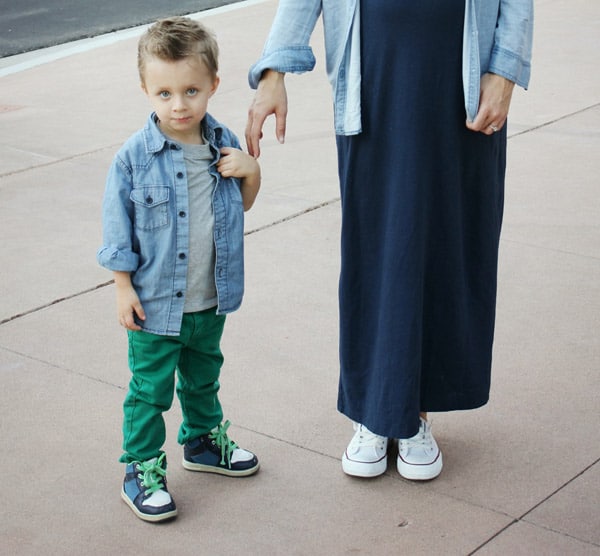 As you can tell, he is not thrilled to get pictures taken, haha. He is just like my husband. They hate anything to do with pictures.
My Outfit Details:
Dress: Really cute one here
Denim Shirt: Nordstorm
Shoes: Nordstrom
Scarf: Old (cute ones here)
Earrings: c/o Button Willow Crafts
Sunglasses: Marshal's
Rowen's Outfit Details:
Denim top: Old (cute one here)
Top: Gap
Jeans: Old Navy (these are the best skinny jeans)
Shoes: Gap
5. My favorite of all the looks is layering denim under your favorite sweater to give it a fun, polished look. This is also so cute on little kids, boys or girls!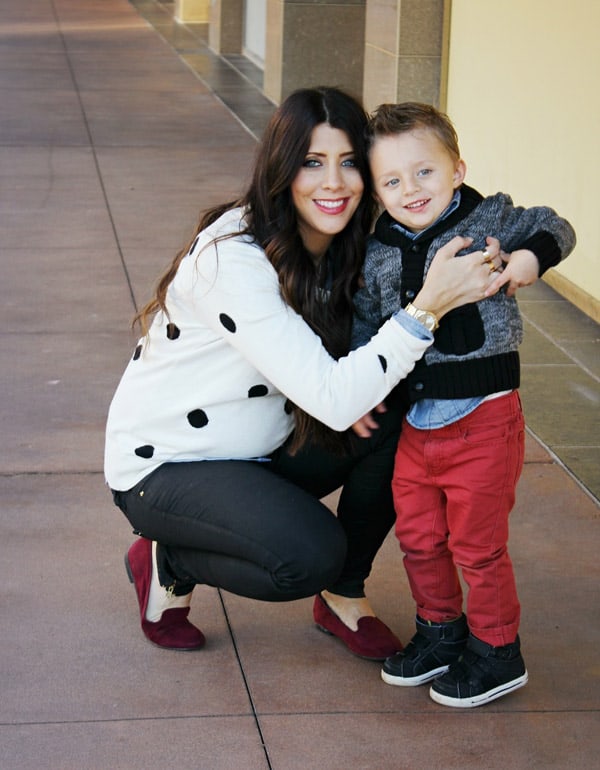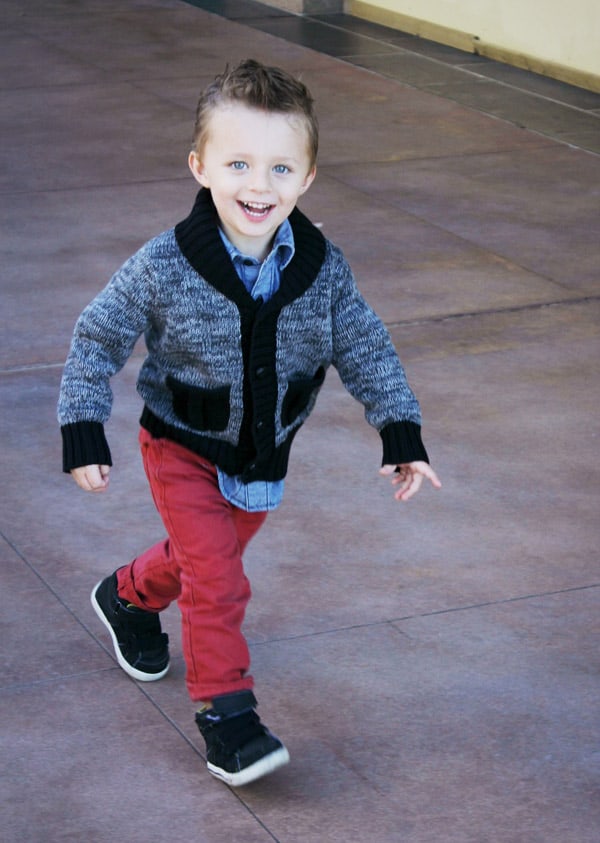 He was so hyper and didnt want to stop for a picture. So we bribed with a sucker and it worked.. for a minute haha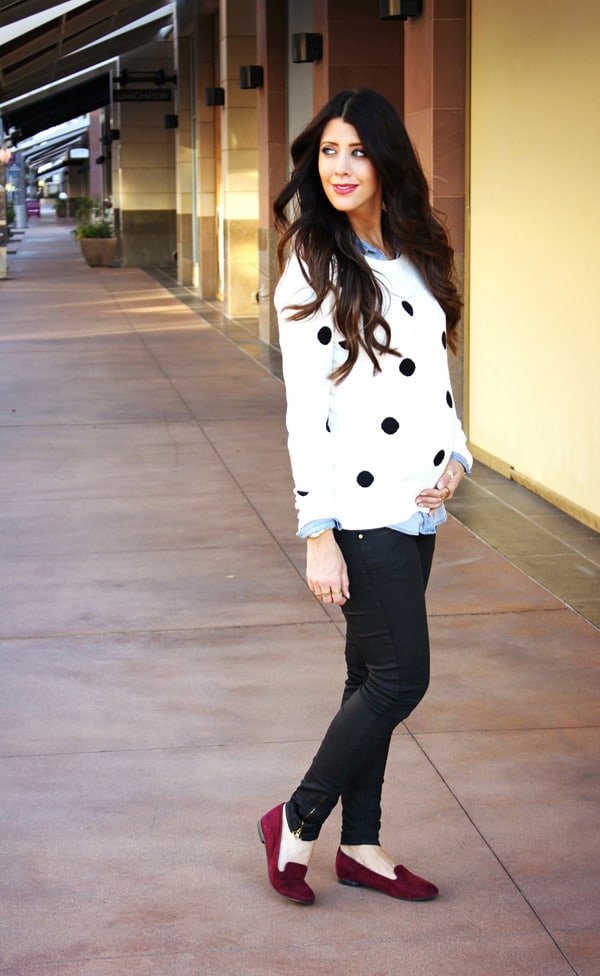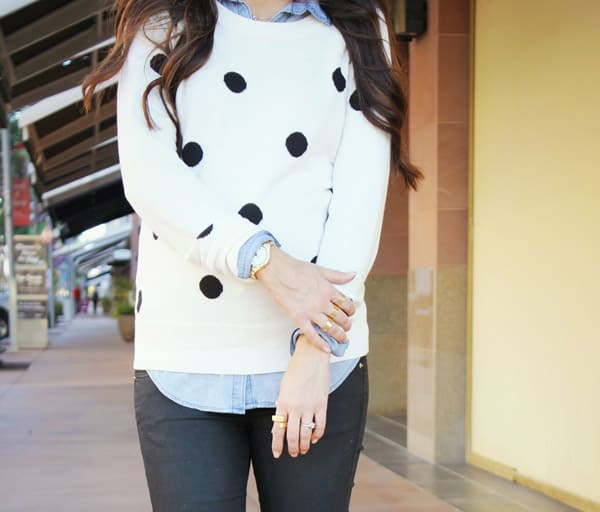 My Outfit Details:
Sweater: Target (recent)
Denim shirt: Nordstrom
Pants: H&M (recent)
Flats: Old (cute ones here)
Rings: ASOS & H&M
Rowens Outfit Details:
Sweater: Old Navy (recent, cant find online)
Denim Top: Old (cute one here)
Jeans: Old Navy (same style as the green ones above)
Shoes: Target
I hope these 5 looks gave you guys some new ideas. Just remember that denim goes with so much and adds a lot to an outfit. I hope all of you have a wonderful Thanksgiving! I will see you in December, when I'll be counting down the days until baby #2 comes. I am a little nervous to have two kids instead of one. To all of you amazing mothers out there, I need your advice!! One last thing … if you are looking for a quick, easy way of curling your your hair, then click HERE for my "Curls On The Go" hair tutorial. This is how I curl my hair in most of these pictures.
Happy Wednesday. Thanks so much for reading! xo
Love,
LaTisha
---
Pam Dana
Pam is a stay at home working mama that enjoys all phases of life! Between her 3 kids, fur baby (a beyond cute Goldendoodle), wonderful husband, friends and working, she stays pretty busy! But, she is loving every aspect of her life! Here on Over the Big Moon, she loves to share DIY's, recipes, printables, organization tips and more!
---