These 10 Rules to Create the Perfect White Kitchen are a must read before building or remodeling your kitchen. These rules can apply to a big or small white kitchen! The time to build your dream kitchen is now!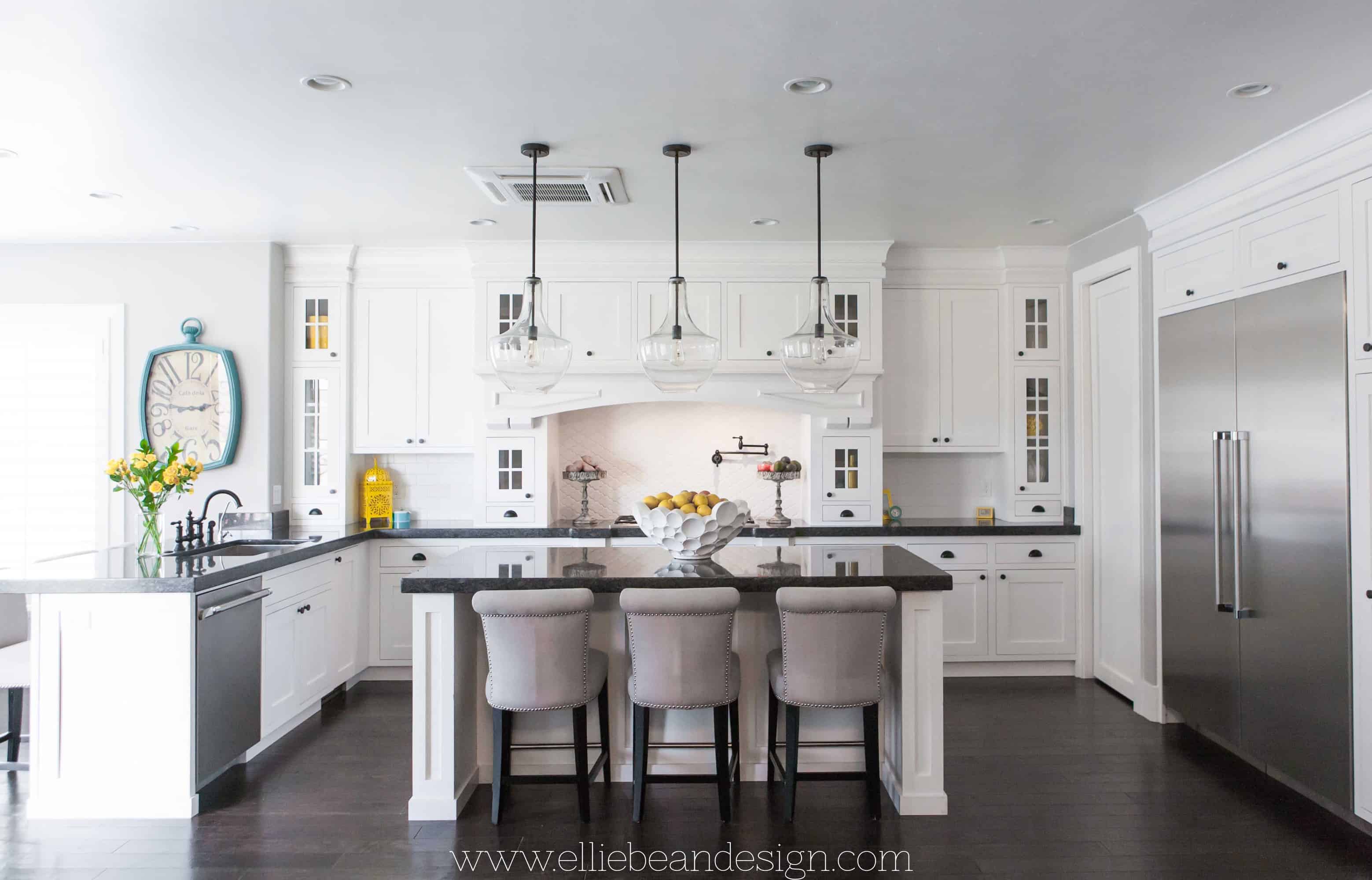 Have you noticed that white kitchens are covering the pages of Pinterest, Houzz.com and home magazines?  With my job as designer, a big part of it is helping my clients build their houses. I start from scratch helping them create their house plans and choosing every single detail in their house. Lately, almost every house that I have designed has had white kitchens! I love this look and I urge my clients to go this route. It gives your space such a clean, fresh and happy feeling. These white kitchen are classic and if you do it right, it will never go out of style.
I designed this kitchen from scratch. I had a vision for it from day one and although we had a few hiccups, it turned out beautiful! I am so excited to share these Rules to Create the Perfect White Kitchen!
How to Create the Perfect White Kitchen
1. Have the cabinets go all the way to the ceiling! I absolutely love this because you don't have the awkward space above the cabinets. I don't love decorating above the cabinets because it can look cluttered and always gets dusty and greasy. It will cost more to do this, but I think in the end it is 100% worth it!
2.  I love to decorate with practical items – things that I actually use. For example, putting your cookbooks on display or fresh flowers (my favorite). I also always have fruit and veggies in bowls and on platters. I like to have everything BIG too. A huge bowl with fresh fruit makes such a beautiful statement.
3.  Lighting is KEY! Get large pendant lights for your kitchen island. They CANNOT be small. Spend your lighting budget in your kitchen, family room and entry way. The rest of your house is fine getting the inexpensive stuff.
The lighting does not need to be matching sets. You want different lights, but you must use the same color combinations within the lighting fixtures. For example, here we have used all of the wrought iron (black) on the fixtures. With the wrought iron, it is okay to mix with silver, but that is the only exception. If you are doing oil rubbed bronze, then it all must be oil rubbed bronze. Along with cabinet knobs, door handles, etc. I also love the vintage style bulbs shown here. It adds more character to the lights.
4.  You want your faucets to match your lighting, cabinet knobs and door handle color. So, in this case, we did wrought iron. I recommend adding a pot filler faucet as well.  They are AWESOME and add character to your kitchen.  Also, choosing the right granite with your white cabinets is very important. This granite is called Steel Grey and it gives it a great contrast with the white cabinets. I also did a 5mm mitered edge on the granite to give it some thickness. 

5. I love that the gas range and hood is in the center of the cabinets and everything on each side is symmetrical. It makes the stove a focal point and you can make it stand out nicely with a great backsplash and detail on the hood. I wanted a large chunky hood and cabinets surrounding the range. It's probably my favorite thing in my kitchen.
6.  When doing white cabinets, you must use a good wood that doesn't ding easily. Most cabinet makers would suggest using Maple, which is what we did here. The cabinet fronts are called Shaker Style, which is a flat panel cabinet. I had my cabinet guy make them approximately and inch wider (all the way around) than the normal shaker cabinet style and I think it added a fun detail!
7.  Do you see that tall skinny door in front of you? That is my swinging door to the pantry and I LOVE it!! It makes it so convenient for going in and out of your pantry with your hands full.
8.  I am a huge fan of big fridges and double ovens. You can't have a gourmet kitchen without them! I know that big fridges can be incredibly pricey, but there are a few great alternatives out there. Kenmore and Frigidaire both have a 72″ fridge, freezer combo, that is about $2,500 versus $11,000 for the one pictured here. It's not as good of quality as the more expensive brands, but it will give you a similar look. The appliances pictured are all Thermador, which is currently the best rated brand for upscale appliances.
9.  When you are designing your cabinetry, keep this built in spice rack in mind. It is probably my favorite feature of these cabinets. It's incredibly convenient when cooking and keeps you organized!
10.  When choosing cabinet knobs, go simple. The more detail you have on the knobs, the faster they will go out of style. Choosing a plain knob will make the overall look much better and last longer!
Hope these Rules to Create the Perfect White Kitchen are helpful to you!
Looking for some other fun designs tips and ideas?
Clock Collage Wall — this clock collage wall is too cute and would work in any style home!
Road Map Inspiration Wall — share you and your families lives by creating this amazing Road Map Wall!
3 Tips for Styling Your Coffee Table— these tips work time and time again!
5 Tips to Update a Kids Bedroom — it's so easy to update a bedroom without breaking the bank!
How to Decorate Table Tops and Shelves — these tips are genius and have helped me decorate so many times!
Heirloom Plate Wall — this is the perfect way to display the important family china!
Also, if you're decorating a Farmhouse, then you have to check out my favorite Farmhouse Blog – Twelve On Main!
Make sure and save this article for later by pinning the image below!