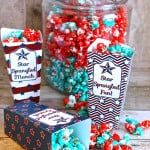 4th of July Star Spangled Popcorn Boxes and Popcorn Recipe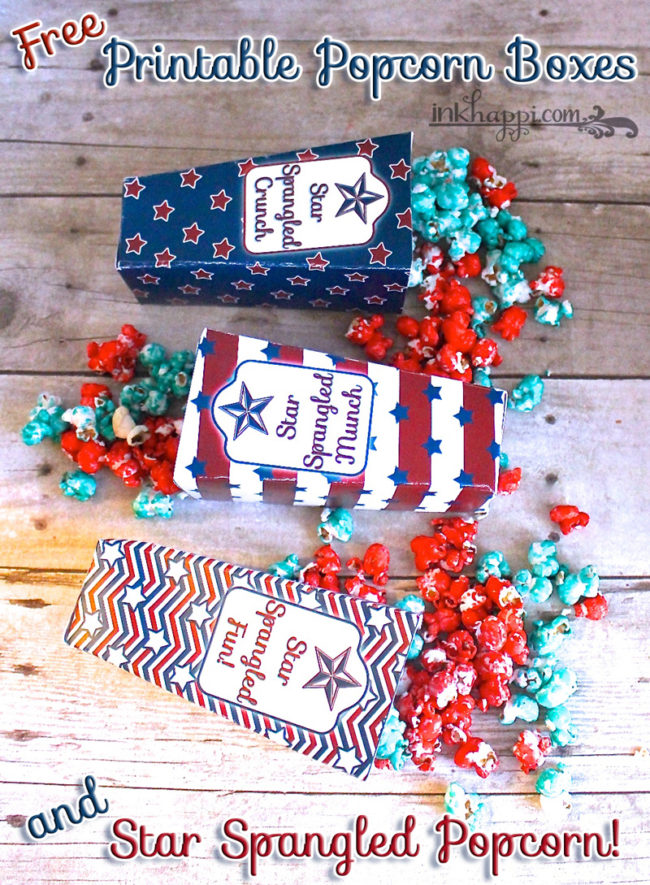 Hello! I'm Jillene from inkhappi where I like to promote all things "happi". I share tons of free printables on my blog and today I'm going to share some printable popcorn boxes along with my recipe for some star spangled popcorn! I just love everything that Pam and Lisa share at Over the Big Moon and I'm super excited to be part of their 4th of July series! Also, don't forget to enter the $100 Amazon Gift Card at the bottom of the post that is part of Over the Big Moon's 4th of July Series!
Summer is such a fun time of year and the 4th of July offers plenty of opportunities to party and celebrate our patriotism. You know I like to have fun and be a little creative in doing so, right? I think these printable popcorn boxes could add a fun patriotic addition to those party snacks! I also have a recipe to share for some super easy "star spangled popcorn". This popcorn is my favorite party snack, It's light, sweet and the texture is so amazing. I also love that it's so so easy to make and only takes 10 minutes. After making it once, it will become your new best friend and you'll want to whip it up again and again!
Check it out!!! NomnomnommMmm

MY LATEST VIDEOS
MY LATEST VIDEOS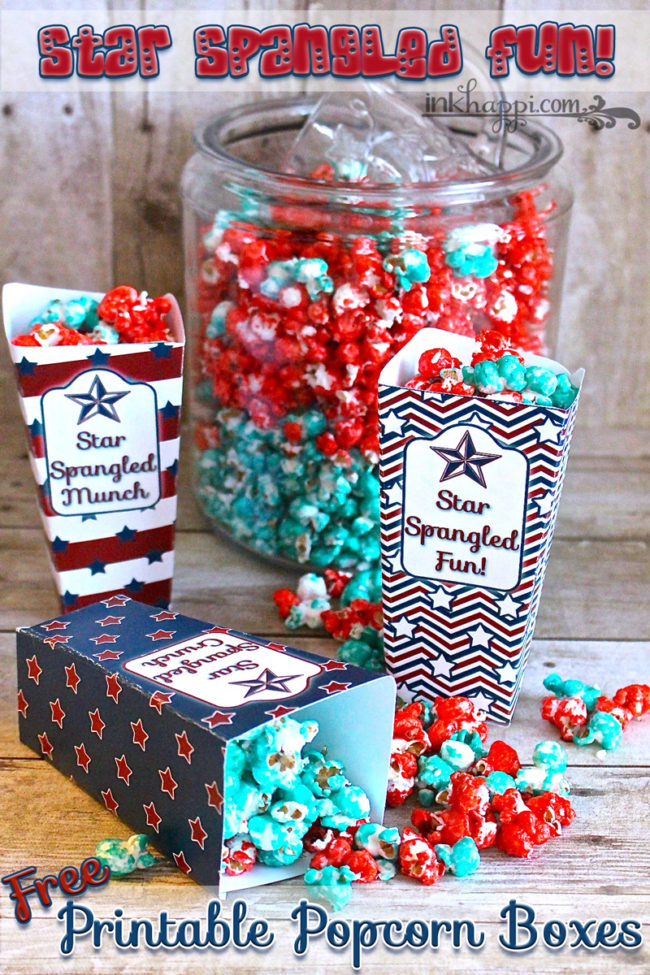 This popcorn happens to be the same recipe I use for my Zombie Boogers which is always a hit at halloween time. Be sure to check them out here! The only difference is the color. Zombie Boogers are green. For the star spangled popcorn you will likely want to make it red and blue.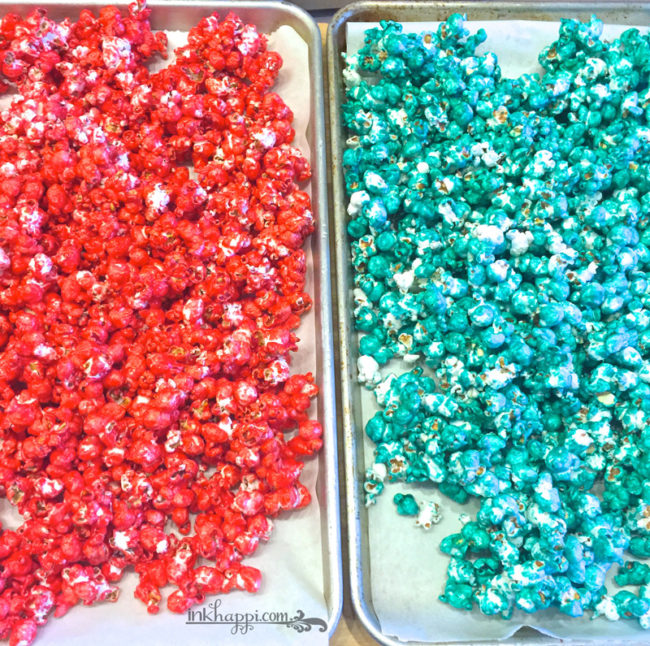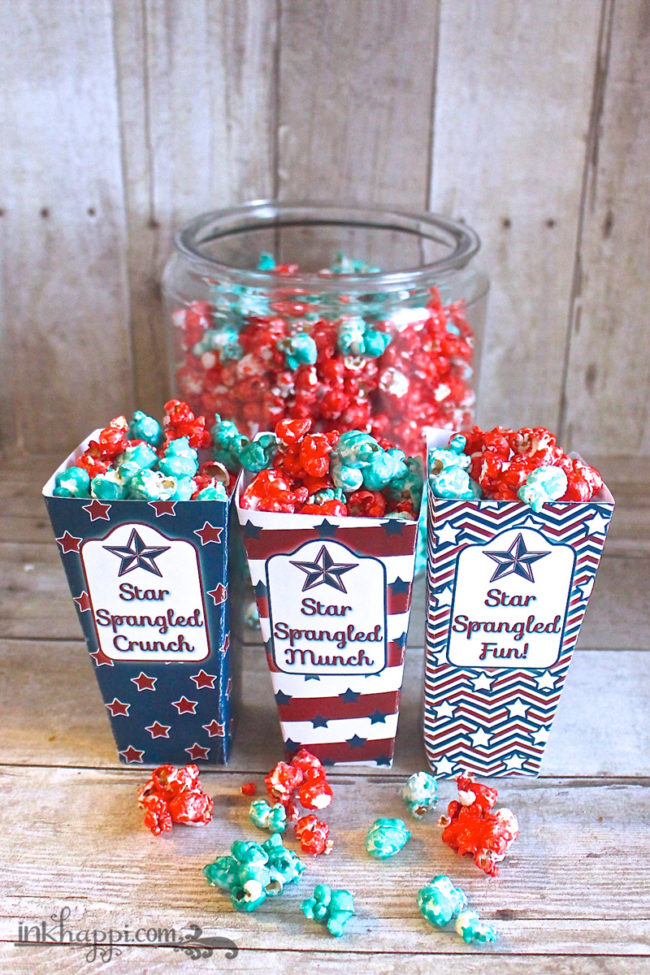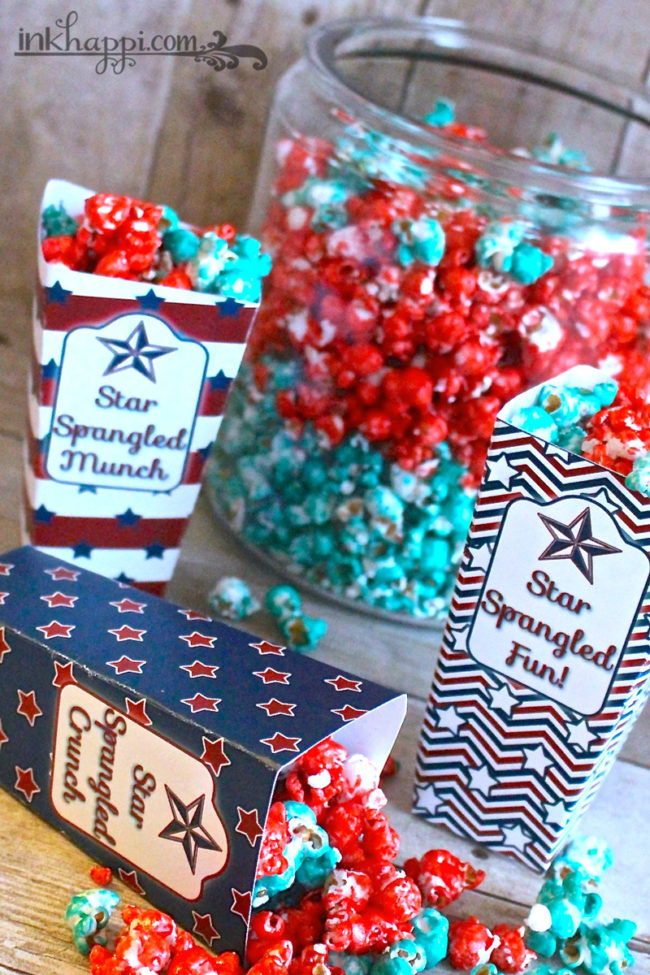 Ten Minute Star Spangled Popcorn
This popcorn is light, sweet and a little soft and crispy. It's so so good!
Ingredients:
Large Micro-safe bowl (a tall mixing bowl at least 8 cup capacity with a handle would work awesome if you have one) *It must be large enough to handle Bubbling mixture as it can grow up to 5 times after adding baking soda.
– large paper bag to fit the popcorn in
– air popped or store bought plain lightly salted popcorn yielding 15-20 cups
– 1 cube butter
– 1 cup sugar
– 1/2 cup Karo corn syrup
– 2 Tbls water
– 1 tsp vanilla
– 1 to 2 tsp food coloring
– 1 tsp baking soda
Instructions:
1.) Put air popped popcorn in brown paper bag (I lightly salted my popcorn) or you can use your favorite store purchase plain or salted popcorn.
2.) Put all other ingredients minus the food coloring and baking soda in micro safe bowl. Cook on normal power for 2-3 minutes. Stir well and then return to microwave for another 3 minutes. Mixture will be bubbling.
3.) Stir in food coloring to make a dark color version of your choice and then add baking soda. Return to micro for another 20 to 30 seconds. It will expand dramatically–Watch carefully so it doesn't boil over. 4.) Pull it out while it is bubbling and pour over popcorn in paper bag. Stir or shake mixture to coat well. Fold bag closed and put in micowave for 30-45 seconds. Shake very well, and or stir in bag and then return to microwave for another 30 seconds. Shake again and then remove from bag onto thin layers on baking sheets. It should crisp up within minutes and it can be broken up and packaged.
Now for the printable popcorn boxes!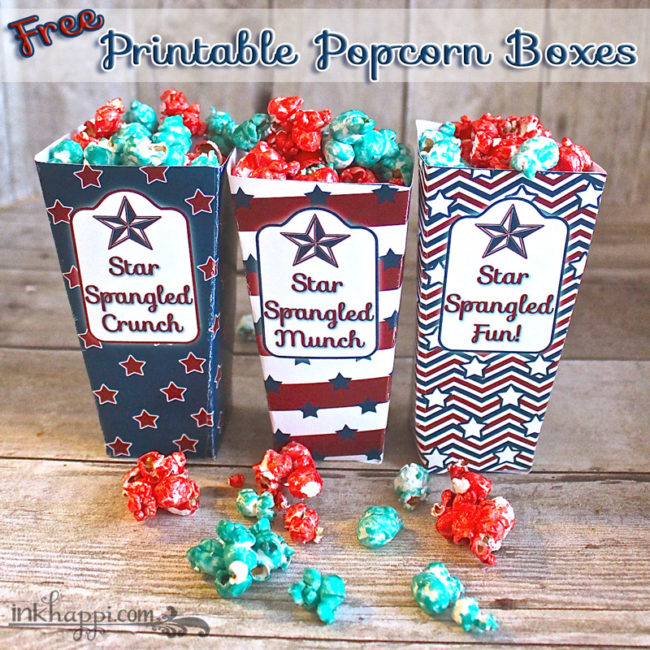 I made the printable popcorn boxes in 3 different designs and labeled them "Star Spangled Crunch", "Star Spangled Munch", and "Star Spangled Fun". They really can be used for any treat but the designs tend to be patriotic.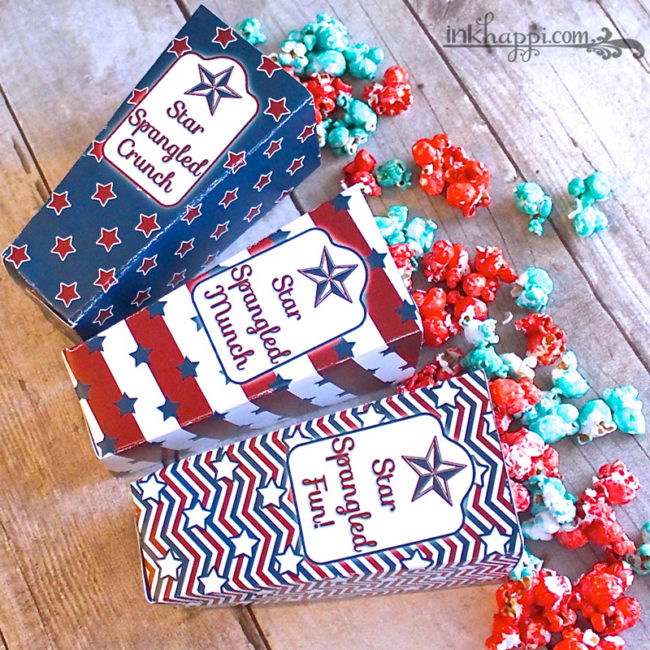 Here are the download files to the printable popcorn boxes: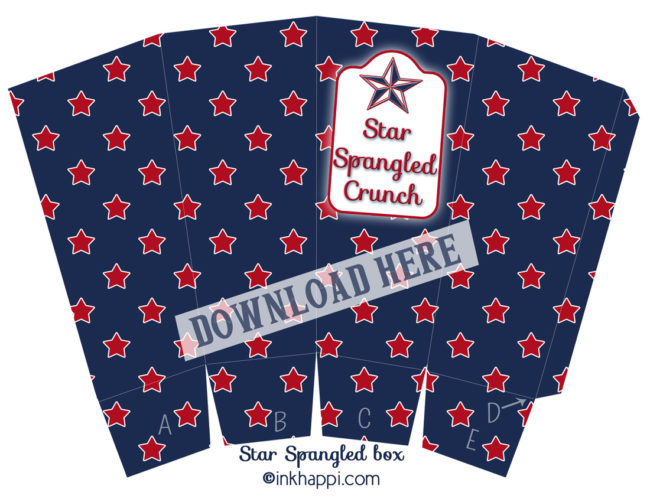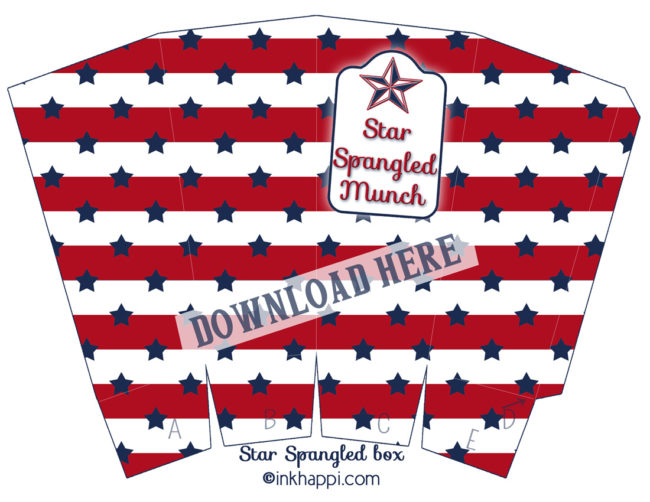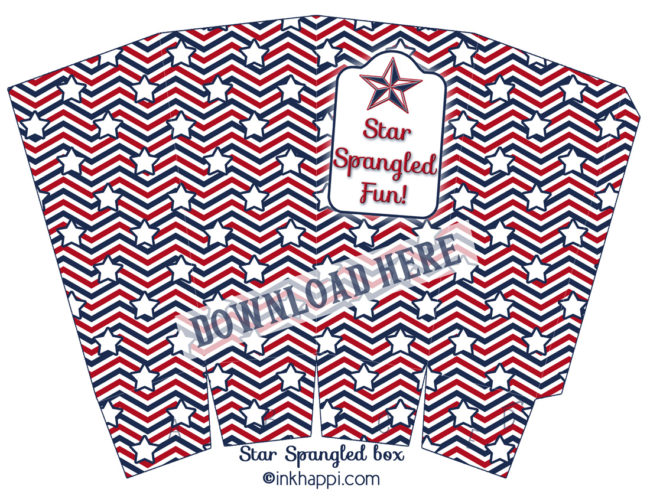 Once you print them, they are so easy to put together. All you do is:
1. Cut around the outer lines making sure you don't forget the slits at the bottom for the flaps.
2. Fold on the lines (they are barely visible but pretty easy to figure out)
3. Tape ——>> I use double stick and tape the printed side of A, B, and C flaps in that order, then put tape on the non printed sides of D and E and complete the box.
Once you are done, you can use them as you wish. 🙂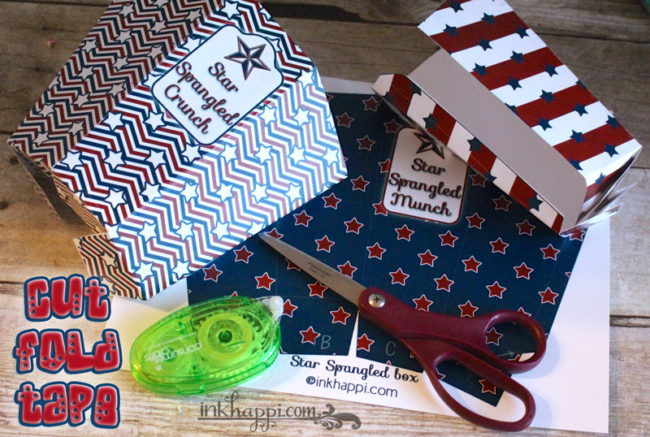 Now have some Star Spangled Fun! (I just had to get some "corny" in there. Pun intended, hahah)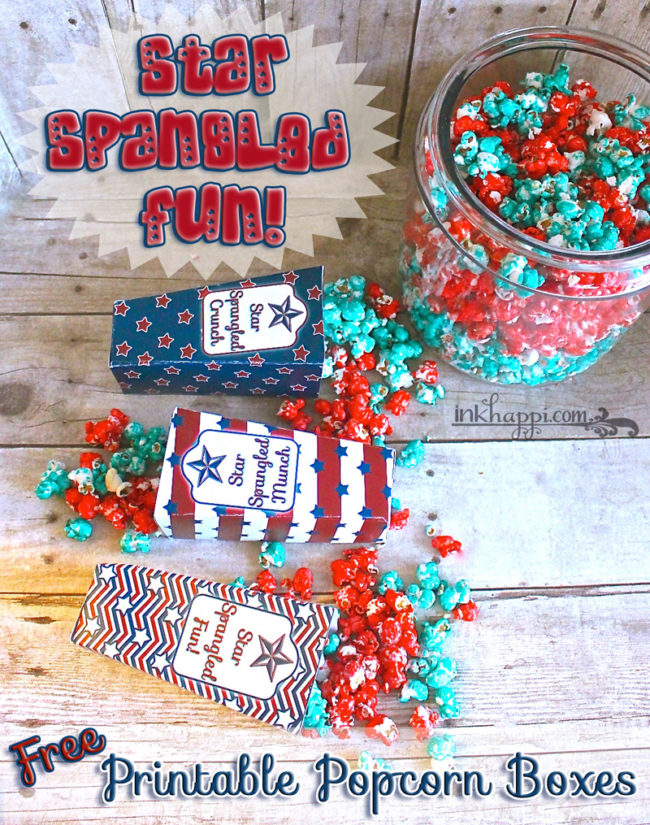 That's it! I hope you can get creative and have fun with these printable popcorn boxes!
Be sure to pin it for future reference!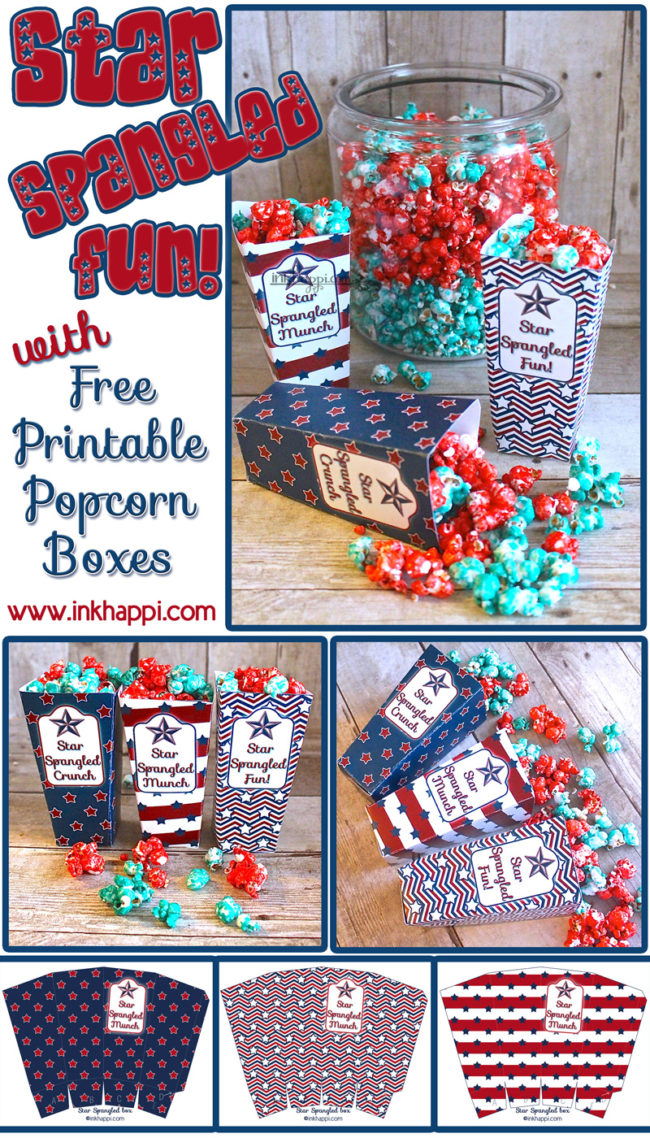 You may want to check out some of my other patriotic posts too!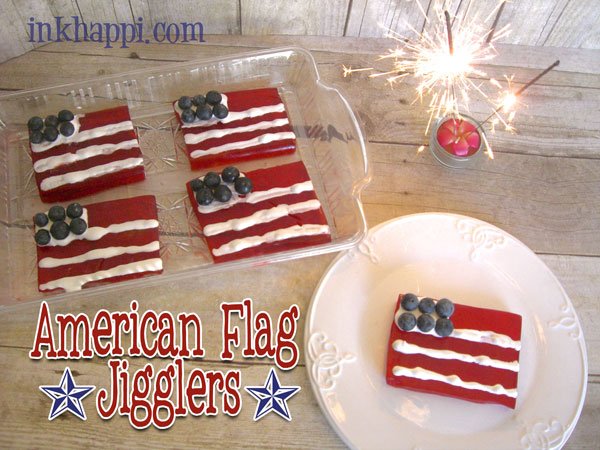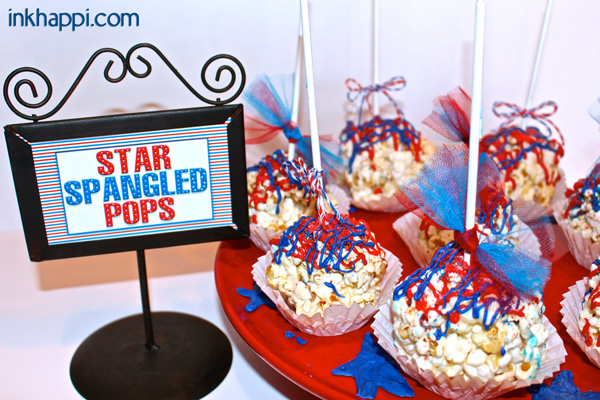 or just head to my "happi freebies" page where I literally have hundreds of free printables including these: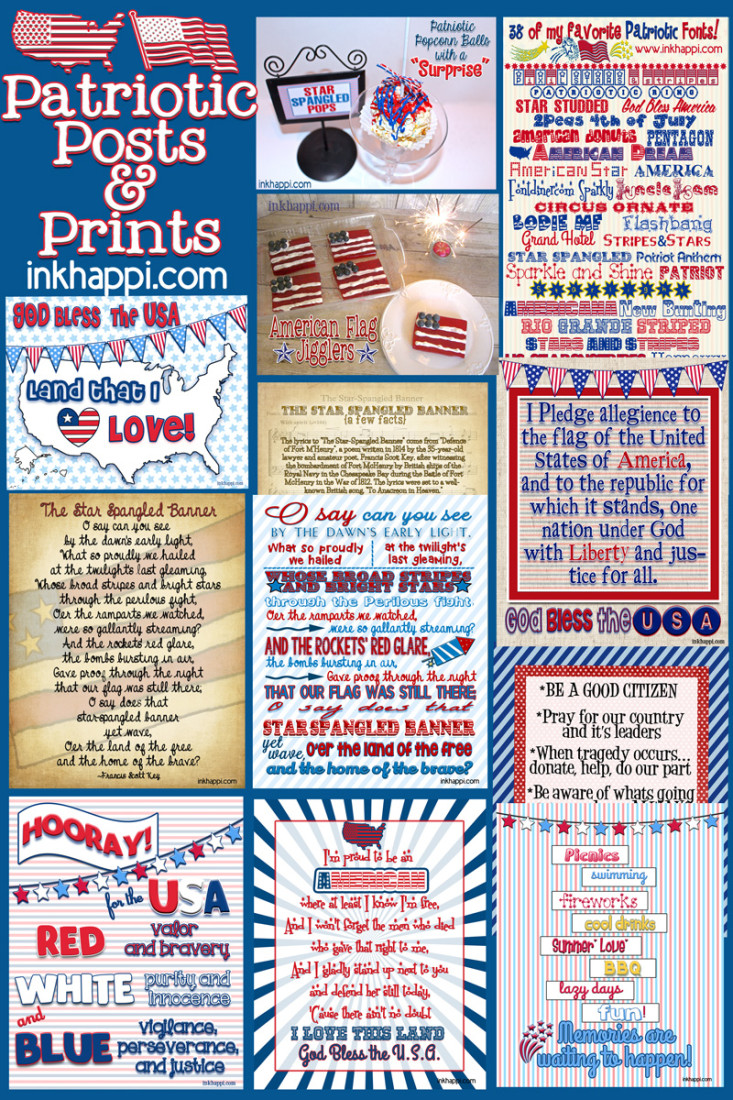 Thanks for sharing some time with me. I hope you have a fabulous summer and celebrate the 4th of July in a fun way!!
Follow along with inkhappi from the links below and don't miss out on future prints and posts! 🙂
Head on over to inkhappi and say Hi!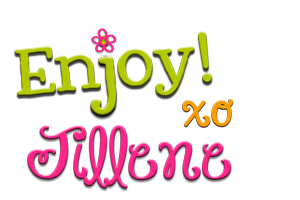 As part of Over the Big Moons's 4th of July Series, Pam and Lisa are offering $100 Amazon Gift Card to one of you! The giveaway will run from 6/1/15 at 12:00am to 6/12/15 at 11:59pm! The giveaway is open to everyone! GOOD LUCK!
---
Pam Dana
Pam is a stay at home working mama that enjoys all phases of life! Between her 3 kids, fur baby (a beyond cute Goldendoodle), wonderful husband, friends and working, she stays pretty busy! But, she is loving every aspect of her life! Here on Over the Big Moon, she loves to share DIY's, recipes, printables, organization tips and more!
---