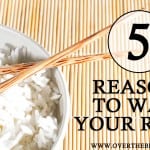 5 Reasons to Wash Your Rice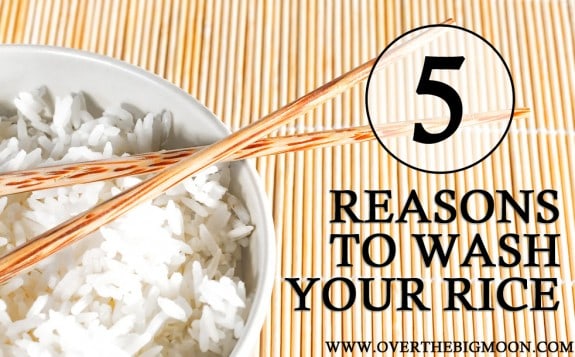 Earlier this year, I was at my in-laws house, I went to go help make the rice. I measured the rice out and added it to the rice maker, then added the water and put the lid on. My father-in-law immediately noticed that I didn't wash the rice and then started me right in on the course – Rice 101.
I guess it makes sense, that you should wash your rice. I don't know why it never really crossed my mind. But, now that I've been washing my rice, it kind of grosses me out that I went so many years without washing it. So, I thought I would share all that I learned about washing your rice.
5 Reasons you should wash your rice.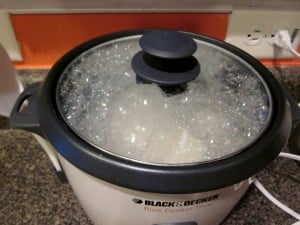 MY LATEST VIDEOS
MY LATEST VIDEOS
This reason is sort of funny, but one that makes me happy. In our home we prefer Calrose rice, which is really starchy. You know how when your rice is boiling in the pot, the steam bubbles and comes out the lid? And it leaves a gross white thick watery mess? Well, when you wash it first, you don't get that. It just steams and no residue comes with it!
There is a product called Talc, that is mixed in with your rice. Talc is used to prevent moisture from getting in your rice. Talc is the product that makes your rice water white. Talc used to have asbestos in it, but they say it no longer does. I still don't want it in my rice though.
There are many studies out there showing that arsenic materials are found on our rice, due to cross contamination of pesticides and herbicides that are used or have been used in growing of other crops in the area. This article, from Greenpoint, goes into more details.
Specifically for Japanese right, it washes off excess starch that makes it that wet sticky. When that happens you'll notice towards the bottom of the rice maker it can get clumpy. There are myths that tell you that if you wash your rice, it will make your rice not sticky. Which is untrue – my family still prefer our Calrose "sticky rice" and even after I wash it, it is still plenty sticky.
Rice growers often dry their rice on the ground as part of processing. LIke other dried products, it gets dirty and buggy while being stored. Many types of packages of rice come straight out of sacks.
Have I convinced all you non-washing ricer eaters out there? Try it! You will love it!
---
Pam Dana
Pam is a stay at home working mama that enjoys all phases of life! Between her 3 kids, fur baby (a beyond cute Goldendoodle), wonderful husband, friends and working, she stays pretty busy! But, she is loving every aspect of her life! Here on Over the Big Moon, she loves to share DIY's, recipes, printables, organization tips and more!
---