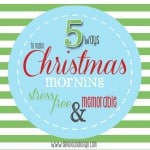 1. Make Breakfast the night before.
Here in Utah we have a delicious cafe called Kneaders Bakery. They have the most amazing french toast and I found the recipe and have been making it on every major holiday or birthday. It is always my kids number one breakfast request. It is so incredibly delicious and actually very easy to make. You can make it the night before too, so on Christmas morning all you will need to do is bake it in the oven. It comes out tasting like you spent hours in the kitchen. I also highly recommend making the homemade caramel syrup to go along with it. It only has 3 ingredients and is super easy. You'll thank me…I promise!
Kneaders Chunky Cinnamon French Toast Recipe
2. Allow a MESS.
I know…it's hard to see your house be in utter destruction and not do anything about it. I say this because it is my tendency to be The Garbage Nazi! Please don't…let you kids see you enjoying this morning and let your kids throw wrapping paper and boxes around. Force yourself to sit on your booty with a smile on your face and be in the moment!! Notice the happiness in everyone's faces, instead of thinking about how long it's going to take you to clean it all up.
3. Keep the PEACE.
This is not a day to be bothered by annoying in laws, lazy husbands, or irritable tired kids. Make a choice now, that if someone is being grouchy, dramatic or negative that you will not let it affect you and you will stay calm and peaceful. No gossip or negative talk aloud at all on this special day either.
4. Make the MAGIC last longer.

It seems that the kids are done unwrapping presents in no time at all. Try to make it last longer by wrapping as many things as possible (even stocking stuffers). I even wrap most of the Santa gifts too, so there is more of a surprise. I make the Santa presents special by getting a fun wrapping paper for each one of my kids. They never see this paper, except on Christmas morning. I throw away any left over paper, so they will think it is from Santa. Then take turns opening each present! Go around in a circle and enjoy watching each person open each gift!
5. Write letters to Jesus.

Take a moment between all the chaos and toys to let your kids write special thank you letters to Jesus. Help them remember why we have Christmas. Keep the letters in a special box with your Christmas decorations. Get them out every year and read through them with your kids or loved ones. Continue to add to this box every year. What a great tradition!!
Lyndi
To see more from Lyndi, visit her at Ellie Bean Design or on Facebook!
---
Pam Dana
Pam is a stay at home working mama that enjoys all phases of life! Between her 3 kids, fur baby (a beyond cute Goldendoodle), wonderful husband, friends and working, she stays pretty busy! But, she is loving every aspect of her life! Here on Over the Big Moon, she loves to share DIY's, recipes, printables, organization tips and more!
---