9/11 FREE Printable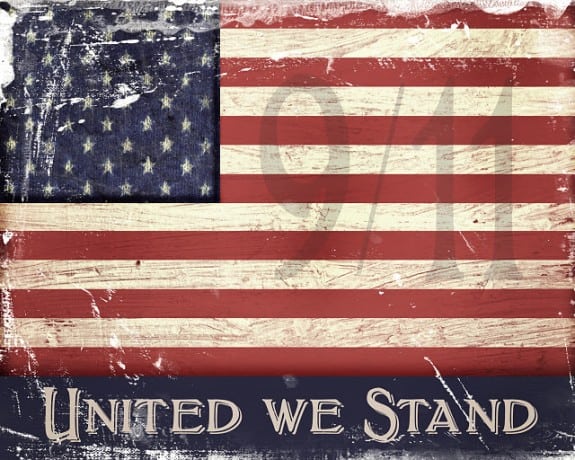 With the 10 year anniversary coming up of 9/11, we thought we would honor it with a printable! Thanks Lisa for making this! It turned out perfect!
Each year, like many of you, I generally think back to the morning it happened. I was 18 and in my 2nd semester of college. I was still living with my parents and my mom came in and told me to turn the news on. Minutes later the 2nd tower was hit. I sat on the end of my bed in shock. I remember my 1st class that morning was Communications 1010 and I was shocked as majority of my class stumbled into our 9 am class and had no idea what was going on. I couldn't really concentrate on class that day.
I was able to go to New York and visit the Ground Zero site in 2002 and it was unreal. All the Memorials were still all along the streets and at Ground Zero. Buildings were still damaged all around Ground Zero.. Watching it on TV just a half year before, I had no idea how TRULY big the scale of damage that was done. But, now I'm a mother and a wife and my thoughts are much different when thinking back to 9/11. My heart breaks for the families that were broken from the events of the day. The kids that lost a parent and parents that lost their kid.

MY LATEST VIDEOS
When I saw evidence of the courage and conviction of the American Spirit during the 9/11 events my heart swelled with a stronger sense of pride then I knew existed and I realized how truly blessed and honored I feel to be an American. This Country and the people that make it are truly amazing!
---
Pam Dana
Pam is a stay at home working mama that enjoys all phases of life! Between her 3 kids, fur baby (a beyond cute Goldendoodle), wonderful husband, friends and working, she stays pretty busy! But, she is loving every aspect of her life! Here on Over the Big Moon, she loves to share DIY's, recipes, printables, organization tips and more!
---