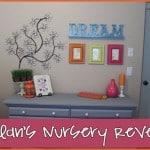 Baby Dylan's Nursery Reveal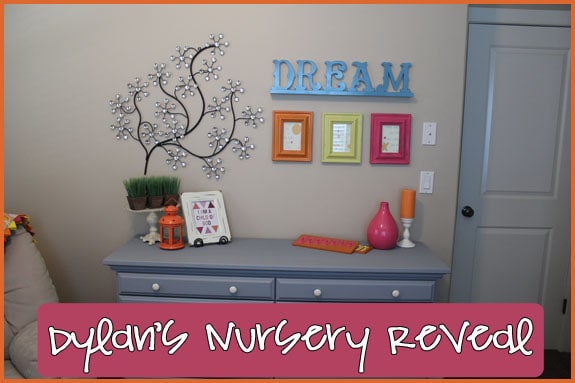 As you read this, I am probably sitting on my couch snuggling my 5 day old baby Dylan!  That or changing my 20th diaper for the day!  I thought it was time to share my sweet Baby Dylan's Nursery with you all!  I am no Interior Designer, but I am pretty excited with how Dylan's Nursery has turned out!   Especially since I honestly wasn't planning on decorating much of a Nursery in the first place.  Remember how we were thinking of possibly building soon?  Well, because we were thinking we were going to be moving this year, I decided not to put a lot of energy into Dylan's Room until we got into the new house.
But, then the thought of having my baby girl come home to the very dark and plain nursery, just was not okay with me.  How do you not make a cute little Nursery for your first baby girl?  Especially when the dark brown furniture made everything look boyish to me.
I'll be honest – it's not 100% done.  I have a few things I still want to do.  For example – the windows need a little something.  The room is on the smaller side and where the furniture goes in front of the windows, I didn't want to do big curtains.  But, I ran out of time and energy!  So, I'll figure out a little something in a few months when I'm feeling somewhat back to normal!
Just for a refresher – here is the somewhat before: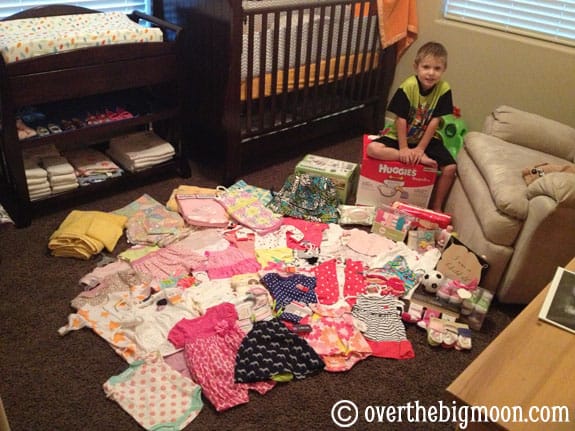 As you can see the crib and changing table were a dark wood and the dresser (bottom right hand corner) was an unfinished wood color.  All VERY plain and boring!  The whole room just had a dark feel to it.
So, here is the after: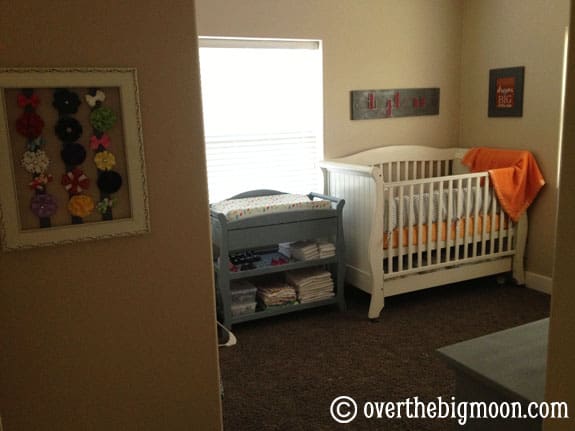 This is your view walking in the room!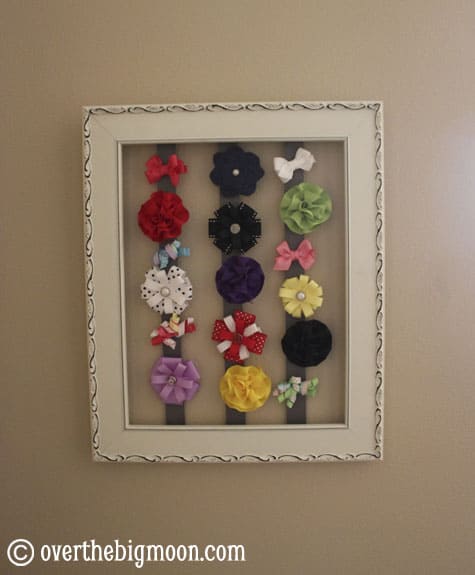 So, what do you think?  Pretty fun, huh?!?  I'll be breaking down the Nursery into a few follow up posts telling you what colors I used on the furniture, and go through the decorations, bedding, printables, etc!  So watch for those soon!
Want to keep up with us at Over the Big Moon….click here to learn how to subscribe!
---
Pam Dana
Pam is a stay at home working mama that enjoys all phases of life! Between her 3 kids, fur baby (a beyond cute Goldendoodle), wonderful husband, friends and working, she stays pretty busy! But, she is loving every aspect of her life! Here on Over the Big Moon, she loves to share DIY's, recipes, printables, organization tips and more!
---