One of my favorite go-to meals is a basic stir-fry!  I always make sure I have the stuff on hand to make a stir-fry.  That way if my day gets away from me and I need a quick dinner, I can just throw one together.
The great thing about a stir-fry is that it is basically impossible to mess it up.  You just open up your veggie drawer and pull out whatever you have.
This particular day I had pretty basic items:  Zucchini, Yellow Squash, Onion, Asparagus and Carrot.  Some of my other favorite items are Sugar Snap Peas, Mushroom and Broccoli.

MY LATEST VIDEOS
MY LATEST VIDEOS
The first thing I do is start my rice in the Rice Maker!  We love rice in our home – like a lot!  hehe 🙂
Pull out your veggies, wash and chop them up!  I always start with the veggies that are going to need to simmer the longest.
One of my favorite kitchen items is my WOK!  I use it a lot, but it's hands down my favorite for stir-fry's!
If you are going to use raw chicken for your meat, go ahead and wash, cut and cook it in the pan first.  Then get all your veggies cooking in the pan with the chicken on medium-high heat with some Olive Oil!  As you keep adding veggies you may need to add more Olive Oil.  You want to make sure that you keep stirring too.
If you're lazy like me – you can add your pre-cooked Grilled Chicken Breasts after you have the veggies mostly cooked!
I also like to add just a little Cayenne pepper.  It gives it a nice little kick – but I only add a little, because my kids eat it too.
Mix and let the veggies continue to cook!
Now for the sauce!  One of my favorite sauces to use on a stir fry is a mix of Kraft's Asian Toasted Sesame dressing and any type of juice.  I generally use Orange Juice, but I also really like using White Grape Juice.  The amount you need will depend on the size of your stir-fry.  Generally it's about 1/4 cup of each.
Once you add the sauce, then just let it simmer until everything is full cooked!
Then serve over rice and ENJOY!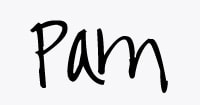 ---
Pam Dana
Pam is a stay at home working mama that enjoys all phases of life! Between her 3 kids, fur baby (a beyond cute Goldendoodle), wonderful husband, friends and working, she stays pretty busy! But, she is loving every aspect of her life! Here on Over the Big Moon, she loves to share DIY's, recipes, printables, organization tips and more!
---