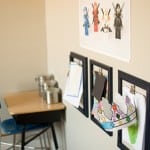 Big Boy Playroom – Lego Style
After redoing my boys room I really wanted to redo the playroom since we got rid of a ton of their toys. Their old playroom was awesome for little boys but they had outgrown a lot of it. First thing was first, we had to repair the walls and paint. Their walls were bad! I used the same paint color I did in their room because I liked it so much – Benjamin Moore's Revere Pewter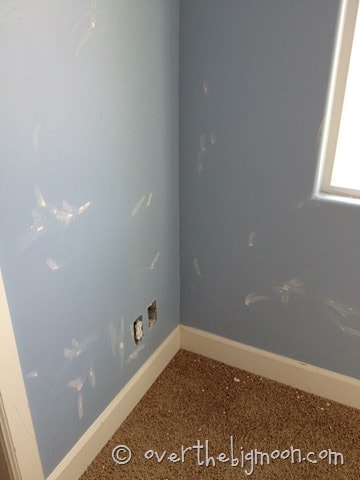 Here is what it looks like now!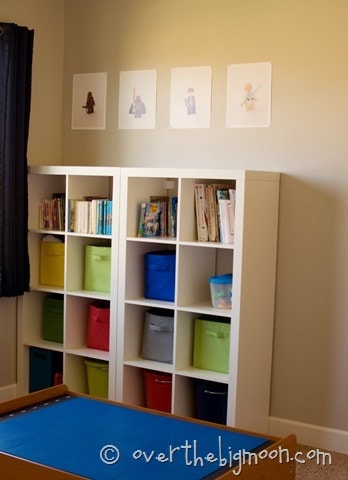 MY LATEST VIDEOS
MY LATEST VIDEOS
I took pictures of my boys Lego figures and turned them into posters to hang on the wall as décor. I love how they turned out. You can download the Star Wars prints here. I printed mine on poster board at Costco.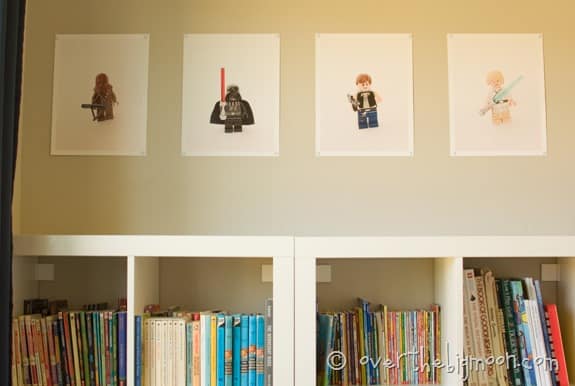 On the other wall I created a new way for the boys to display their art work. I also hung a Ninjago print above the display. You can download the Ninjago prints for free here!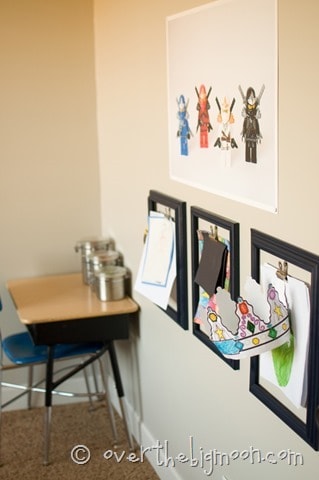 I love this new art display and how they can put their work up easily and it looks like its framed. It is also so easy to change. I will have a full tutorial on how to build your own art display tomorrow.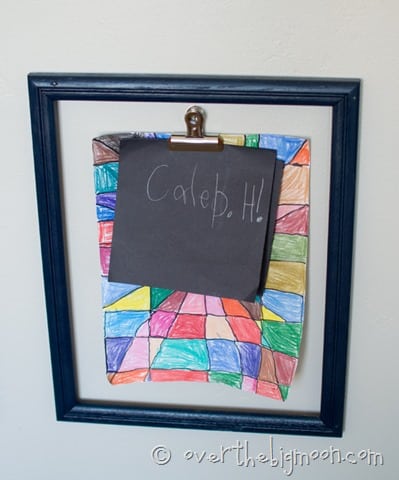 Their bookshelf needed a new paint job but its one very special piece of furniture because it was made by my brother.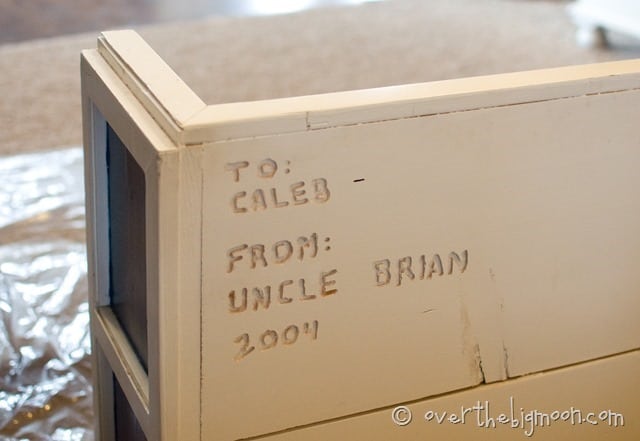 I used a paint stripper to take the original paint off and it was not the best experience. Next time I would just sand and repaint. I did the whole thing Rust-Oleum Midnight Blue
to match the frames of their art display.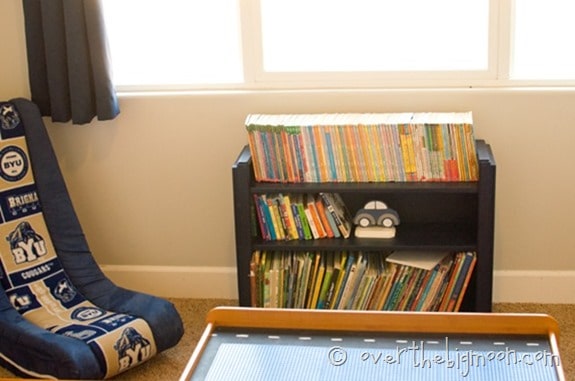 Of course I kept our reading area decked out in cougar gear!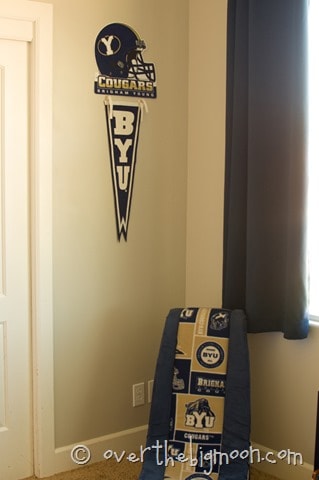 bought new curtains since ours were really faded. The window is so wide its impossible to have blinds. The last curtains were also really hard for the boys to open and close so I wanted something with large grommets so they would slide open and close easily. I found these grommet top curtains
from Amazon and I love them! They are blackout curtains so it keeps the room really dark when they are closed and helps insulate the room. I think I will be buying a second set for the boys room to go over their blinds so maybe this summer they will actually go to sleep before 10:30 at night because its dark!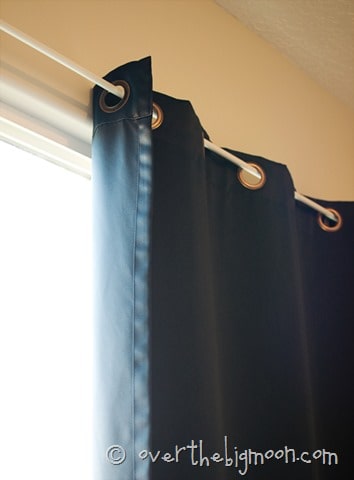 I also spent some time cleaning their Lego table. I used the brush on the vacuum to get all the dust up between the little pegs. Then I used a rag to wash the rest up. Some of our Lego plates had started to peal up so I used Scott and Pam's tutorial to add little nails to the corners.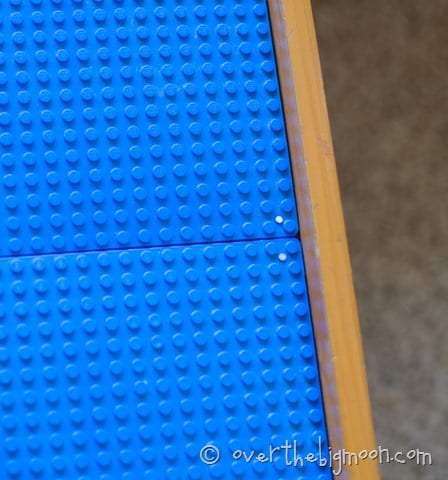 It has helped so much! This is still by far one of the best projects we have ever done. My boys use it every single day and it really allows them to get creative with their Legos.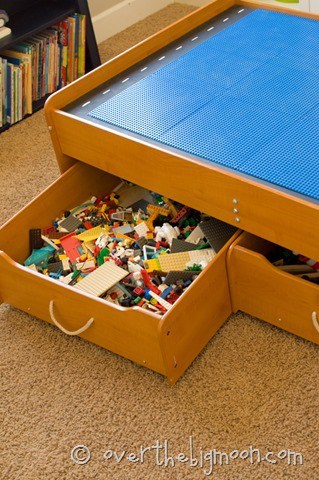 Thankfully I was able to reuse the bins we already had on hand.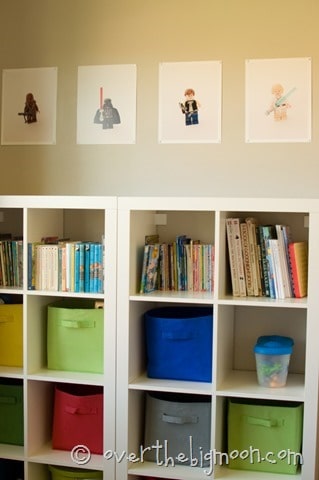 I also kept my boys buckets. This is one of the best parts of their playroom. Each boy has his own bucket that is completely off limits from the other boys. They are very respectful of that rule and those boundaries and they really like having somewhere that is just their own.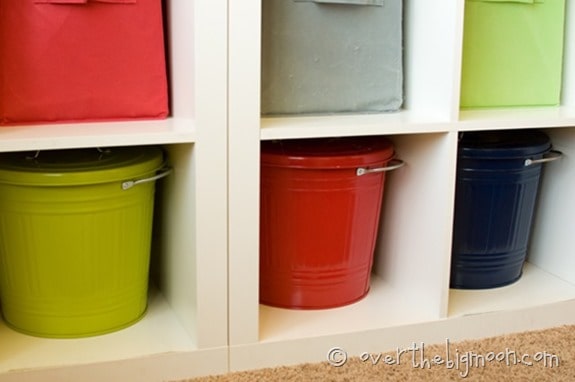 If you love Legos, you will want to check these posts out!
How to build a Lego table – Convert a coffee table / Convert a train table
---
Lisa
Previous author of Over the Big Moon. I shared my passion for home and family life! I love graphic design, DIY projects, cooking, and working in my garden! My favorite role is taking care of my husband and our 3 amazing and busy boys!
---