Blogging Resources
[wpsr_pinterest]
Today I'm excited for my hubby to post for the first time!  He has been the "back end" brains of this blog!  He helped us with our move from blogger to wordpress and pretty much anything else we've needed!  We thought it would be fun to start sharing some of the "business" stuff we've learned throughout our year in blogging!  I hope you enjoy!  Please feel free to ask questions if you have any!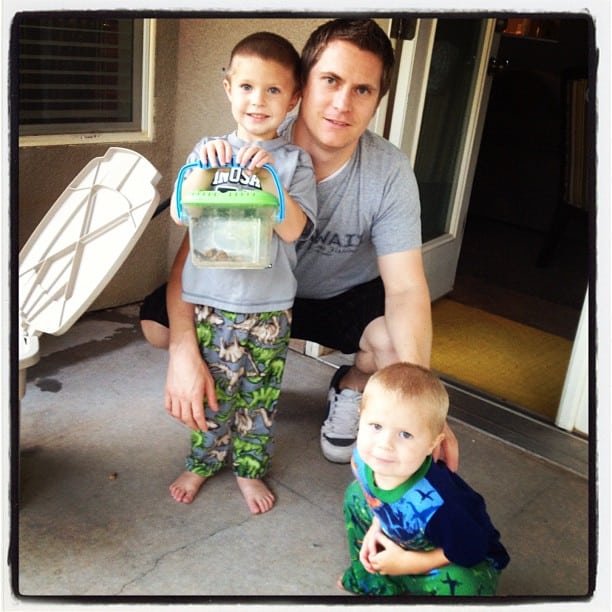 I am Scott, Pam's husband. I love playing with my two little boys, riding dirt bikes, dreaming about fast cars and playing pranks on people – although my wife is a horrible sport, so I don't prank her very often:)
I have been in the creative industry since 2002 and have had many great opportunities to work with fantastic companies and learn a wide variety of skills. I consider myself pretty well versed. I do a lot of consulting and mainly focus on the Business/Online Business Industry currently. At present I have a full time contract with H&S Performance where I lead the creative team.
I plan on posting regular blogging tips/tricks and other web and online ideas and/or tutorials on OTBM. I want to do this in an effort to help those who may be interested in starting a blog/website, or to help those who may already have a blog/website and want to learn more. Please feel free to contact me (leave comment below or message me on my Facebook account) with any questions that you may have concerning your blog/website and I will be glad to help you in any way that I can!
Disclaimer
Some of the links below are affiliate links, and at no additional cost to you, we will earn a commission if you decide to make a purchase. We recommend these companies because they have been a benefit and help to us and our blog, we don't recommend these companies just to try and get a commission if you decide to buy their product. We use their products and want to help others by recommending them. Please do not buy these products unless you feel you need them or that they will help you achieve your goals.
Hosting
Godaddy – I love go daddy for their affordability, I do not love go daddy for their user interface. I buy all of my domain names through go daddy, you can always find great promo codes for discounts on domain names. I have also been very impressed with their 4G Hosting – especially for blogs who are starting out. It is very affordable and scalable. It is currently what OTBM is using and we have had no problems with sluggish performance.
Lunarpages – Great solution for starters, because it's affordable.  You can upgrade to a faster server to a dedicated server as your blog/website grows if needed.
Bluehost – Great solution for starters, because it's very affordable.  But, can be slow during high traffic times.  So, for a smaller/newer blog, you shouldn't have a problem.  But, as your blog grows you may run into some problems.
Blogging
WordPress – Fantastic blogging solution, possibly even the best solution out there for a blogging platform. I would definitely recommend going with the self hosted solution rather than the wordpress.com solution.
Joomla – My favorite Content Management Solution (CMS) great for medium to large websites. Great library of extensions available.
eCommerce
WooCommerce – If you want a quick, easier solution that is based on wordpress, then WooCommerce is for you. A great solution for smaller eCommerce sites or even for those selling digital products.
Magento Commerce – A very good solution for more serious eCommerce websites, medium to large. I would recommend getting a dedicated server if running Magento. I have based many eCommerce solutions off of Magento. It is a little more complex and takes some getting used to. But overall my best recommendation for serious eCommerce websites.
Tools
Evernote – one of my favorite apps, I keep everything I need to remember in Evernote; To-do's, automobile maintenance schedules, server information, project plans, favorite quotes, etc. Plus it is available on many platforms, so I can sync it from my phone, to my computer, and to my iPad.
Skitch – works great with evernote. Perfect for annotating your screenshots and using in your blogging projects.
Adobe Creative Suite – A MUST HAVE for any creative person and highly recommended even for the average blogger. I know it seems expensive but there are options – Adobe now has what is called Adobe Creative Cloud which allows you to use the whole Master Collection (usually $2500 to buy) for $29.99 per month if you are a previously registered user or $49.99 per month if you are a new user. Totally worth it!
Must Have WordPress Plugins
Ways to earn
WordPress Themes
Woothemes – A great library of designs, especially if you are using WooCommerce.
Yootheme – My favorite themes to use! They make it very easy to customize widgets and visibility of widgets on different pages/posts.
Suggestions/Recommendations
W3SchoolsLearn some basic HTML and CSS! I still to this day use w3schools.com, it is a great resource for learning various types of programming languages.
More resource links to come!