Bow Tutorial Vlog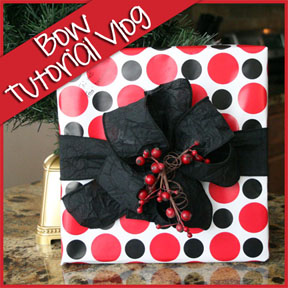 Okayfriends, why I chose to make my first vlog, when I still sound a little bit like a man., is beyond me. I lost my voice at the end of last week and I have it back for the most part, but still have that raspy "man" sound. At least I really only talk at the first bit of it.
Thanks to my sister, Jamie, for doing this for me! I was so glad she agreed to it! I decided I wanted to do this vlog, cause bows are such an easy and year round decoration. They are seriously the most universal decoration out there. You can use them for any and every holiday, birthdays, etc. All you have to do is have the appropriate ribbon. You can use them on presents, wreaths, garlands, Christmas Tree's…. the list could go on and on!. My sister, Jamie, has made WAY too many bows for me over the years. So, maybe after filming this tutorial, I'll try it myself! hehe 🙂
Also, please excuse the background noise (all the kiddos) and my parenting from behind the camera (order of the bink, lots of ssshhhh's and "in a minute"). Hopefully, they aren't too distracting. But, I try to get as much of this kind of stuff done, while the hubby is at work. Enjoy!
Part 2 is Jamie tying the same bow, but with a different ribbon. And, then we show what you can do with a bow, besides embellishing a gift. She shows you how you could add it to a garland, Christmas Tree, etc!
If you have any questions, feel free to ask away! I hope some of you feel a little inspired and learn something from this!
---
Pam Dana
Pam is a stay at home working mama that enjoys all phases of life! Between her 3 kids, fur baby (a beyond cute Goldendoodle), wonderful husband, friends and working, she stays pretty busy! But, she is loving every aspect of her life! Here on Over the Big Moon, she loves to share DIY's, recipes, printables, organization tips and more!
---