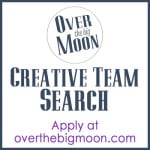 Call for Contributors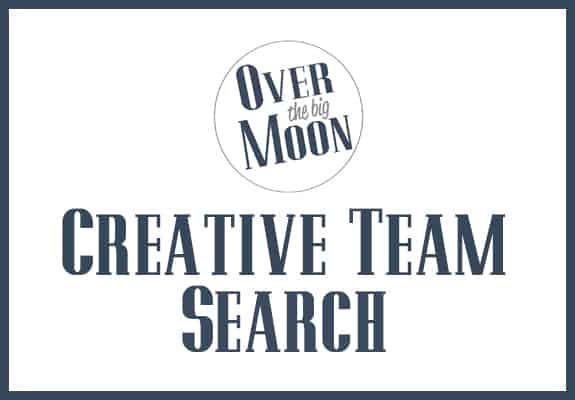 Hey friends! I'm excited to announce that I'm looking for a 2 new creative bloggers to join my Creative Team who specialize in Recipes, Printables, Crafting and DIY to join my team!
As a member of the Over the Big Moon Creative Team you will contribute one new post every month that will be featured on www.overthebigmoon.com! The post must be in the category agreed upon between us and feature great looking photos and a fun idea!
I'm looking for people that are not only creative and posting frequently on their own blog, but are also reliable and a good communicator!
WHAT YOU GET:
– PAY! You will get $25 per post, paid via PayPal if your post is completed by its due date!
– Links (good fore SEO)! You can link your blog and social media on each post you share!
– Access to a Over the Big Moon Creative Team Pinterst Board!
– Your post will be shared via Facebook, Pinterest and Twitter each month. If the photos are high quality and match my Instagram feed, then they may be featured their as well. Anytime anything is shared, you will be tagged!
– Your Bio at the bottom of each of your posts!
– Your Bio and social media channels listed on our Creative Team Page!
– A mentor! One of the greatest perks of the blogging community is that we all love supporting and helping fellow bloggers! I'll be here to help in any way! Whether that's to answer a question, possibly collaborate on something else, boost something on social media for you, etc! I have even done phone calls with past contributors to discuss ideas and ways to grow!
TO APPLY:
– Send an email to: pam@overthebigmoon.com! In the SUBJECT line, please put: OTBM CONTRIBUTOR
In the email, please include the following:
Your Name
Your Blog Address
3 links to your favorite/best posts (Remember that great photos are important!)
A small paragraph telling me about yourself, so that I can get to know you! Don't forget to show some personality!!
Application Deadline is June 6, 2017 at 11:59pm. Contributors will be notified by June 9, 2017!
Thanks for taking the time too apply! I can't wait to get to know you!
---
Pam Dana
Pam is a stay at home working mama that enjoys all phases of life! Between her 3 kids, fur baby (a beyond cute Goldendoodle), wonderful husband, friends and working, she stays pretty busy! But, she is loving every aspect of her life! Here on Over the Big Moon, she loves to share DIY's, recipes, printables, organization tips and more!
---