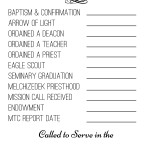 Called to Serve Printable
Happy Monday! We had such a great weekend around our house! The weather has been so perfect and it's fun to be spending so much time outside again. I'm a wimp when it comes to the cold, and by cold I mean anything under 70 degrees! I was born to live in the desert 🙂
I am so excited to share a printable with you today!
I saw Crafty Girls Workshop cute Called to Serve board and fell in love with it. I have 3 sons and I hope they will all serve a 2 year mission for our Church, just like their Dad did. I feel it is such a great tool to young men help develop a strong, faithful, and compassionate character. I love that this board helps them visualize that preparing for a mission is something done over time, and not just something they do when they turn 19. Making these boards was definitely on my to-do list and then a reader asked me if I could make one in a printable form. I thought it was such a great idea and so here it is!
For a 12×36 frame.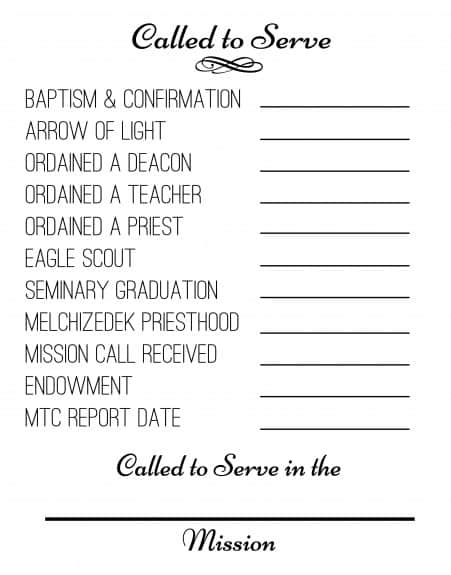 For an 11×14 frame.
All you have to do is print and frame it. Costco will print a 12×36 print, but you have to bring the file in on a thumb drive to the store rather than order it off the Internet. You can write the dates on the glass or the print. You could even add the information with vinyl onto the print. I am planning on making one for each of my boys when they get baptised. I printed one for Caleb and like the forgetful Mom I am….it's still sitting at Costco! Seriously life has been SO crazy!
You can download 3 different types of files. The first is a psd of the 12×36 so you can edit the name to fit your family. The second is a jpeg of the 12×36 with the name portion of the tag blank. You can add your own name with any photo editing software like Aviary. I used the font Arial. The third is the 11×14 jpeg.
Hope you all have a great day! Caleb gets the pin taken out of his elbow and his hard cast put on today! YEA! I'm so glad. He thinks he already has it on – I've caught him on the trampoline and riding his bike! Grrrr! Thankfully today his arm will be much more protected!
---
Lisa
Previous author of Over the Big Moon. I shared my passion for home and family life! I love graphic design, DIY projects, cooking, and working in my garden! My favorite role is taking care of my husband and our 3 amazing and busy boys!
---