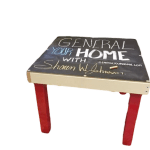 Chalktivity Table Tutorial (3 Activity Tables In 1)
Hi, Shaun here from GENERALYOURHOME.COM – where I use my experience of managing multi-million dollar construction projects to teach you how to manage the construction of your own home and save thousands of dollars.
I am really excited to share the Chalktivity Table with you today. It's perfect timing with Christmas right around the corner, and this is an inexpensive, easy-to-build gift for the kiddos.
When my wife and I didn't have a lot of money or space, but still wanted to provide great experiences for our children, we created the Chalktivity Table, which is three activity tables in one. My kids have absolutely LOVED this table!

MY LATEST VIDEOS
MY LATEST VIDEOS
The Chalktivity Table is 3 tables in one:
Regular Table
Chalkboard Table
Activity or Sensory
Regular Table:
We use the regular table for snack time or coloring books. It is also great when we have friends over for dinner and we need extra seating for children. While we are using the regular table, we store the top part under a bed or lean it against a wall until we need it for another activity.
Chalkboard Table:
The chalkboard slips over the top of the regular table. Our kids practice writing letters, draw pictures, and play tic-tac-toe. The chalk board is really high quality and cleans up nicely.
Activity or Sensory Table:
We flip the top part over for sensory activities like digging in a bowl of rice or writing on a tray of salt. The sides that once held the chalk board in place become perfect little walls to keep a mess from falling off the table. Tiny blocks stay up high instead of on the floor where our baby might find them and choke. Clean up time is a breeze because the top part can be lifted and tilted so everything falls right back into the container or garbage can. A grip mat will help the sensory top stay more securely in place.
---
Please be respectful and only build these for personal use.
Lets get started!
Parts List
Tools List
---
Step 1- Cut The Boards
Cut the 8′ MDF board into 4 pieces at 22 1/2 inches
When I build these, I just use my chop saw at home. However, I know that not everybody has a chop saw and I wanted to make this as easy as possible, so I am going to show you how I made the cuts at Home Depot with their hand saw. You could also ask a representative to cut your boards for you with their electric saw.
To get started you will want to mark the 8′ MDF board at 22 1/2″ and line up the saw using the yellow mitre box at the table and make your first cut.
Use your first board to mark the other boards
Once you have one 22 1/2″ board, use that board to measure for your next cut. Do not mark out the board all at once. Mark it, then cut it, mark it, then cut it until complete.
Have Home Depot cut your chalk board into a 23 1/4 inch square
Find any worker at home depot, usually wearing an orange apron, and tell them you need your board cut. He or she will take you to the electric saw where someone will be waiting to help you. Tell the Home Depot representative that you want the chalk board cut into a 23 1/4 inch square. There is enough chalk board to make two tables, or you can make something else creative with the left over chalk board material.
I could have asked a home depot representative to cut the MDF board for me too, but sometimes they are not very precise. After watching them cut my chalk board, I wish I would have had them cut my MDF board too, because they did a pretty good job this time.
Tips:
When cutting the MDF, start off cutting slowly so you get a nice straight edge.
Stabilize the 22 1/2″ side of the board with the hand you are not using to cut.
Ask the Home Depot representative to cut your chalk board to the precision of 1/16th of an inch.
Step 2- Drilling The Holes
Here is what I used to drill my holes:
(Hint, if you don't have these drill bits, do not buy them individually. You can buy a nice 31 piece set that will have everything you need for $10. You will spend almost $10 buying these individually. Plus, it is nice to have these tools handy around the house.)
Sand the edges smooth before drilling
Before you start drilling, I like to take a little sand paper and make sure the edges look smooth because they will be exposed.
Each board will be getting two holes drilled in it at one end only. You need to mark where these holes will go on one end of each board. It doesn't matter which end, just make sure that each board is only marked on one end. You can print the layout paper and line the edges up to mark one side of each board. I like to use a pair of scissors to mark my holes by poking them through the paper into the wood.
(If you can't print the paper, the holes need to be placed 5/16″ in from the edge, and 3/4″ from the top and bottom)
Drill a pocket to hold screw head
Now that the boards are marked, place the board you intend to drill on top of a scrap piece of wood that you can drill through. Take out the 1/2″ paddle bit or drill bit and slightly make an impression in the MDF. DO NOT DRILL ALL THE WAY THROUGH THE WOOD. This impression is only used to house the head of the screw. Look at the size of the head of the screw to help you judge how deep to make this impression. It really should need to be more than 1/8 of an inch.
Drill actual screw hole
Its time to drill a hole all the way through the boards. Take out the 9/64″ drill bit and put it in the center of the impression you just made and drill all the way through the board.
Intended frame layout
Now its time to lay out the frame of this table top and drill through the length of the boards. Look carefully at the image above to see how this frame is to lay out. You should only be drilling holes in one side of each board.
Drill holes through the length of the board
Line up the boards as shown above with the edges flush with each other. Once you have your edges lined up, use your drill to make a slight impression on the board perpendicular to the board you have already drilled holes into. Doing this allows you to focusing only drilling through one board straight.
Now that you have marks on the board, drill a straight hole through the length of the board on your two marks. When drilling these holes, make sure you insert the drill bit as far as it can go.
IMPORANT NOTE: It is extremely important that you drill these holes straight. If you do not, they can split when you go to put a screw in them.
Tips:
When drilling the holes, it makes it easier if you pull the drill bit in and out, letting the wood particles come out instead of forcing the bit in.
Go slow, there is no need to rush this process.
Make sure you understand how the boards are to lay out before you start drilling any holes. If you want to verify your layout is correct, get the chalk top that home depot cut for your and see if it fits squarely over your frame.
When drilling the impression holes I recommend using paddle bit vs a drill bit. You have much more control with a paddle bit.
When drilling the impression holes, go slowly so you can gauge how far down you are going.
When tightening the finish screws, go slow and make sure they are flush with the face of board. Sometimes if you go to fast, you can strip them and make them useless.
Step 3- Screwing The Frame and Top Together
Alright, you are almost done! It's time to start actually putting this thing together. For this step you will want the following:
Glue boards together before screwing
Place a bead of glue on the back edge of the board as shown below. line the boards up as you did when you drilled through the length of the board.
Screw boards together
When the boards are lined up, place the first screw in half way only. This allows you to get the bottom screw in before the top screw is to tight that you can't move it. line up the bottom screw and screw it in all the way to where the screw face is flush with the board face. Once the bottom screw is tight, screw the top screw in tightly.
Repeat this procedure until the frame is screwed together tightly
Glue top on
Now that the frame is built, it's time to put the chalkboard on top. To do this, place a small bead of glue around the entire frame and gently place the chalk board top on the frame .
Drill a pocket to hold the screw heads in top
Once the frame is sitting square, it is time screw down the chalk board top. You will be placing 8 screws down trough the frame with 4 screws in each corner, and 4 screws in the center of each board. To mark the center of each board, pull your tape measure across and make a mark at 11 1/2″. Make sure your mark is such that it will go through the center of the MDF frame board, 5/16″ in from the edge. in each corner, and on each mark, take the 1/2″ drill bit or paddle bit and make a small impression to house the head of the screw.
Screw top on
Once each impression is made, take the small 3/4″ screws and place them through the top and into the frame, without drilling a hole this time. Make sure the screw is flush with the top of table.
Tips:
When drilling the impression holes I recommend using paddle bit vs a drill bit. You have much more control with a paddle bit.
When drilling the impression holes, go slowly so you can gauge how far down you are going.
When tightening the finish screws, go slow and make sure they are flush with the face of board. Sometimes if you go to fast, you can strip them and make them useless.
Step 4- Building The Ikea Table
This step is so simple, I am going to let you just look at the pictures.
Finished!
Great Job, you have completed your Chalktivity Table! Now your top is ready to slide right over the table and your kids can start playing.
---
If you would like to learn more about what I do over at www.generalyourhome.com, go ahead and click here to listen to my podcast that explains what it means to build your own house. Or click here to check out my latest blogposts.
---
Pam Dana
Pam is a stay at home working mama that enjoys all phases of life! Between her 3 kids, fur baby (a beyond cute Goldendoodle), wonderful husband, friends and working, she stays pretty busy! But, she is loving every aspect of her life! Here on Over the Big Moon, she loves to share DIY's, recipes, printables, organization tips and more!
---