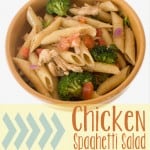 Chicken Spaghetti Salad
This is the easiest and most delicious pasta salad ever! It is perfect for a BBQ, shower, or my personal favorite – dinner at the lake!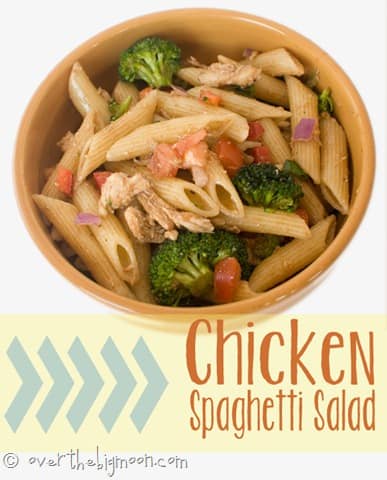 Here is what you need for the salad:
Noodles
2-3 Chicken breasts (cooked and shredded)
Good Seasons Salad Dressing packed mixed per directions but using olive oil and balsamic vinegar
Broccoli
Tomatoes
Red onion
Green onion
Red Pepper
Green Pepper
Cucumber
Calamata Olives
Shredded Parmesan Cheese
Garlic Salt
Lawry's Seasoning Salt
First I cook the noodles and the chicken. If you let the chicken set for a few minutes before shredding it, it will stay more moist. Shred the chicken and mix the dressing. I add the chicken to the top of the noodles and add the dressing right over the chicken so it soaks up a lot of the dressing and vinegar flavor up. Add whichever vegetables you have on hand or like and toss with the noodles. Season to your tastes with garlic salt and Lawry's and refrigerate for several hours. Taste and add salt as needed.

MY LATEST VIDEOS
MY LATEST VIDEOS
One of the best things about this salad is it almost better the second day so its easy to make a day in advance! So excited summer is coming up right around the corner!
Want to keep up with us at Over the Big Moon….click here to learn how to subscribe!
---
Lisa
Previous author of Over the Big Moon. I shared my passion for home and family life! I love graphic design, DIY projects, cooking, and working in my garden! My favorite role is taking care of my husband and our 3 amazing and busy boys!
---