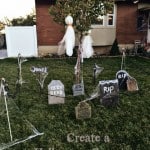 Create a Halloween Cemetery
"This is Halloween! This is Halloween!"
Amanda here – from The Contractor Chronicles and my kids have become obsessed with "The Nightmare Before Christmas" and pretty much all things Halloween! My kids have been asking begging me for a week to decorate for Halloween since the Disney Channel started talking about Halloween!
On Monday I made their dreams come true.
I even went above and beyond and made a fun little cemetery in our front yard for them – so today I wanted to share how to create a Halloween Cemetery – using wood from your scrap pile!!

MY LATEST VIDEOS
Fun right!? No… it's not spooky scary … I have little kids that I don't want to freak out!
But if you want to make one too – here is what you do!!
First, I picked some cheap pieces of wood – I had a fairly large piece of OSB flooring and I cut it into three sections. I left one section square and then used my Ryobi circular saw to cut the corners off one piece and my Ryobi jig saw to round out the end of the third piece.
I also used some scrap 2×2's and a piece of 1×6 that I had.
I used my miter box and cut 45 degree angles on the bottom of the sticks so I could put them in the ground a bit easier.
I assembled the 2×2's and 1×6 to look like gravemarkers and then spray painted them using black, gray and white to look weathered and old.
I free-handed some sayings and names on them – and I am totally NOT an artist.
Then I took my corner cat to each one to rough it up a bit.
I flipped them over and glue and nailed a piece of 1×2 to the back of the three tombstones so I could prop them up using a another 1×2.
I threw in a couple of headstones I had from the dollar store a few years ago and was done – with the building part at least!
It didn't look too spooky – even with ghosts flying in the trees so I busted out the spider webs and Halloween lights. I roped it off with lights and added spider webs to the headstones and was really done!
We love it and think it looks great with our Halloween front porch!
Head on out to your wood pile or home depot and pick up some scrapwood and get building – headstones vary so much you can't really go wrong! If you wanted super scary you could even add some demon-like figurines and creepy writing – make it yours for your family!
Have a great October and Halloween and I will see you next month!
Here are some other really great Halloween projects you can check out:

Spooky String Art – Halloween Deco Mesh Wreath – Witch Broom Chalk Art
Happy Halloween!!