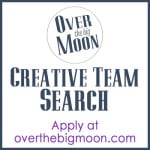 Creative Team Search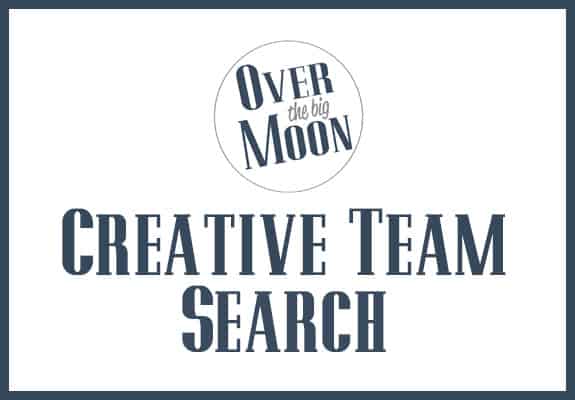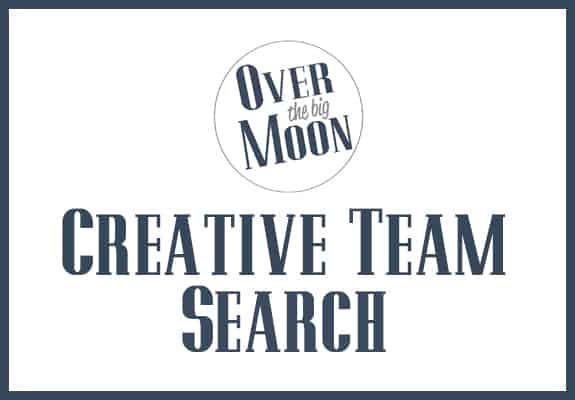 Hey friends! Pam here! I am excited to announce that we are going to be adding a Creative Team here on Over the Big Moon! This is something that I have really put a lot of thought into and I want to do it right! I know there are so many talented bloggers out there that can add to the value of Over the Big Moon! I will be working closely with our Creative Team to make sure that my stamp of approval goes on all posts and really fits on Over the Big Moon!!
Are you a blogger and interested in being a part of our Creative Team?
What I am looking for:
– Someone who is fun, creative, has new ideas, meets deadlines, organized and wants to be a part of a team!
– Bloggers in the following categories: Printables, Crafts, DIY, Recipes/Food and Kids Activities
– Rockin' photography! Although great ideas are important, you've gotta be able to make that idea appeal to our readers!

MY LATEST VIDEOS
MY LATEST VIDEOS
What's expected of you:
– One new ORIGINAL post a month, that is completed by its due date! (Starts in September)
– Each month, you'll submit 3 post ideas and I will choose the idea that fits best for Over the Big Moon.
– Quarterly contract!
– Great photography! This is SUPER important!
I don't require it, but I do love to see you share your idea on your social media channels as well!!
What you'll get from it:
– PAY! You will get $25 per post, paid if your post is completed by its due date!
– Access to Over the Big Moon's Creative Team Board on Pinterest!
– Your post shared on all OTBM social media channels!
– 5 Pins pinned monthly onto 2 of our top group boards!
– Access to an OTBM Creative Team FB group where we can share ideas, opportunities, you can ask questions, etc!
– Quarterly thank-you gift via snail mail!
– Your Bio at the bottom of each of your posts!
– Your Bio and social media channels listed on our Creative Team Page!
How to Apply:
Complete the form below (or click HERE)! If for some reason you have trouble with the form, feel free to email me at pam (at) overthebigmoon (dot) com!
The deadline for applications is August 17, 2015.
Thanks for taking the time to apply! I can't wait to get to know you!
---
Pam Dana
Pam is a stay at home working mama that enjoys all phases of life! Between her 3 kids, fur baby (a beyond cute Goldendoodle), wonderful husband, friends and working, she stays pretty busy! But, she is loving every aspect of her life! Here on Over the Big Moon, she loves to share DIY's, recipes, printables, organization tips and more!
---