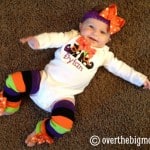 Darling Custom Baby Outfits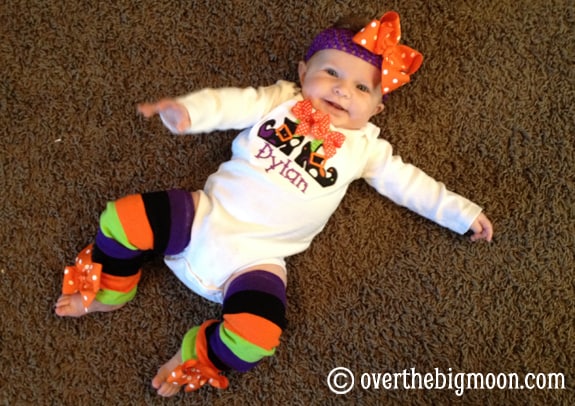 I hope everyone had a fabulous Halloween yesterday! Our's actually ended up being a little differently that I had planned, but before I get into that. I have to show off my baby girl!

Darling Little Bow Shop was so nice to send me this ADORABLE outfit for my Dylan girl! It includes the cute leg warmers, personalized onesie and headband w/ bow!
I was so impressed with the quality of all the pieces. The onesie and leg warmers were thick and so comfy and soft. And the embroidery and appliqué on the onesie were done flawlessly.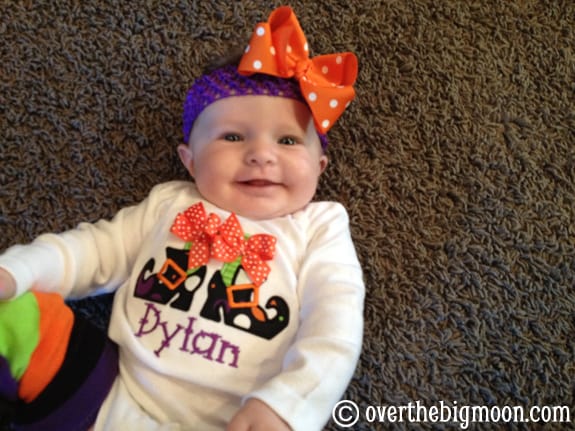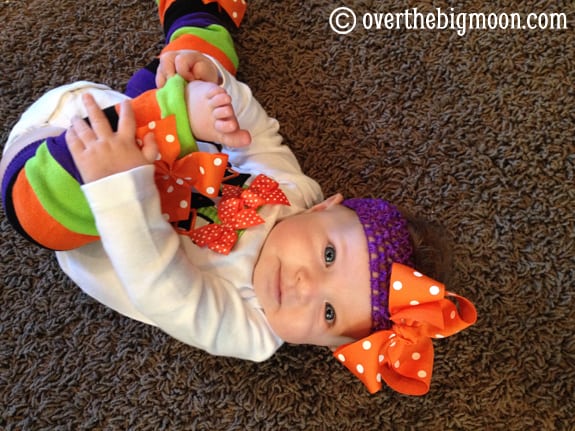 Even the bow's on the leg warmers held up to the test of all tests, because right now Dylan is obsessed with her little feeties. And, she was constantly grabbing at the bows on the leg warmers. They kept her entertained all morning long and held up strong for her!! haha 🙂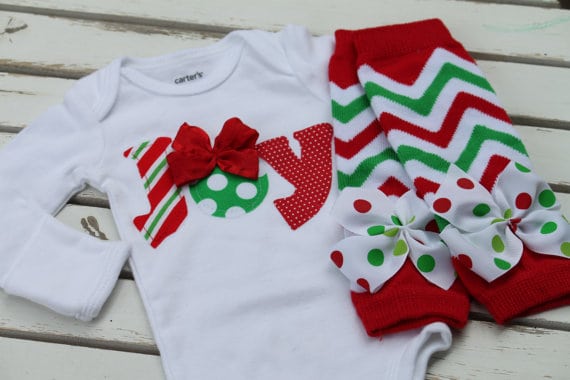 I can't wait to order Dylan an adorable little Christmas outfit! I'm pretty sure I'm gonna order this JOY onesie and leg warmers set that is over at Darling Little Bow Shop! Click over though – cause she has quite a Christmas collection to choose from! Not only does she have collections for Holidays, but she also has items themed for Birthday's, Headbands/Bows, Back to School, Leg Warmers & Flip Flops, Personalized Monogrammed Bows, for little BOYS and just plain everyday! You will die over how cute her stuff is!
Thanks again Melanie for sharing your talents with me and Dylan!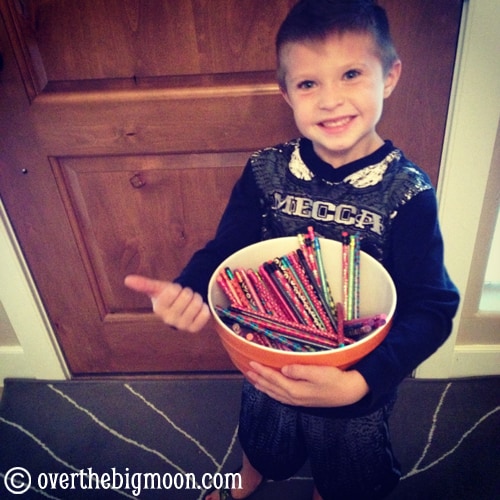 Now onto my two boys! They are crazy! Their bedroom loft has been messy for about a week now. Sweet Dylan broke her first tooth about a week ago and then got a cold that is going around and I just haven't had the energy or time to go help them clean it. Their loft is a large area and is broken into two rooms – a family room/play room and then their bedroom is on the other end. When it gets too messy it can be overwhelming for them to clean all by themselves. So, this morning I told them that if they wanted to go trick or treating, then they need to go start cleaning the upstairs and I'd be up in a little bit to help them. They kept avoiding the task. So, on the 3rd reminder to them I got the reply, "That's okay! We'll just stay home and pass out pencils!" SO, thats exactly what we did! And, we all had a blast! My boys didn't mind one little bit that they didn't go out. I did them them run to our two neighbors houses and trick or treat and so they each got 2 candies! Funny thing is when they were getting ready to go I asked them if they wanted to put their costumes on and they said No! haha 🙂 I guess the neighborhood Trunk or Treat last week and their school class parties were enough for them!
Have a great weekend everybody and be sure to check out Darling Little Bow Shop!
Want to keep up with us at Over the Big Moon….click here to learn how to subscribe!
---
Pam Dana
Pam is a stay at home working mama that enjoys all phases of life! Between her 3 kids, fur baby (a beyond cute Goldendoodle), wonderful husband, friends and working, she stays pretty busy! But, she is loving every aspect of her life! Here on Over the Big Moon, she loves to share DIY's, recipes, printables, organization tips and more!
---