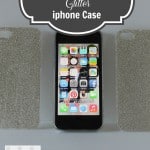 DIY Glass Glitter iPhone Case
Hey Everyone! I'm so glad to be back to share a fun project I worked on last week. Glass Glitter iPhone cases!
I love Glitter! Yes, it's true. Things that sparkle and shine catch my eye and have drawn me in since I was a little girl. If it sits long enough, eventually I will put a little glitter on it. But these days I get to use grown up glitter. German Glass glitter is my favorite glitter. It can dress up any number of projects including these Glass Glitter Banners I made. It's real glass coated in silver. The silver makes it tarnish and get a beautiful patina with time. I thought my iPhone was looking a little dull so I decided to glitter a case for it.
Here's What You'll Need

MY LATEST VIDEOS
MY LATEST VIDEOS
Clear iPhone Case: You can order these here
100 grit German Glass Glitter in Silver from Meyer Imports
Krylon Glitter Blast Clear Sealer
Sponge brush
Here's How to Do It
First, coat the outside of your phone case with a thin layer of Modge Podge.
Using a box or container to catch the extra glitter, sprinkle glitter over the Modge Podge and shake off any excess.
Allow your case to dry and then spray with Krylon Glass Glitter Blast Clear Sealer. This stuff is awesome! It will seal your case and prevent your glitter from flaking off. You don't want all that glitter on your face every time you use your phone!
I used 3 coats of the clear sealer to really seal the case well. Allow to dry for at least 24 hours and then your new case is ready to go. Just snap it on your phone and you'll have a beautiful, sparkly and unique iPhone case.
---
Lisa
Previous author of Over the Big Moon. I shared my passion for home and family life! I love graphic design, DIY projects, cooking, and working in my garden! My favorite role is taking care of my husband and our 3 amazing and busy boys!
---