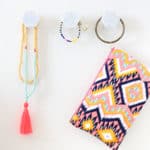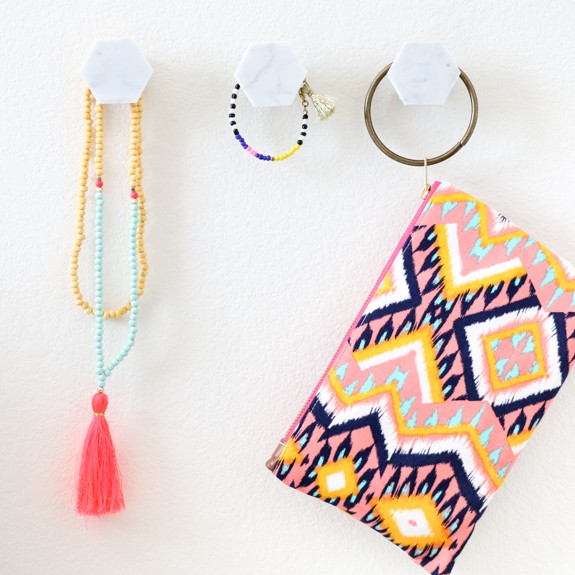 DIY Marble Hexagon Wall Hooks
There's something about real marble that is classic, elegant, and super stylish. But, just because marble furniture and counter-tops are expensive, doesn't mean you can't DIY your own marble home decor pieces for cheap. It's Kara from A Kailo Chic Life, and I'm going to show you how to make DIY marble hexagon wall hooks using hexagon marble tile! Time to get classy!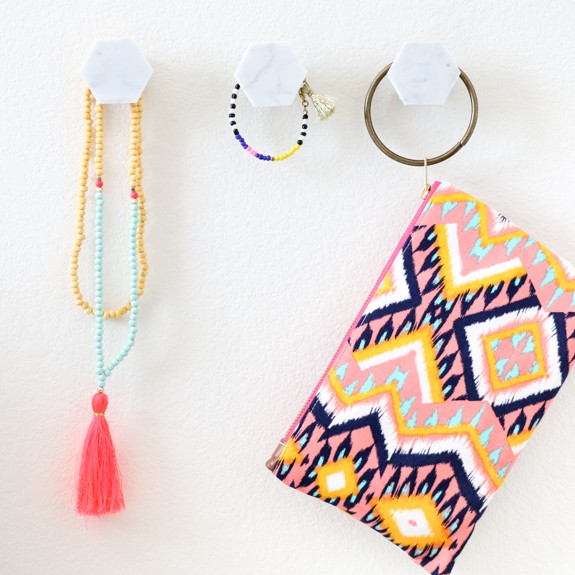 These can be made for only about $1 each! How's that for thrifty and fabulous? Follow along below for the tutorial on how to make your own DIY marble hexagon wall hooks.
The Supplies:

MY LATEST VIDEOS
MY LATEST VIDEOS
Marble Hexagon tile
1/2″ wood craft cubes
Gold acrylic paint
Special half bolt, half screw hanger bolt
Dry Wall Mollies (Anchors)
Drill with drill bit the size of the hanger bolt
Industrial strength craft adhesive like E6000 or Power Tac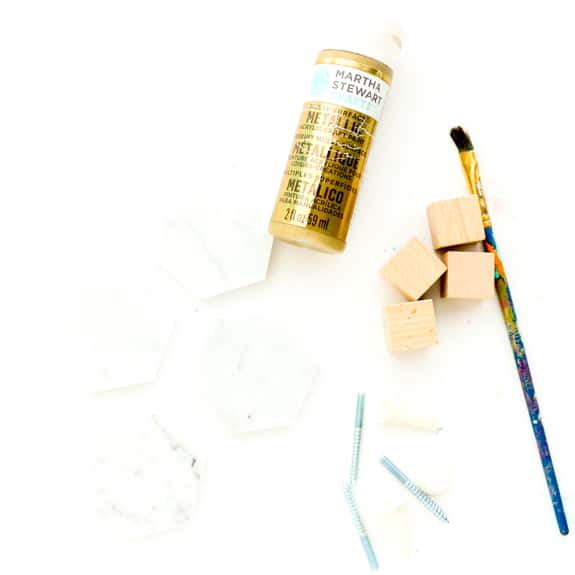 Begin by painting your wood blocks gold with the acrylic paint. Let them dry, then use your craft adhesive to glue the wood cubes to the back of the marble tile.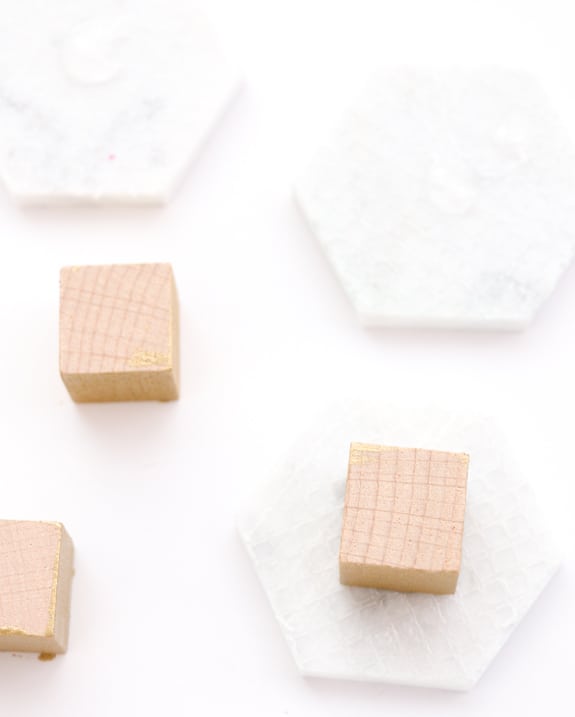 Let the glue dry overnight, then drill pilot holes into the wood cubes using your drill. (Pictured: my drill!)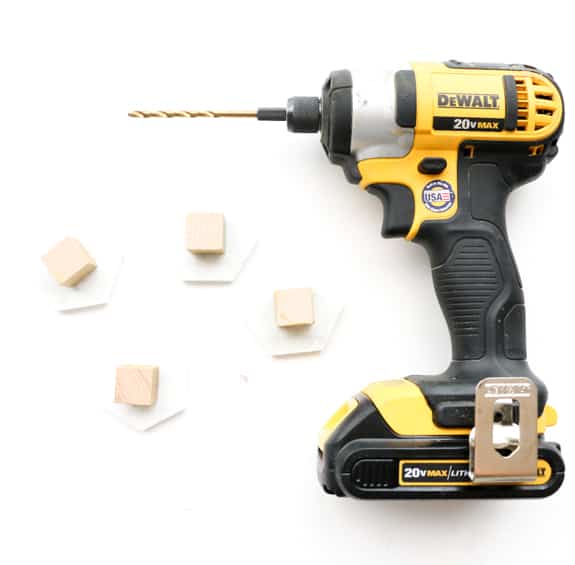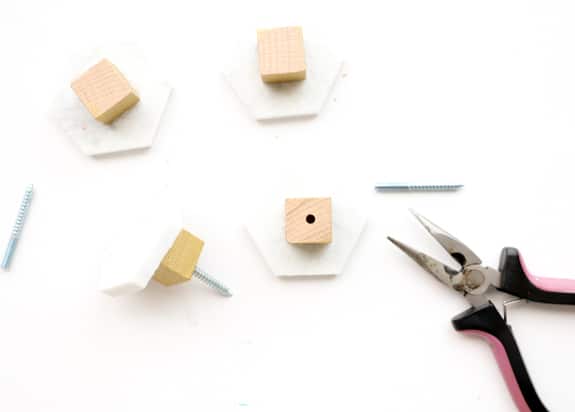 Once the holes are done, use a pair of pliers to screw the bolt side of the hanger bolt (aka, the 'non-pointy' end) into the wood cube. Now all that's left is to add mollies to the wall where you want your hooks. Screw the hooks into the mollies and start hangin' yo' stuff!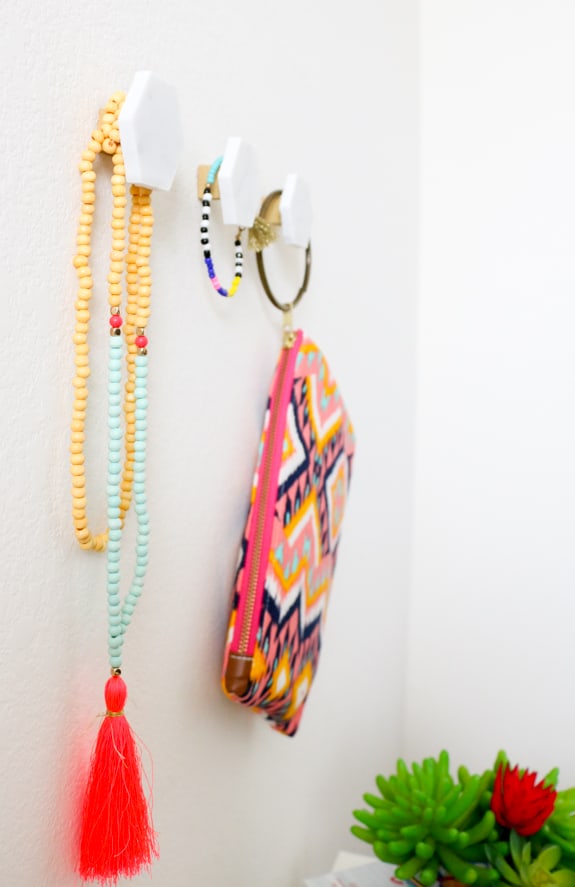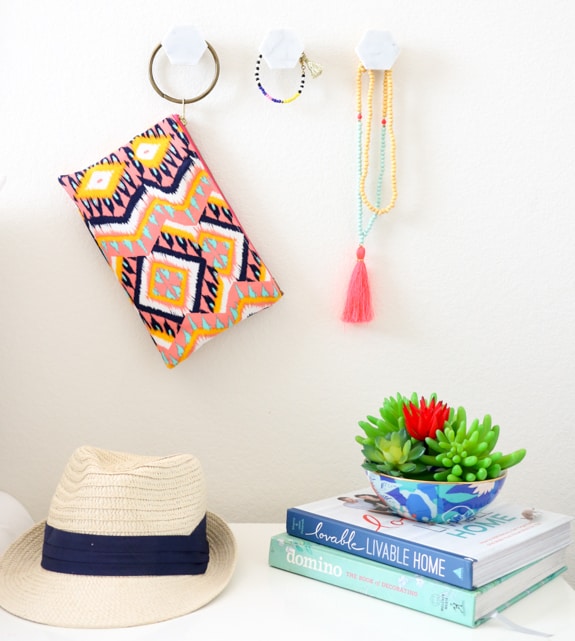 Your new DIY marble hexagon wall hooks should be strong enough to hang everything from a work of art, to jewelry, purses and jackets. If you've got a busy home or just a ton of coats, some extra wall hooks will always be useful. I hope you've been inspired by this easy home DIY project. Check out my blog, A Kailo Chic Life, for even more fun DIY and craft ideas.
---
Kara from A Kailo Chic Life
Hi! My name is Kara and I am the owner and creative force behind A Kailo Chic Life. I am a mom of two and I love all things bright, colorful, and patterned. I love interior design, crafting, DIY projects, gardening, and baking.
---