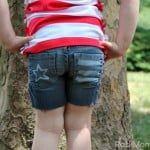 DIY Patriotic Shorts
Hey! I'm Briton, the mama behind Rad Mom Cool Kid, a family lifestyle and travel blog. Today I'm excited to share a simple tutorial for one of my favorite holidays: DIY patriotic shorts. These shorts are perfect for a day spent at the lake, hiking, or BBQing with friends! This tutorial works for any size but I'll be showing you the pair I made for my 3 year old daughter. Also, be sure and enter the $100 Amazon Gift Card Giveaway at the end of this post!
Supplies –
Old pair of jeans
Bleach pen
Cardboard
Fabric scissors

MY LATEST VIDEOS
MY LATEST VIDEOS
Step One – cut the jeans into shorts. Remember: you can always go shorter but you can never go longer so cut them a bit long at first and try them on before making your final cut. I usually grab a pair of shorts that are already the length I want and use them as a guide.
Step Two – place the cardboard under the layer of fabric you'll be bleaching. This will stop the bleach from bleeding through to the other side.
Step Three – in a well ventilated room or outside (away from kids and pets) practice on the scraps you cut from the shorts to get a feel for how the bleach pen "writes." If the pen is new it might spit a bit at first until it gets going. Mine globbed out and had air bubbles that splashed the bleach out of the straight line I was going for. Luckily, it happened on the practice piece.
Step Four – draw your design on the shorts. I opted to do a star and stripes spin on the flag but you could also do lettering. I let the bleach sit for one hour then traced over it again and let it sit for another hour. You'll want to keep an eye on your project as the time could be shorter or longer depending on the fabric you use and how bleached you want it to look.
Step Five – thoroughly rinse the bleach from the shorts. You can toss them in the washer or just use a bit of dish soap around the bleached area before rinsing again.
Step Six – line dry or dry in the dryer. If you want the bleached area to be lighter, repeat steps 2-6! And there you have it: easy DIY patriotic shorts!
I'd love to have you stop by Rad Mom Cool Kid – here are some posts I think you'll love:
DIY T-Shirt
15 Classic Road Trip Games
The Ultimate Utah Summer Bucket List
Now it's time for you to enter the $100 Amazon Gift Card Giveaway! Enter below using the Rafflecopter! The giveaway will run from 6/1/15 at 12:00am through 6/13/15 at 11:59pm! The giveaway is open to everyone! GOOD LUCK!
---
Pam Dana
Pam is a stay at home working mama that enjoys all phases of life! Between her 3 kids, fur baby (a beyond cute Goldendoodle), wonderful husband, friends and working, she stays pretty busy! But, she is loving every aspect of her life! Here on Over the Big Moon, she loves to share DIY's, recipes, printables, organization tips and more!
---