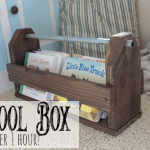 DIY Tool Box in Under 1 Hour
I'm back! It's Rebekah from Charming Imperfections and I'm happy to be sharing here on Over the Big Moon once again!
You may not realize it, but there are many ways to use an old fashioned tool box, as I've discovered since making one this summer:
First, it makes a lovely bit of decoration for any modern farmhouse. It can also be used to tote along things like books, art supplies, or, we have one on the dining room table with salt, pepper, and napkins inside for easy refilling.

MY LATEST VIDEOS
MY LATEST VIDEOS
The reason I'm so excited to be sharing this with you is because they also make great Christmas gifts! You'll want to start making them early, which is why I'm telling you about them now so early in November.
I wanted this one to be smaller than my first (seen above) and easier to carry. The size, however, is totally up to you and can easily be altered any way. This is a quick and easy project for anyone with basic power tool skills. I'm pretty sure I made mine in under 45 minutes, but I gave you an hour just in case. I'm just telling you that it probably won't even take very long. As for cost, it was completely free to me because of the reclaimed materials used.
So, are you ready? Here is how to make a DIY Tool Box in Under 1 Hour.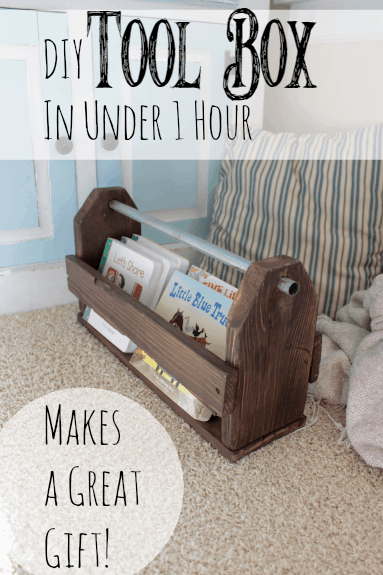 My tool crate was made from scrap pallet boards, but I understand that not everyone has pallets readily available, so the supplies list gives you the sizes of boards you can buy.
The tools and supplies you'll need are:
Circular saw
Power drill
a wide pallet board (or a 1"x 6" x 4')
a narrow pallet board (or a 1" x 2" x 4')
Pipe (or wooden dowel)
Hole saw attachment for your drill (as wide as your pipe)
Let's get started, shall we? Start by measuring and cutting the base from the 1×6 at 24". Then, cut the two side pieces at 10" tall and dog ear the corners on the top.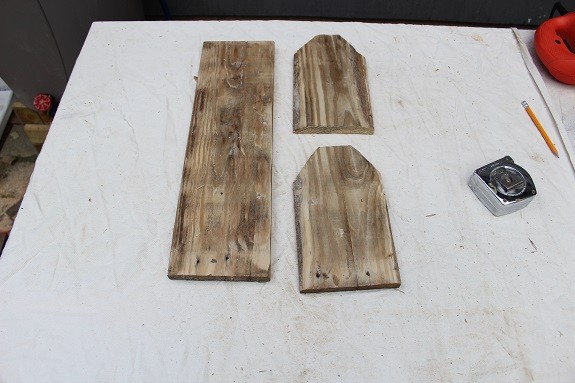 Now, put the dog eared pieces together with the bottom board by putting down some Gorilla Glue and a couple of screws.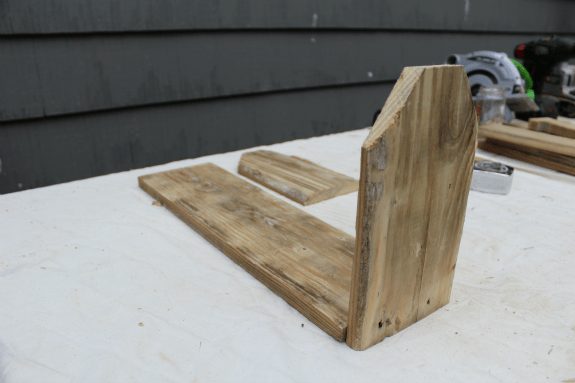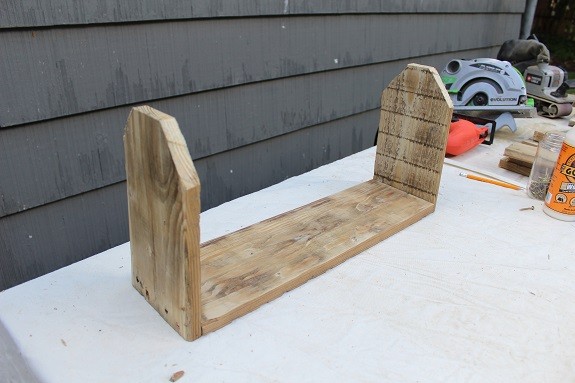 Next, measure two sections of the 1×2 at 24". Attach those to the sides about halfway up. I just eyeballed where they should go.
Using your hole saw, drill into the tops of the two side boards. I really should have done this before putting everything else together for ease and accessibility, but it worked out fine in the end. The last part is fun, slide the pipe or dowel into place and you have yourself an adorable little tool crate!
Feel free to paint or stain as you wish.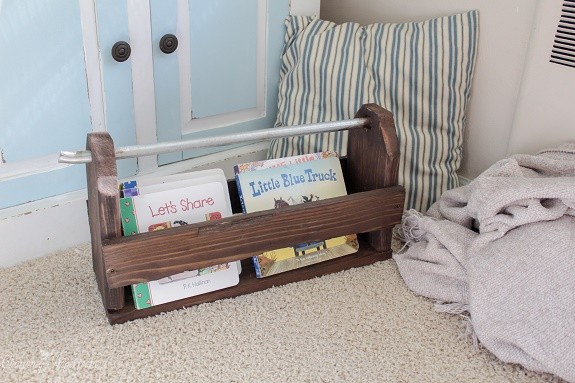 There are so many ways these old fashioned tool boxes can be used and now that you have one, you can discover just how many there are! Regardless of the many functions, they are so cool to look at and make such a perfect decoration for your home. We like to use this one for our toddler's books. He has his own little corner there in the living room to snuggle up while Mommy's blogging and explore the pictures of his favorite stories.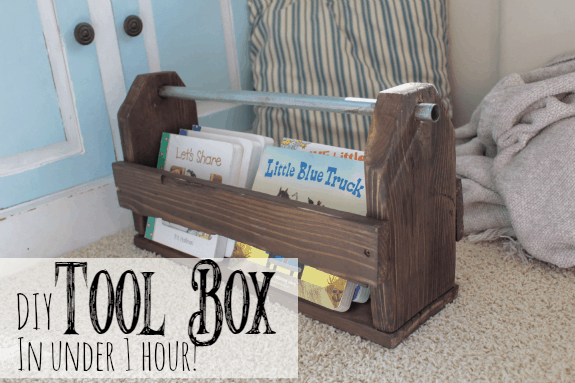 Want more DIY décor ideas? Some can be found on Charming Imperfections like….
…this pinecone garland…
… and this corkboard upgrade.
And, of course, you'll never run out of ideas here at Over the Big Moon!
---
Rebekah | Charming Imperfections
Hi, I'm Rebekah and I blog at www.charmingimperfections.com! I'm a young Mom that lives in the middle of cornfields. Growing up as a handyman's daughter, I'm enthusiastic about all things DIY and love to fix, create, and build just about anything. Charming Imperfections is the blog where I share DIY tutorials, parenting tips, and how to live a beautifully flawed life.
---