Dressing Up Your Everyday Wardrobe
Hey all you lovely Over the Big Moon readers! I'm so excited to be able to share some of my favorite fashion ideas. As mothers, many days we don't have time to get dressed up, so we go as casual as we can. You don't have to be a mom to relate. We've all been there many times before. Here's the good news: there are a lot of things that we already have in our closet, and wear on a day-to-day basis, that we can turn into many looks. And we can even dress it up a little! No need to go spend a lot of money or time getting ready. Turn your casual pieces into a date-night outfit, or just to dress up because you want to, by following a few simple steps.
Top: Target | Jeans: Free People via Bluelinen Boutique | Flats: Old (cute ones here) | Bag: Louis Vuttion

MY LATEST VIDEOS
MY LATEST VIDEOS
Top: Target | Skirt: Bluelinen Boutique | Heels: Old (similar here) | Bag: Emma Fox (on sale)
The first look is a comfy look that you would wear to run errands, pick up the kids from school, or even on a casual lunch date with your girlfriends. I love this look because it's so simple and everyone has a white tee. The second look is a simple way to turn your white tee into a chic date night or Sunday best attire. Throw on your favorite pencil and some heels, and you're good to go. I love to knot my shirt on the side to give it a more fitted, polished look.
Top: Target | Pants: Cute ones here| Flats: Target | Bag: Emma Fox (on sale) | Sunglasses: Marc Jacobs via Tj Maxx (recent)
Blazer: Target | Top: Target| Pants: Cute ones Here | Heels: Steve Madden | Bag: Emma Fox (on sale) | Sunglasses: Marc Jacobs via Tj Maxx (recent)
These looks are obviously a little more dressy. The first look is perfect if you want to dress up a little, but not too much. It works great for a parent-teacher conference, or just a casual night out when you don't want to walk around in heels. I always feel this way, especially 27 weeks pregnant! Throw on a slouchy sweater with your favorite leather or black pants or leggings, add some cute flats, and you're on your way. An easy way to dress this look up for a fun event, or hot date night with your hubs or boyfriend, is to add some sexy, strappy heels and a blazer. This will class it up a bit, especially when you're running short on time. Aren't we always?
Hope you all have a happy Wednesday. And if you have any questions contact me here. I always love to hear from you all! Thanks so much for reading and I will see you all next month!! xoxo
Love,
LaTisha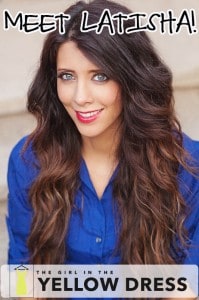 To learn more about LaTisha visit her at The Girl in the Yellow Dress!
---
Pam Dana
Pam is a stay at home working mama that enjoys all phases of life! Between her 3 kids, fur baby (a beyond cute Goldendoodle), wonderful husband, friends and working, she stays pretty busy! But, she is loving every aspect of her life! Here on Over the Big Moon, she loves to share DIY's, recipes, printables, organization tips and more!
---