Duct Tape Topiary
The other night my sister and a couple friends decided we wanted to do a little craft night.  My sister chose to make this Duct Tape Topiary from Poppies at Play!  She has an awesome tutorial over on her site if you want to try to make it yourself!
We all had a blast and we were all super happy with how they turned out.  However, I have to be honest about a few things.  First, this project did not end up being super cheap.    Now, had I planned ahead and used coupons and shopped around I could have made the cost lower, but I wasn't on top of getting all the supplies for this project.  Here's how the cost brokedown:
Vase: $5.00 (my sister and friends chose a square vase that was $9.99)

MY LATEST VIDEOS
MY LATEST VIDEOS
Dowl: $.50
Styrofoam Ball and Styrofoam pice for inside the vase: $7.00
Black Duct Tape: $10.00(about 3 rolls)
Candy Corn: $2.50
Ribbon: $1.00
So, as you can see – the cost of the project was $26.00.  You may already have a small vase at home you could use (I only had tall ones).  Keep your eyes open at your local thrift store for Styrofoam you could use.
Had it not been that we were doing this as a fun craft night, I probably wouldn't have done this project.  For $26.00 I would have gone down to Krumpets or TaiPan or something and just bought a cute craft.
But, we did have a lot of fun and the project turned out super cute!  Sometimes it's not just about doing something the cheapest way you can.
One last disclosure – it does take a long time to roll all the duct tape rosettes.  Especially if you're like  me and like smaller rosettes.  This is a project that would have not been nearly as fun had I been doing it alone.  So, either gather some friends or get a movie or two on hand and plant yourself in front of the TV!  Also, don't stress on the rosettes!  I actually got liking the messier ones over the perfect ones.  It gives texture and dimension!
Happy October everybody!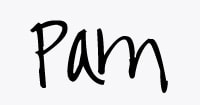 Want to keep up with us at Over the Big Moon….click here to learn how to subscribe!
We may be linking this post up to THESE great Linky Parties!
---
Pam Dana
Pam is a stay at home working mama that enjoys all phases of life! Between her 3 kids, fur baby (a beyond cute Goldendoodle), wonderful husband, friends and working, she stays pretty busy! But, she is loving every aspect of her life! Here on Over the Big Moon, she loves to share DIY's, recipes, printables, organization tips and more!
---