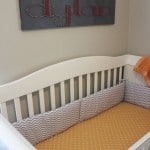 Nursery Decor and Name String Art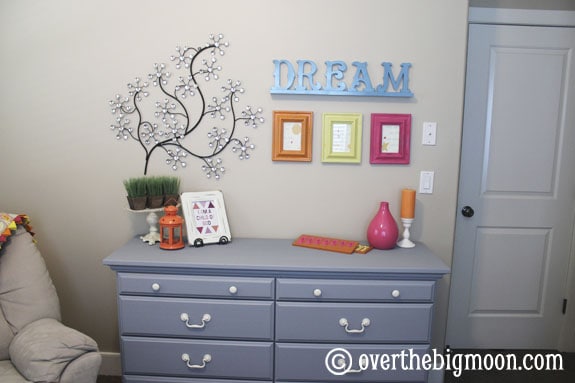 Hello everybody! Today I'm gonna take you through the decorations I used throughout Dylan's Nursery! I didn't want to spend a lot of money on her Nursery, so I used spray paint on A LOT of it, including: furniture, decorations & accessories!
To start out I'm just gonna share the spray paint colors I used on the decorations:
Rustoleum 2x Painters Touch – Lemongrass

MY LATEST VIDEOS
MY LATEST VIDEOS
Rustoleum 2x Painters Touch – Real Orange
Rustoleum 2x Painters Touch – Berry Pink
Rustoleum 2x Painters Touch – Dark Gray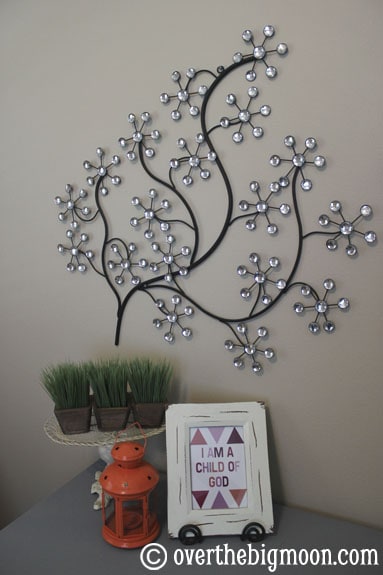 Crystal Tree: TJ Maxx – Green Plants: TJ Maxx – Orange Lantern – Ikea
I Am A Child of God Printable – Source Printable Wisdom
Frame and Stand I already had and didn't paint!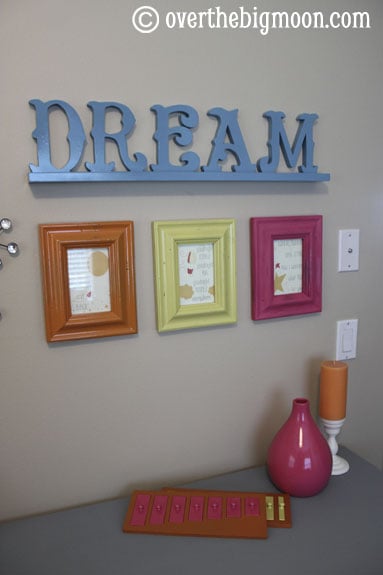 The right hand side of the dresser decorations are pretty much all stuff I had on hand that I just painted. The Dream Sign I got from my sister back when I was prego with Nathan. The three frames I got from a store here in Southern Utah that is no longer in business called IronWorks years ago and I spray painted all three of them! The prints that are inside the frames come from FishTitch! The puzzles were something we had on hand and I have a follow up post coming on them! The vase was from Tai Pan and the Candle and Candle Stick is from Ikea!
The ribbon board I've had FOREVER! I do have the intentions of framing it sometime in the future! The three hooks were a gift from my adorable niece, Rachael, and I just spray painted them to match the nursery! The diaper bag (which is not actually a diaper bag) was a gift from my sister, Cortney! It's a Vera Bradley Bag and I love it!
I needed something simple to put all of Dylan's bow clips on, so I put together this simple bow frame. You've probably seen them all over Pinterest! I basically just got a cute frame and then attached ribbon vertically on the back of it!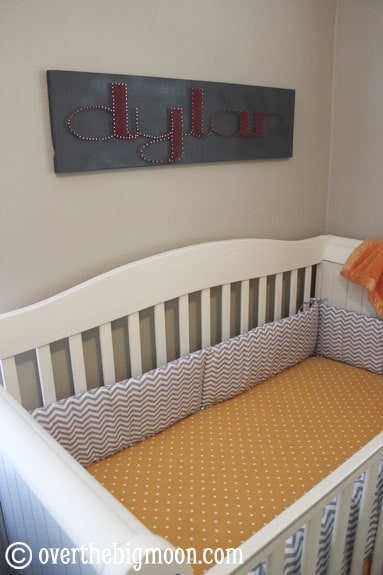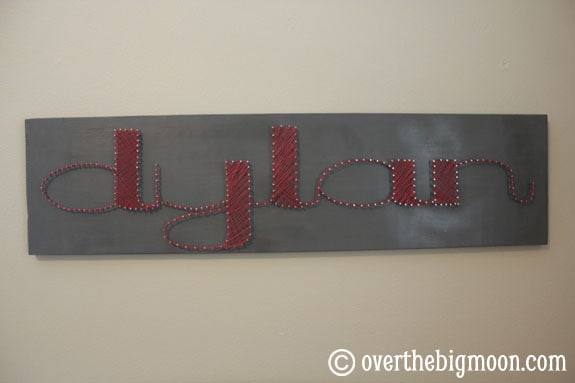 The adorable Dylan String Art sign from above my crib comes from my amazing talented friend, Jaesi, and her business Heart Strings Attached! She can pretty much make anything out of string and nails! You HAVE to go check out everything she's done on her Facebook page and get your order in now!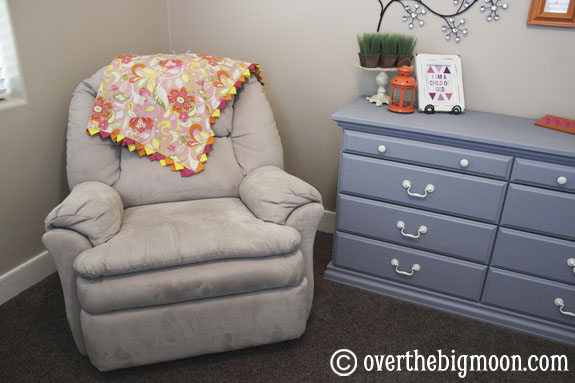 The adorable quilt was a gift from my mother-in-law! All the fabrics were from our local JoAnn's!
And, I think that's about it! Again, I'm super happy with how everything turned out and I'm excited to continue to add to it and enjoy my baby girl in here! Have a great day!
Want to keep up with us at Over the Big Moon….click here to learn how to subscribe!
---
Pam Dana
Pam is a stay at home working mama that enjoys all phases of life! Between her 3 kids, fur baby (a beyond cute Goldendoodle), wonderful husband, friends and working, she stays pretty busy! But, she is loving every aspect of her life! Here on Over the Big Moon, she loves to share DIY's, recipes, printables, organization tips and more!
---