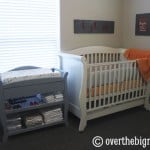 Dylan's Nursery – Furniture Painting
This was my first time every painting furniture! I had seen about 1000 tutorials online, so I wasn't expecting it to be super hard. But, I had no idea that it would be SO easy!
I decided to start out spray painting the changing table and some of the decorations!  I didn't tell my hubby ahead of time that I was attempting this.  He had been SO busy at work and I didn't want him to feel in any way obligated to help me.  So, I literally just jumped in.  I had talked to Lisa and she had told me when it comes to spray paint to not use anything, but Rustoleum's 2x Painters Touch!  And, was she ever right!  The changing table I had bought before Nathan was born and it was a dark brown with a shiny finish.  I didn't sand it or anything first!
I would basically go outside and spray a coat and then go inside for 15 minutes and then go back outside and spray another coat.  I finished the changing table in an afternoon and it took probably about 6 or so light coats of paint.  The color I chose for the changing table (and dresser) was Rustoleum's 2x Painters Touch – Winter Gray!  When I got it inside the tiny hint of blue stands out a little more then it did outside.  But, I actually liked the blue hue!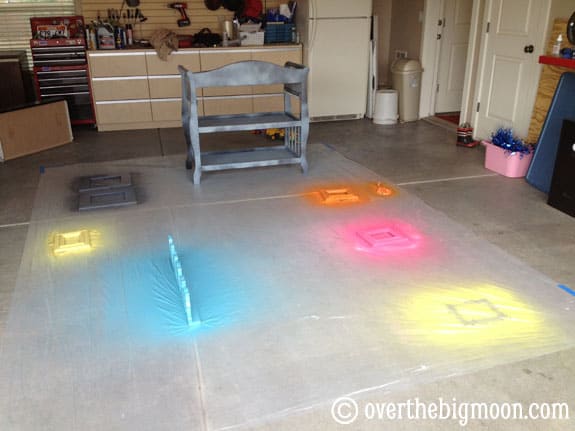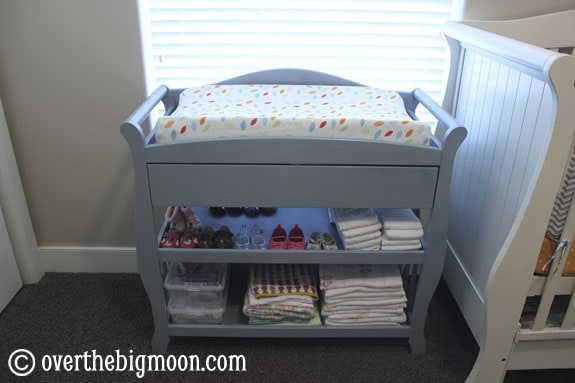 The next day I decided to tackle the crib!  My hubby (who was now in on my plans), broke the crib down for me and took it out to the garage!  For the crib I went with Rustoleum's 2x Painters Touch – Heirloom White!  This particular day I was watching my sisters kids, so I wasn't as good as staying on top of my coats.  The crib ended up taking about 12 cans of spray paint and it took me two days to finish!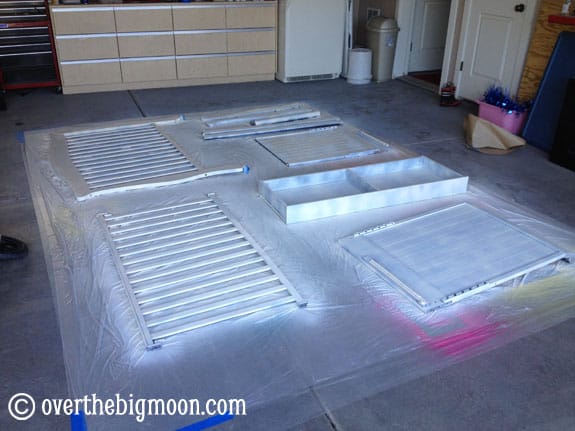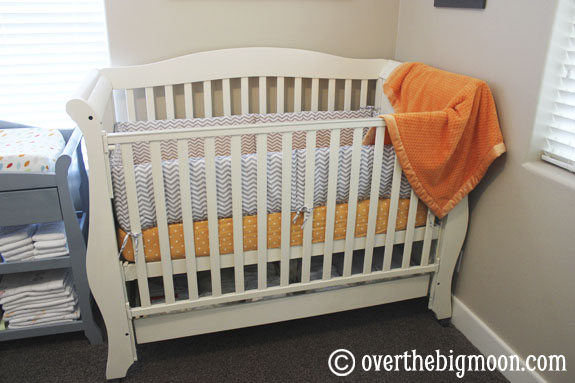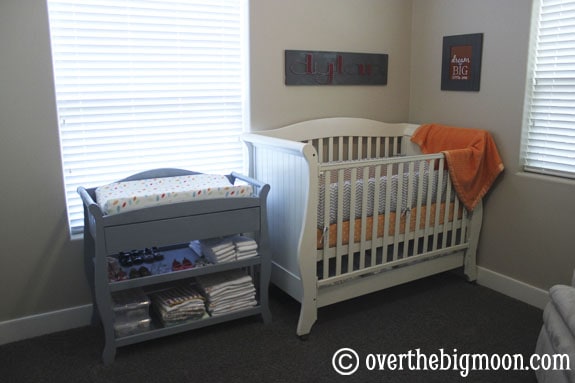 The next week, when it was time for the dresser, my hubby was not about to have me out spray painting for our entire Saturday.  So, he decided to get involved and pulled out the big gun – the air compressor and spray gun.  We had actually never used the spray gun before.  But, I can promise you that it's going to be getting a lot of use in the future.
Rustoleum 2x Painters Touch is mostly a spray paint line.  They have very few colors that you can buy by quart or gallon.  So, we had them color match the Winter Gray to their Behr Paint and Primer in One line.  The color turned out perfect!   Also, just if you were wondering, the dresser probably only took about a pint of paint.  So, it actually makes it cheaper to paint furniture this way vs using spray paint.  The spray paint is just under $4 a can and I would assume the dresser would have taken around 8-10 cans.  I spray painted the knobs from the dresser using the Rustoleum 2x Painters Touch – Heirloom White.  Painting the dresser with the spray gun literally took barely over an hour.  And, that was letting it dry good between coats!  SO MUCH FASTER!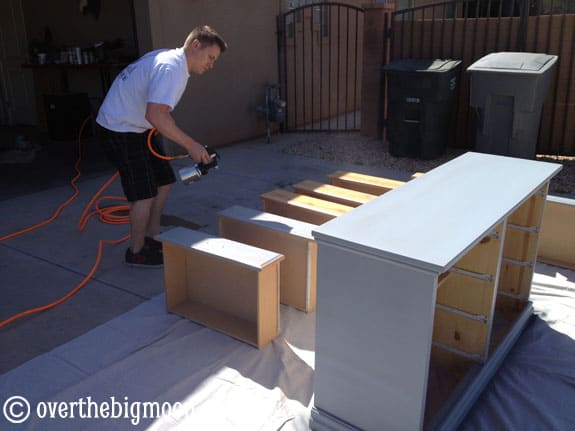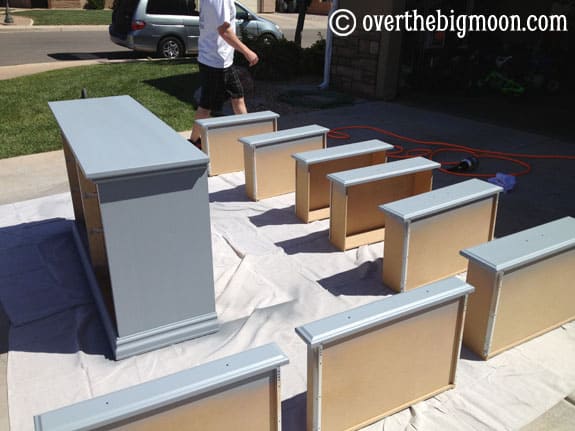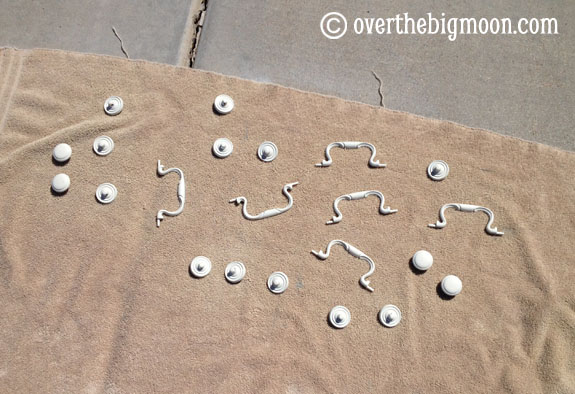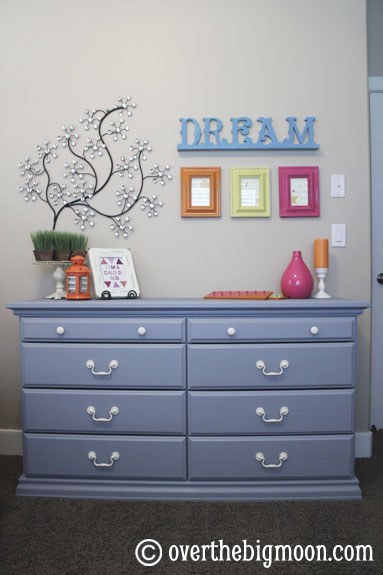 I was so beyond happy with how everything turned out!  I can't wait to paint even more stuff from around our house!  Good luck painting and let me know if you have any questions!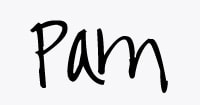 Want to keep up with us at Over the Big Moon….click here to learn how to subscribe!
We may be linking this post up to THESE great Linky Parties!
---
Pam Dana
Pam is a stay at home working mama that enjoys all phases of life! Between her 3 kids, fur baby (a beyond cute Goldendoodle), wonderful husband, friends and working, she stays pretty busy! But, she is loving every aspect of her life! Here on Over the Big Moon, she loves to share DIY's, recipes, printables, organization tips and more!
---