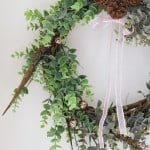 Eucalyptus and Feather Winter Wreath
Greetings Over the Big Moon friends (can I call us friends yet?). I hopy your holiday preparations are going smoothly and your enjoying this Christmas season. I have a fun winter DIY for you today! The perfect wreath for those in between months of Christmas and Spring, an Eucalyptus and Feather Winter Wreath.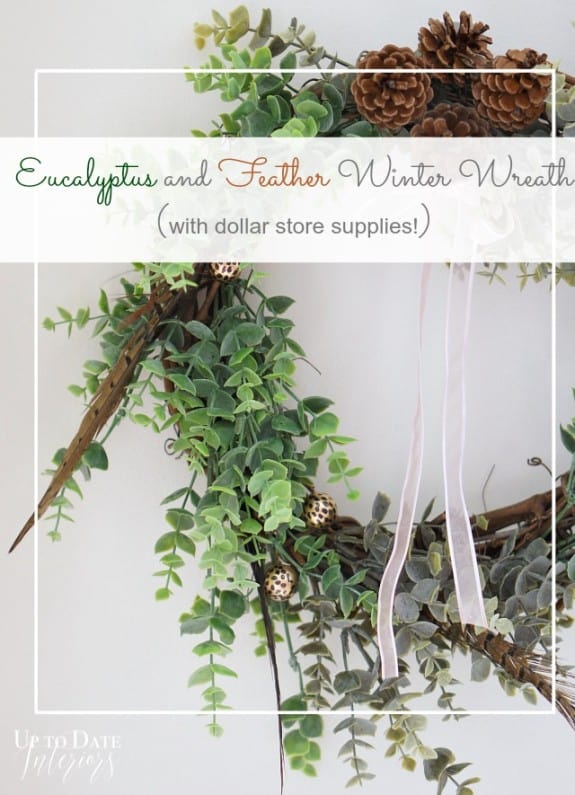 I chose Eucalyptus because it's such a pretty evergreen with green and silver tones. Feathers, pinecones, and spotted gold picks add more winter whimsy.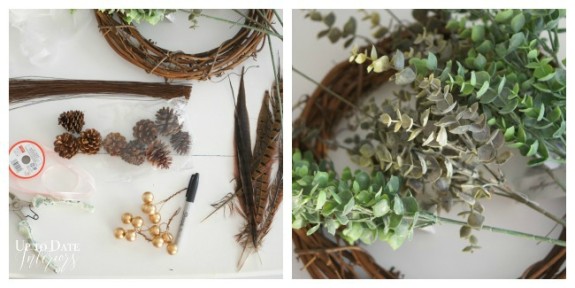 Here's what you need:

MY LATEST VIDEOS
MY LATEST VIDEOS
(apart from the feathers, you should be able to find these items at your local dollar store or yard!)
grapevine wreath form
florist wire
5 eucalyptus stems
gold ball picks (and a black sharpie/pen)
pinecones
ribbon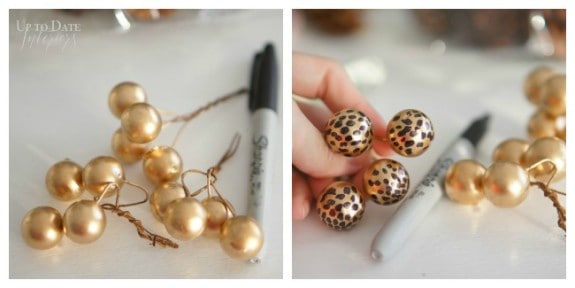 Step one:
To make the gold ball picks less Christmassy, draw black dots with a sharpie all over the top halves. They will add a fun punch of color to the wreath!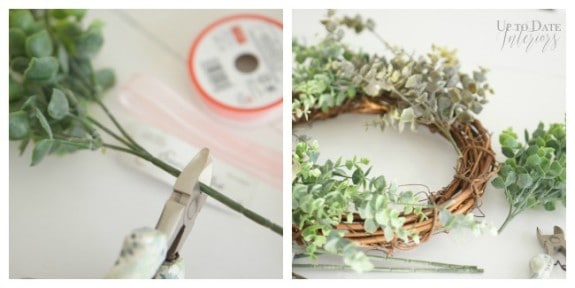 Step two:
Clip off the stems about one inch below the eucalyptus leaves. Place and arrange on wreath by placing all of the bunches in the same direction evenly spaced out.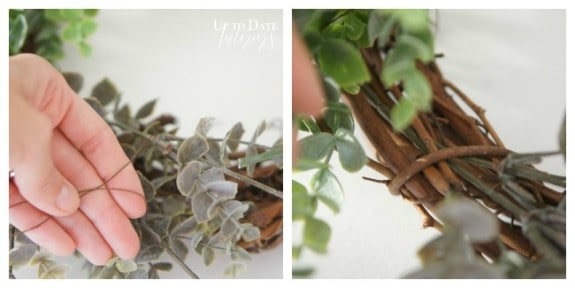 Step three:
Tuck the stem into the grapvine wreath. Secure long branches of leaves with florist wire. Leave some out for an organic shape.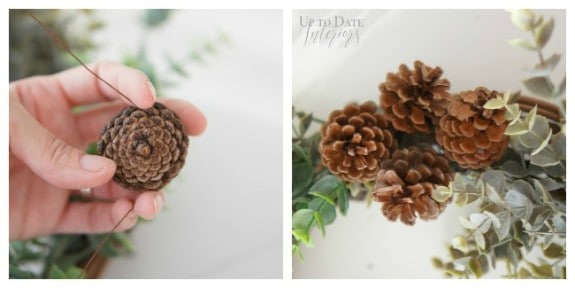 Step four:
This is probably the first time I haven't used hot glue on a wreath y'all! Wrap a piece of wire around the bottom of a pinecone and attach to the top of the wreath. Create a cluster of 3-5 (depending on the size).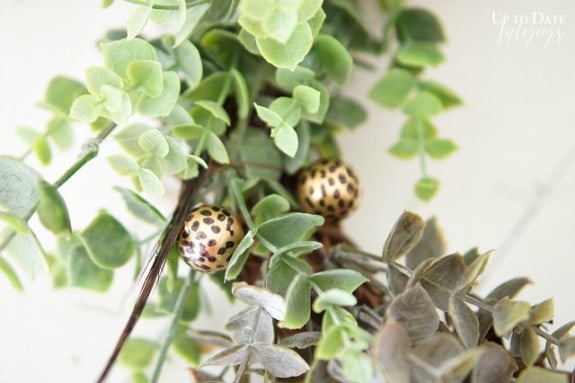 Step 5:
Space out your feathers and stick them into the wreath form and eucalyptus. Secure with wire where needed. Place and secure a few spotted gold picks. Add a bow at the top near the pinecones and you're finished!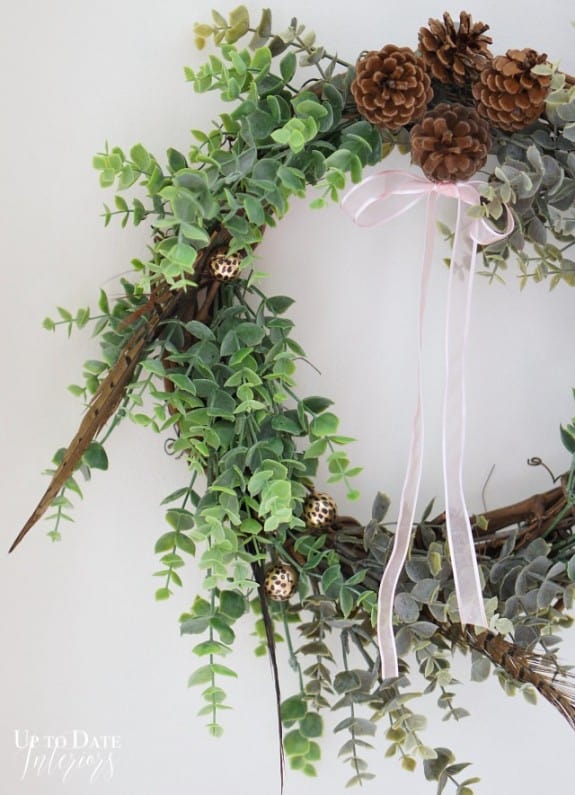 I'm so pleased with the way she turned out. It might be my favorite wreath yet! I love the pinwheel shape of the leaves and feathers.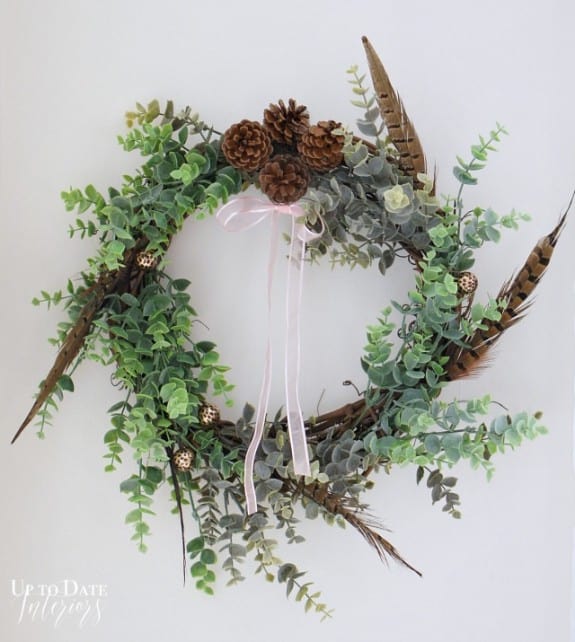 The gold picks with black spots are fun!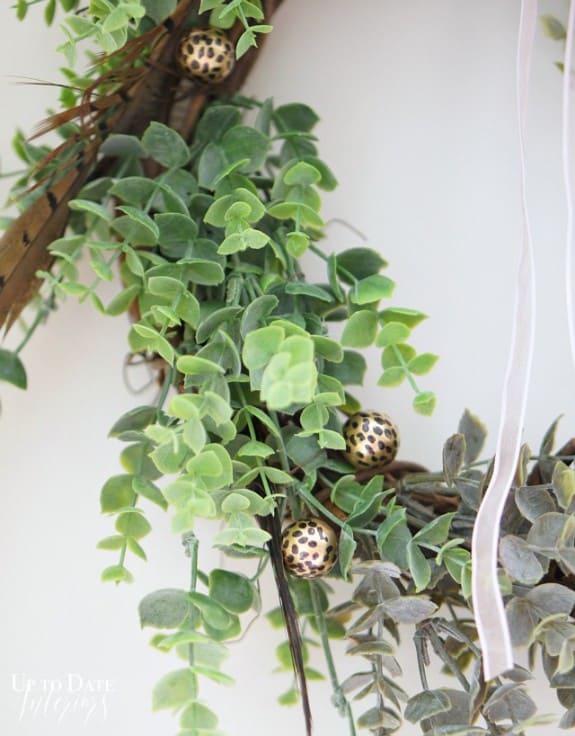 Happy holidays and Merry Christmas to all of you!! Thanks for stopping by today.

---
Kathy | Up To Date Interiors
Hello from the coast of Okinawa! I'm Kathy and I blog at http://www.uptodateinteriors.com! I love sharing rental decorating tips, DIY projects, and handmade decor ideas. When I am not blogging, you can find me spray painting, styling a room for theumpteenth time, hunting for a bargain, or exploring the island with my family.
---