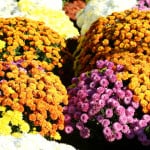 Fall Porch Preparation + good Fall Flowers (and a giveaway)
This is a sponsored post written by me on behalf of Gilmour. All opinions are 100% mine.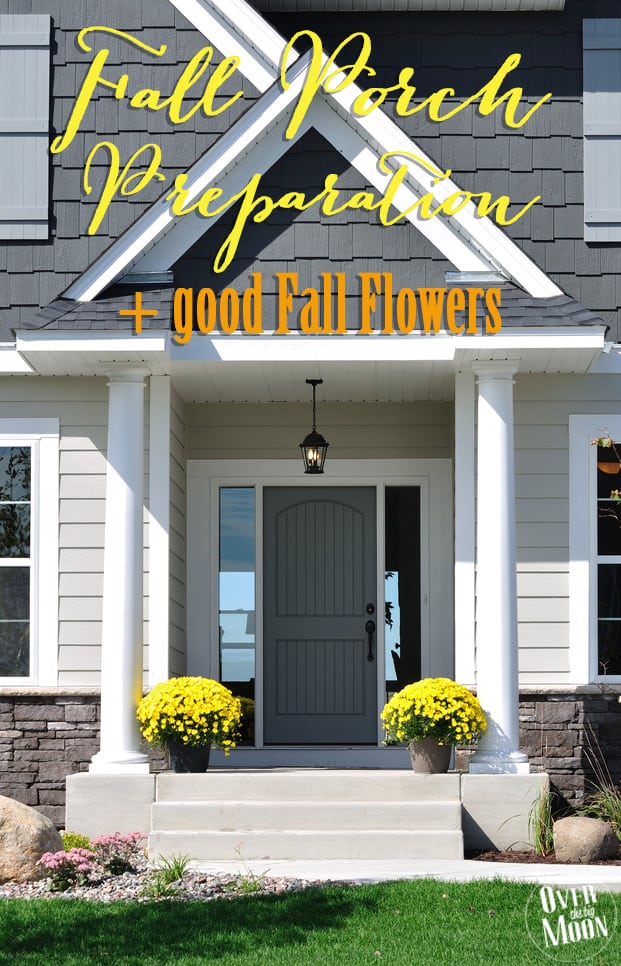 As I've been driving around my little town the last few weeks I have noticed that the corn fields have been getting bigger and it's made me and my kids so excited! Fall is close, which means cooler weather, hot chocolate, yummy baking and so many fun traditions! As I pulled up to my house the other day I noticed how sad my porch and flower pots were looking. It was a truly pathetic sight! Today I'm going to share with you how I prepared my porch for Fall and what flowers are good to plant for the upcoming cooler weather!
My porch and house was covered in dirt, old melted popsicle and overgrown/partially dead flower pots! We had some really hot weeks in July that took its toll on my flowers! I lost a lot of my petunias. Then I had a neighbor girl water my flower pots while I was on a camping trip and I don't think they got quite enough water, because I came home to all my flowers gone and a lot of dead spreading through the remaining plants.

MY LATEST VIDEOS
MY LATEST VIDEOS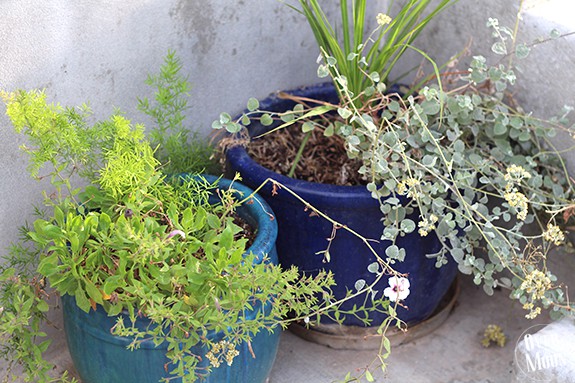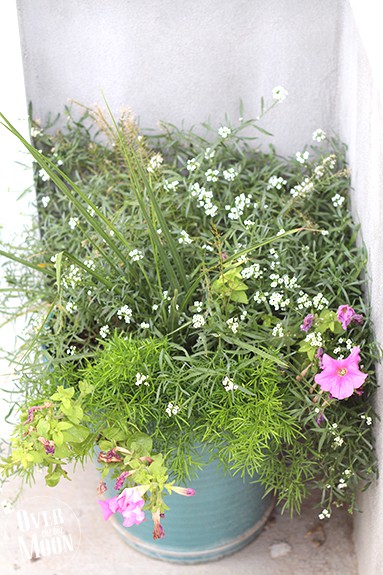 Sad, right? So overgrown and holes from all the plants that died!
I could have probably thinned them out and got some of the plants to live, but I decided to get my Fall flowers planted, so that they'll be thriving and big when the weather temperatures start to drop.
After I got all my plants cleaned out I went to our local nursery in search of Ivy and Mums! There are quite a bit of plant and flower options (that I'll share below), but Ivy, Mums and Pansies are what I'm picturing for my house this year! I knew that the Pansies wouldn't be quite ready, but I'll be heading back to get those in a few more weeks!
When planning my pots I like to decide what is going to be the focus and then get a trailing plant to soften the edges. So, I purchased Ivy for the pots that I was going to put Mums in.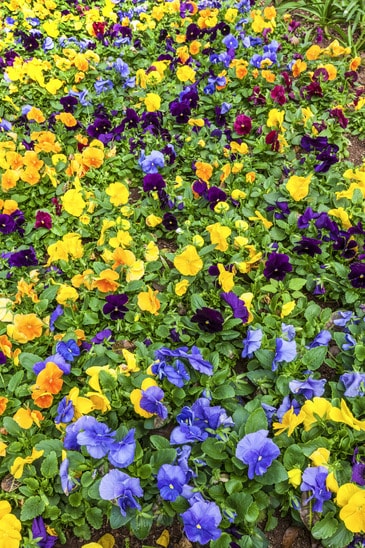 Statement Flowers: Mums, Pansies, Violas, Sweet Asylum and Snapdragons
Favorite Fall Trailing Plants: Ivy, Periwinkle, Asparagus Fern and Creeping Jenny
For Height: Monkey Grass, Autumn Fern and Spikes Dracaena
Spikes won't grow once the temperatures hit mid 60's, but they'll live into the winter. So, don't feel the need to pull out the spikes that are in your pots from summer. I kept a few pots with spikes in them and trimmed up my petunias. My plan is in a month when the Pansies are ready to replace out all the petunias with pansies and maybe some violas too! In most of those pots I also had Asparagus Fern growing and I am going to leave it.
All the plants and flowers I listed above should do well all Fall and last until it starts frosting at night!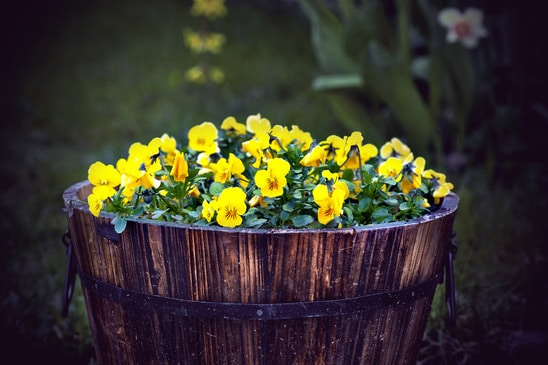 This year I was really feeling Mums! Mums are the perfect Fall flowers in my opinion! They scream cooler weather to me and their colors are beyond beautiful!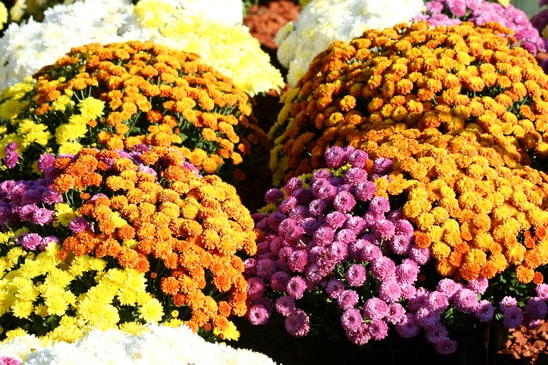 I can't wait for my pots to be filled with beautiful full mums like the above picture! By planting them in August, it will give them a month to really soak up the warmth and grow big and strong!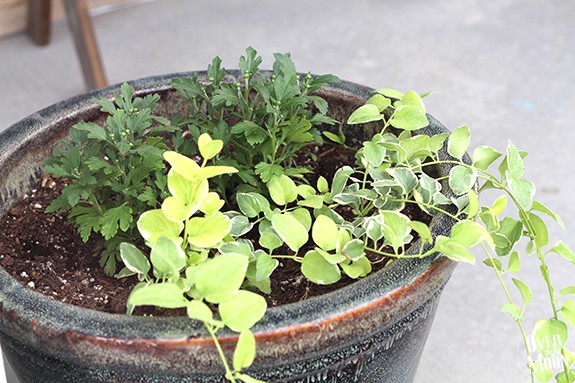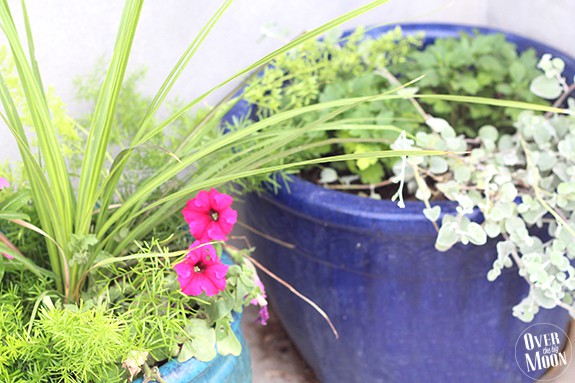 Next up, time to clean the porch and house! You could seriously see the dirt on the hardy board and window! Dang construction all around us!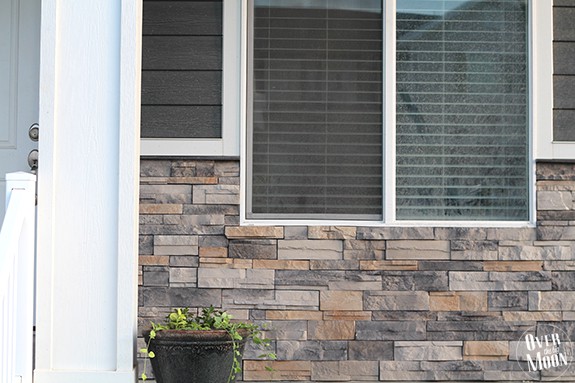 We pulled out our Gilmour Flexogen hose to clean the porch! The Flexogen's lightweight build and layer of oxygen-infused foam increases its flexibility! That way as we maneuvered around the porch and pillars it followed us with ease. The Flexogen is the only 8-layer hose in the market, and with its one-of-a-kind patented construction, it is the longest-lasting and most durable hose in its class! I can't forget to mention that their stainless steel cleaning sprayer was a life saver! It created the pressure we needed, but also has a fan effect that helped us cover a bigger area when spraying down the house and porch.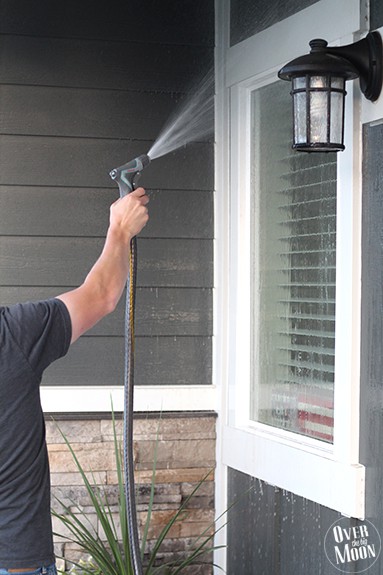 Gilmour's Flexogen hose beats the completion on all main strength indicators as proven by burst, abrasion and twist tests! Flexogen's durability is its patented tri-extrusion construction process where three layers of hose are extruded at the same time, allowing for all-weather performance. Flexogen is made with crush-hesitant brass coupling as opposed to weaker stamped-brass fittings. This ensures the hose ends won't be destroyed if accident driven over! It's for sure our hose of choice and we are Gilmour users for life! Another perk of the Flexogen hose is it has been made in the USA for over 40 years and is backed by a lifetime warranty!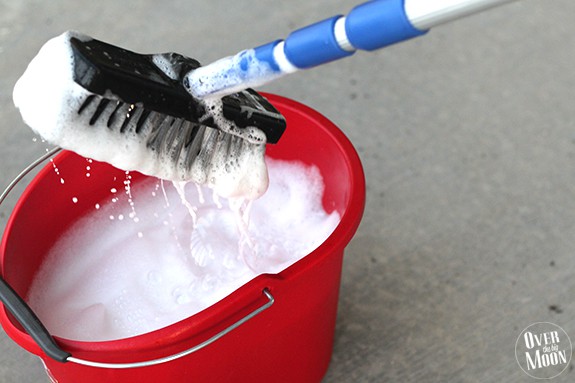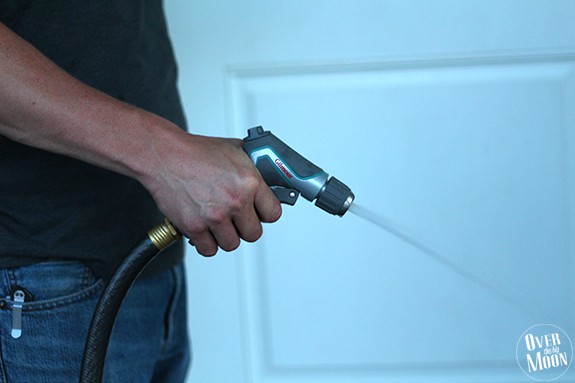 After we finished cleaning I pulled out my Back to School wreath and a few other small decorations! I can't wait until September when I can pull out all my Fall Porch Decor and my flower pots will be full of flourishing Fall flowers!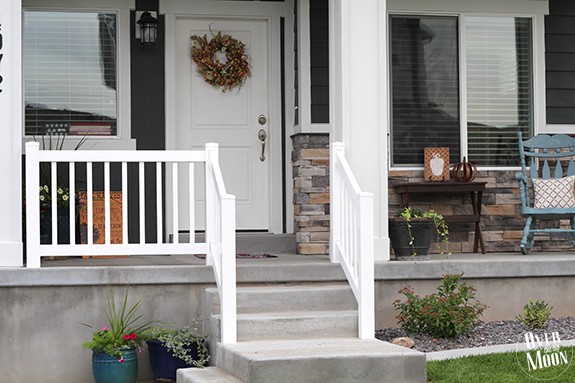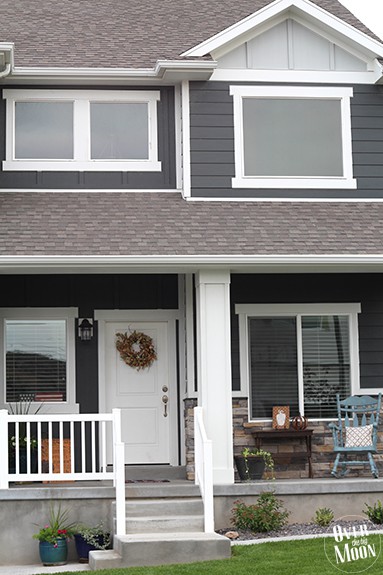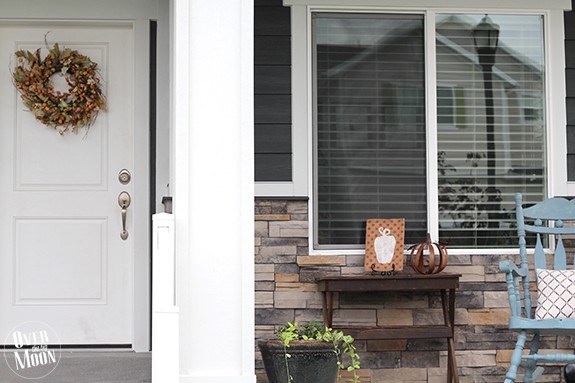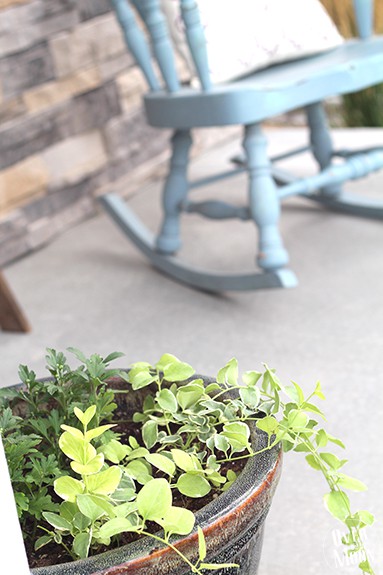 Head on over and visit Gilmour on Facebook for more tips and tricks in helping take care of your home and yard! You can find Gilmour Flexogen hose at your local home improvement or garden store!
And, now we've got a giveaway for you! Who would like to win their own Gilmour Flexogen item? Enter below using the Rafflecopter – all you have to do is leave a comment letting us know your lawn and garden care tips and tricks! If you're an Over the Big Moon follower then we've got some extra entries for you as well!
---
Pam Dana
Pam is a stay at home working mama that enjoys all phases of life! Between her 3 kids, fur baby (a beyond cute Goldendoodle), wonderful husband, friends and working, she stays pretty busy! But, she is loving every aspect of her life! Here on Over the Big Moon, she loves to share DIY's, recipes, printables, organization tips and more!
---