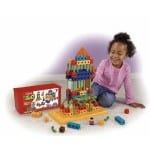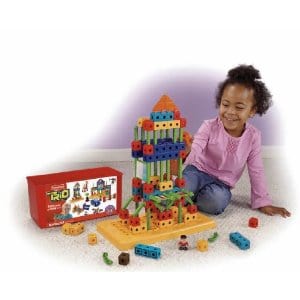 Favorite Things- Little Boys Edition
Lisa and I are always chatting about our favorite things… whether they be kitchen items, cleaning items, organizing items, toys, bedding, etc. So, we decided it would be fun to start a little series called Favorite Things!
I thought it would be fun to start the series with one of the areas of my life that occupies me the most – my boys! I haven't even been a mom for 4 years yet, but in those 4 years I have discovered some pretty great items that have helped make my life easier and more fun! I don't want to overload you with a thousand links, so keep in mind, these are just the TOP things that stand out to me!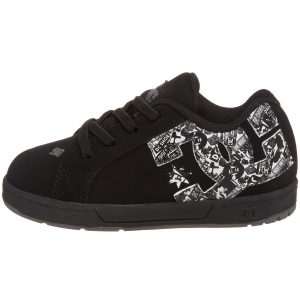 MY LATEST VIDEOS
MY LATEST VIDEOS
DC Skate Shoes w/ Elastic Laces: There is nothing I hate doing more, especially when we are running late, then having to take the time to tie a shoe. About a year ago I discovered that DC makes some of their skate shoes with ELASTIC shoe laces! This way you can get the awesome look of Skate shoes, without having to tie laces! Nathan could immediately put his shoes on himself and life as we knew it was SO much easier! They are generally about $10 more then what I was spending on kids shoes, but in my opinion it is TOTALLY worth it. They clean super great too! Jeff has gone on to inherit all of Nathan's shoes and they have stayed in great condition! Also, Journeys Kidz, will sporadically have a sale on the shoes with elastic laces and you can get them for about $20.00 (plus shipping). You just have to watch their site! Be sure to make sure they have the elastic laces too… sometimes it is hard to tell by the picture.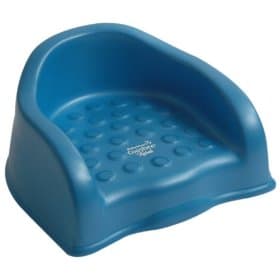 Cooshee Booster Seat
: I LOVE this booster seat! Both my boys have one! Nathan has the Cooshee Hybak and Jeff has the Cooshee Classic. I actually didn't realize there was different styles until Jeff's got here. I prefer the Cooshee Hybak, because it just has a little bit more back support for when they are younger. You don't have to strap them onto the chair at all and they don't slide when they are in them. Then when they are dirty, you just take them to your seat, clean them right in the sink, dry them and put them back! There are no little grooves or anything that food can get stuck in or hard areas to clean! They use to be available on Amazon, but aren't anymore. Not sure why. They have other versions that are basically identical though – you can check them out HERE or HERE!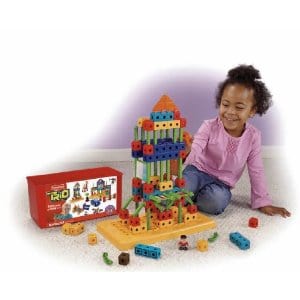 Trio Blocks: We have owned WAY too many block sets! We've had Megablocks, Wooden Blocks, Bristle Blocks, Trio Blocks and Legos. I have since gotten rid of the Megablocks, cause the Trio Blocks can be used at such a young age. Trio blocks "click" together easily, but don't break easy. Jeffrey starting at 18 months could build towers himself, but still sporadically will have to run over to me to have me pull a couple apart (he's now 22 months). They stay together that good!! My 3 1/2 year old, of course, doesn't have a problem getting them apart. That was my only complaint with Bristle Blocks, they came apart to easy. Nathan would build something and then it would break and he would get mad. I was over all the little fits that came with their 'creations' breaking! I, by all means, didn't get rid of the our Bristle Blocks, because you can build really cool stuff with them. And, now that Nathan is getting older, he is able to handle them better or he builds something with dad! I also wanted to add that whenever I have all the family or the cousins over they are ALWAYS out! Kids from 18 months to 8 years old want to play with them! So, if you have kids of all ages, these are the PERFECT blocks for you!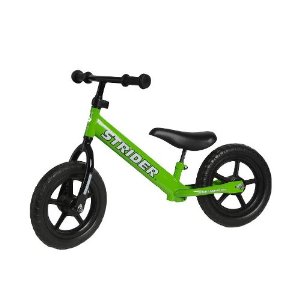 Strider Balance Bike: I've mentioned the Strider Bike before on OTBM! We have LOVED it for Nathan! In fact, we got Jeffrey one for Christmas. I knew almost immediately after getting Nathan his (back in July 2011) that the idea was genius! It requires the kids to learn to have to balance vs rely on training wheels to stay upright. You start off straddling the bike and just walking with it. Then slowly the child will start to sit down on it and use his feet to push along and eventually they just zoom around that way. There are spots for the child to fold their legs up and rest. You can find videos on You Tube and Amazon about them if you want to know more of the specifics or see them in action. We had bought a little bike with training wheels prior to the Strider bike, that just sat in our backyard the last year +. Well, a few weeks ago, Nathan (3 1/2) pulled out his little red, asked us to take off the training wheels and off he went! We literally didn't have to teach him how to ride. He could balance immediately and when we went to go teach him how to turn around… he just did it. He had a confident balance and was not at all nervous. We took a few minutes to teach him how to push off to get going and then we had to teach him to uses his breaks. In the beginning he would just put his feet down, cause that is how he would slow down and stop with his Strider Bike. One of the things that has stood out to me also, is that when he does start to loose his balance or if he hits a bump and wobbles, he doesn't get nervous. He just corrects himself. On the Strider Bike they are always wobbling around and moving. So, the motion didn't make him nervous. He has started to go over little bumps already and try to jump them. He even accidentally went off the curb last week and just kept biking and didn't crash. This week he has mastered standing up and pedaling! I HIGHLY suggest investing in a Strider Bike! I know they are a bit pricey, but I guarantee you'll be able to sell it quickly on Craigslist when you are done with it! We have decided to keep Nathan's for a bit longer. He loves using it in the backyard where there isn't quite enough room for him to use his pedal bike!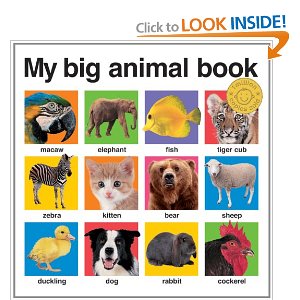 Roger Priddy Books: We LOVE Priddy Books! We probably own at least a dozen of them! I think they are a great book for a wide age range! They get my kids attention super young (like 12 mo), but my 3 1/2 year old still loves them! They are a great car or church book too! My boys probably love their Farm animals, First 100 Words and Dinosaur ones the most! I have gotten a few of mine at our local Target, so you may able to still find them there!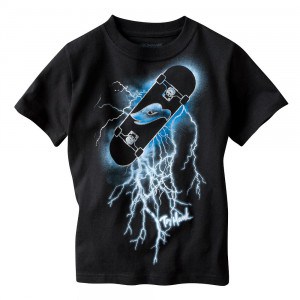 Tony Hawk clothes: I love the Tony Hawk Collection at Kohls! Such fun style and all different types of shirts, etc! They have held up and washed so well too! I'm excited for Nathan's foot to get a big bigger, so we can try out his shoe collection. Most the styles start at size 13! We have recently bought Nathan some Shawn White t-shirts from Target and we've been super happy with them as well!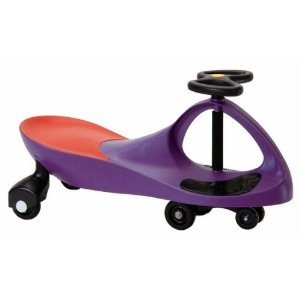 Wiggle Cars (Plasma Cars): These are the best! They can be used for all ages and are so easy to learn how to use! I bet our Wiggle Cars get used at least an hour a day by Jeffrey. Nathan still likes to play on his, but now that he is almost 4, he is gravitating towards his bikes! We have two of them and I recommend this for boys or girls! They are great!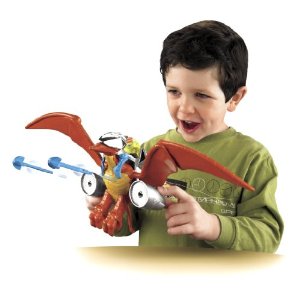 Imaginext: Hands down – Imaginext makes the best little boys toys! You really can't go wrong with any of their stuff! We have majority of their Batman Collection and Dinosaur Collection, not to mention a couple Sky Racers, Space Aliens (a fav), Robots, and Jungle Collection!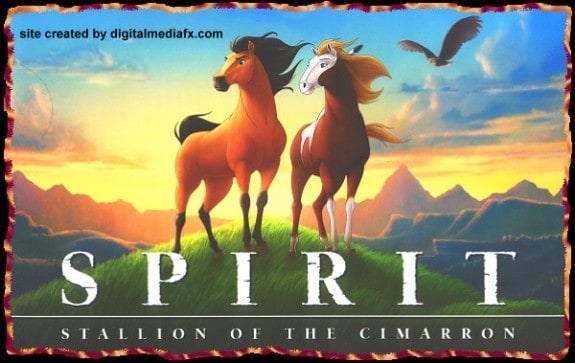 Movies: I know there the obvious movies – like Cars (1 &2), Toy Story (1, 2 & 3), Peter Pan, Robin Hood, Lion King, etc! But, there are two movies, that at least for us, weren't on that "obvious" list and have become our favorites!! They are Spirit and Sword and the Stone! Spirit is amazing! My husband and I LOVE LOVE LOVE the movie! The soundtrack is all done by Brian Adams and couldn't get any better! I also would like to add that I have 3 other movies, that as the mom, can stand to watch a lot and they are Rio, Up and Tangled! I especially love to have Rio play when we are in the car, cause I love the soundtrack!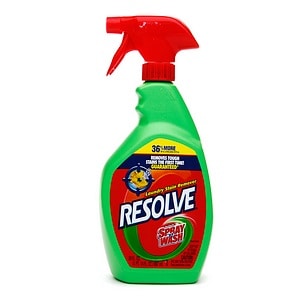 Resolve Laundry Stain Removal: My boys clothes would not survive with my Resolve Laundry Stain Removal Spray and Wash! I have used it since Nathan was a baby and swear by it! Nathan had a little reflux when he was a baby and was on formula, so without this, his clothes would have had some nasty stains on them! My Jeffrey is such a messy eater and daily his neck collar is covered in whatever food he last ate. In fact, he often times goes through a couple shirts a day. And, now that the weather has warmed up my boys are outside ALL day and come in COVERED in dirt! So, after they get in the tub, I just take their clothes into the laundry room, spray whatever dirt and spots I see and toss them into the laundry baskets.
I hope some of these items help make your mommy life a little easier and more enjoyable!
SaveSave
---
Pam Dana
Pam is a stay at home working mama that enjoys all phases of life! Between her 3 kids, fur baby (a beyond cute Goldendoodle), wonderful husband, friends and working, she stays pretty busy! But, she is loving every aspect of her life! Here on Over the Big Moon, she loves to share DIY's, recipes, printables, organization tips and more!
---