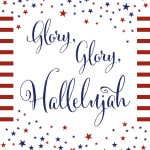 Fourth of July Free Printable
The summer is here, and smack dab in the middle is the holiday we all love in the US of A–The 4th of July! I'm excited to share this print: Glory, Glory Hallelujah, a section of the great song, Battle Hymn of the Republic. Also, make sure and enter the giveaway at the bottom of this post for a $100 Amazon Gift Card!
I'm grateful my friends Pam and Lisa asked me to guest post today, I finally met them in February, and we instantly connected! Let me introduce myself… I'm Kristen Duke, and I love to share my creative endeavors over at Capturing Joy. I started my site sharing photo tips a few years ago, and it has morphed into sharing our family travel adventures, our favorite recipes, home projects, parties, gift printable ideas, and more! I'd love to have you over to my online home, and you can also easily follow along on my journey on Instagram.

MY LATEST VIDEOS
MY LATEST VIDEOS
Enough about me, lets get back to the print. I love to decorate for holidays and non holidays with inspirational prints. I simply mounted the free printable onto navy blue card stock, and placed it in a easel. I also put them in clipboards on the wall, too (I have a trio plate rack that I put in 3 mini clipboards with prints).
Grab this PDF print and add it to your Fourth of July decor!
I'd love you to hop on over to Capturing Joy, and maybe even follow along on your favorite social media (Instagram is my fave)!
Here are a few posts to get you started:
Summer Photo Booth Printables // What to wear in Family Pictures by Color // Cookie Monster Ice Cream
Now for the giveaway, enter below for your chance to win $100 Amazon Gift Card! Giveaway will run from 6/1/15 at 12:00am to 6/13/15 at 11:59am! The giveaway is open to everyone! GOOD LUCK!
---
Pam Dana
Pam is a stay at home working mama that enjoys all phases of life! Between her 3 kids, fur baby (a beyond cute Goldendoodle), wonderful husband, friends and working, she stays pretty busy! But, she is loving every aspect of her life! Here on Over the Big Moon, she loves to share DIY's, recipes, printables, organization tips and more!
---