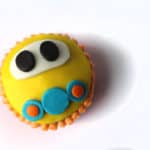 Go Grippers Cupcake Tutorial
This is a sponsored post written by me on behalf of Kids II. All opinions are 100% mine.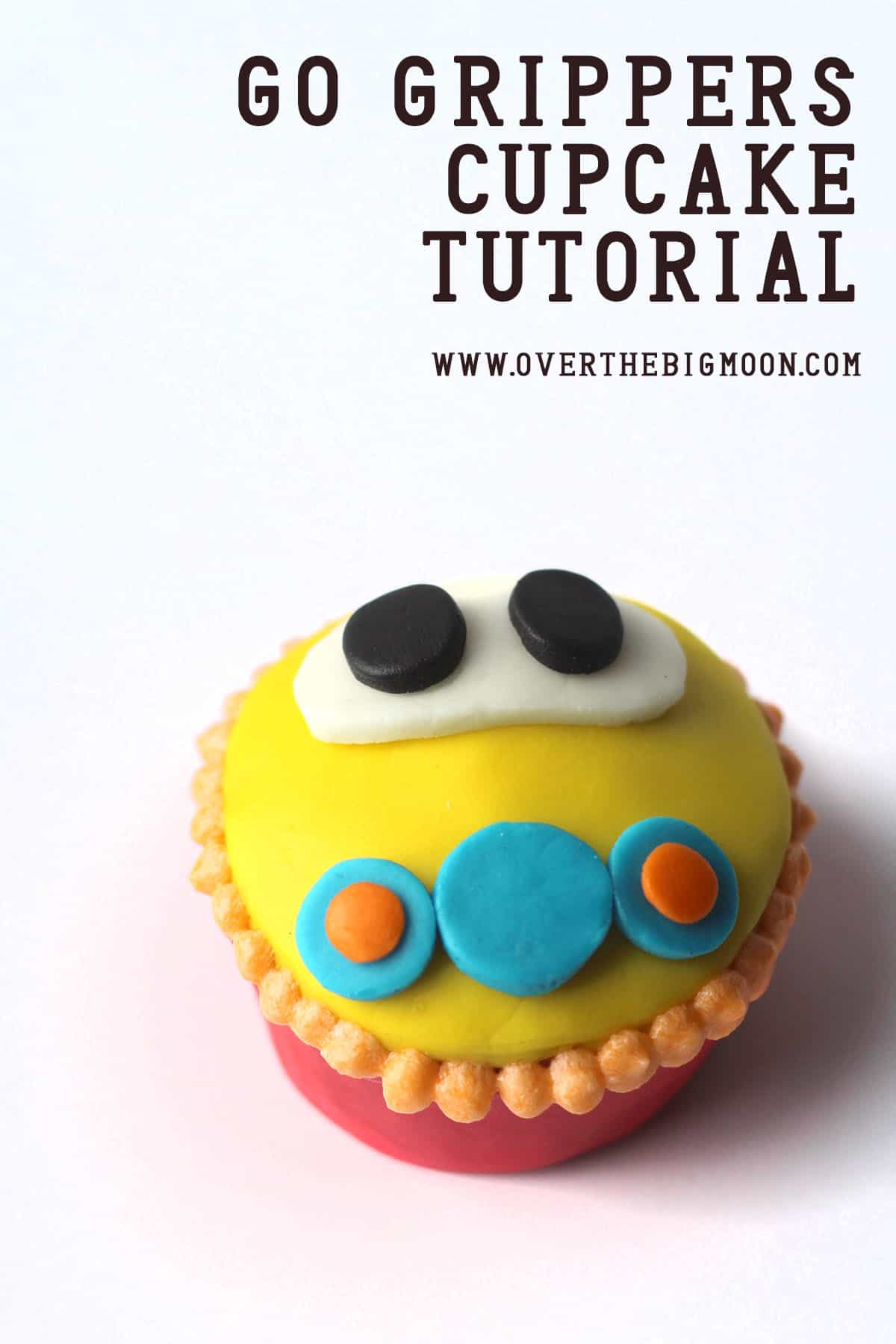 Hey friends! Today I have a fun little tutorial (and giveaway *now closed*) for you! My adorable nephew turned one over the summer, but sadly he was living out of state during it. So, I just got to celebrate with him a few weeks ago! He's really starting to like cars, trucks and construction vehicles and I stumbled upon the fun new toy line – Oball Go Grippers™. So, that is what I got him for his bday and I made him these adorable little Go Gripper™ themed cupcakes with the help of my sweet mother-in-law for him!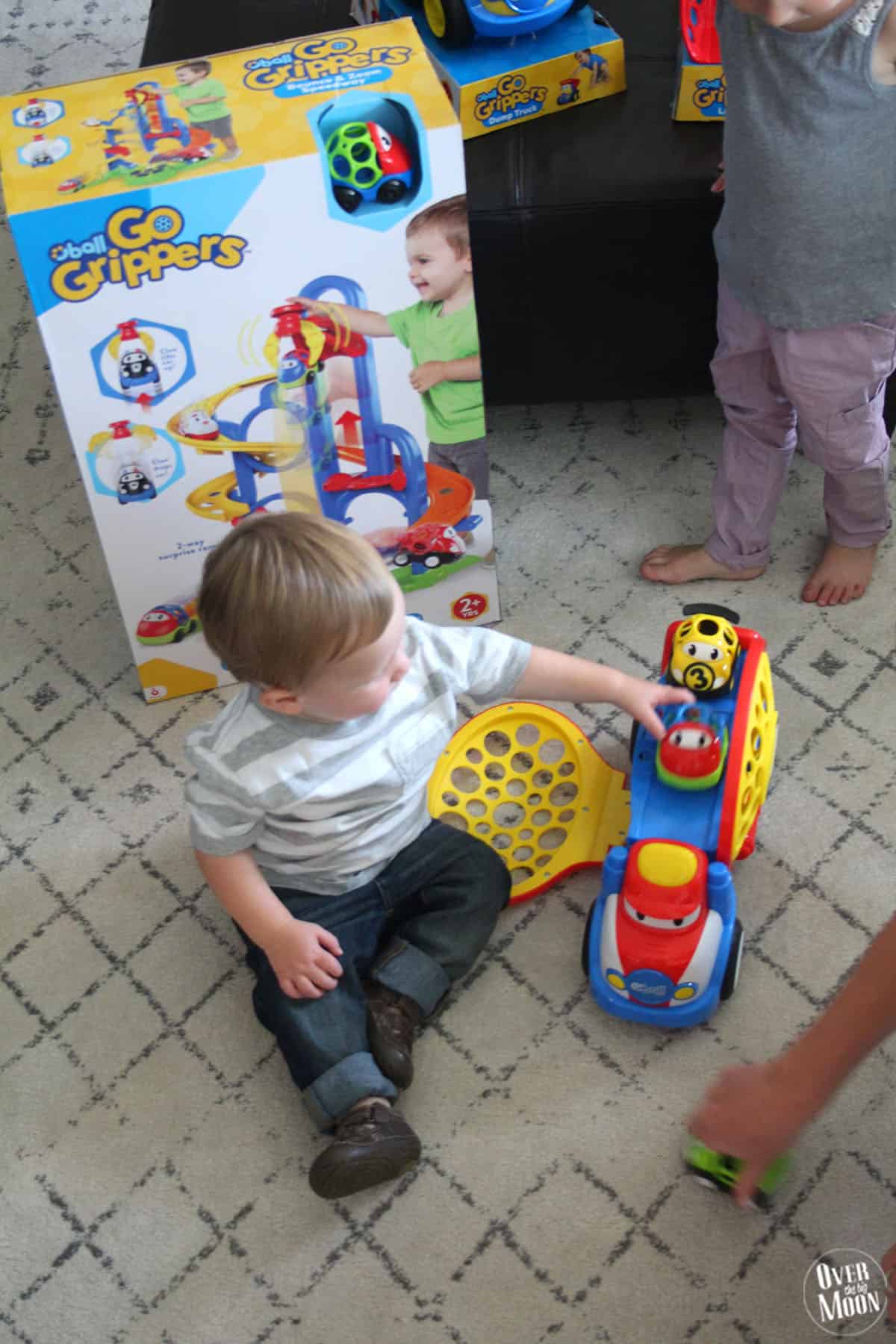 MY LATEST VIDEOS
MY LATEST VIDEOS
The toys were a hit! You know those balls that have the holes in them, so that babies and toddlers can grab them easily? Well, they basically designed this entire toy line after them and they are awesome! He loved being able to really control and handle the toys himself! There really is not another toy collection that compare to it. And, because the toys were so easy for him to control he was really getting into the imaginative play and was making car noises and pushing them around the house! I only wish they were around when my boys were young! And, to be honest, my older boys were more then happy to play with their cousin while he was playing with his new toys! haha! They opened the Oball Go Grippers Car Carrier™ first and he loved putting the cars in the back (pic above)!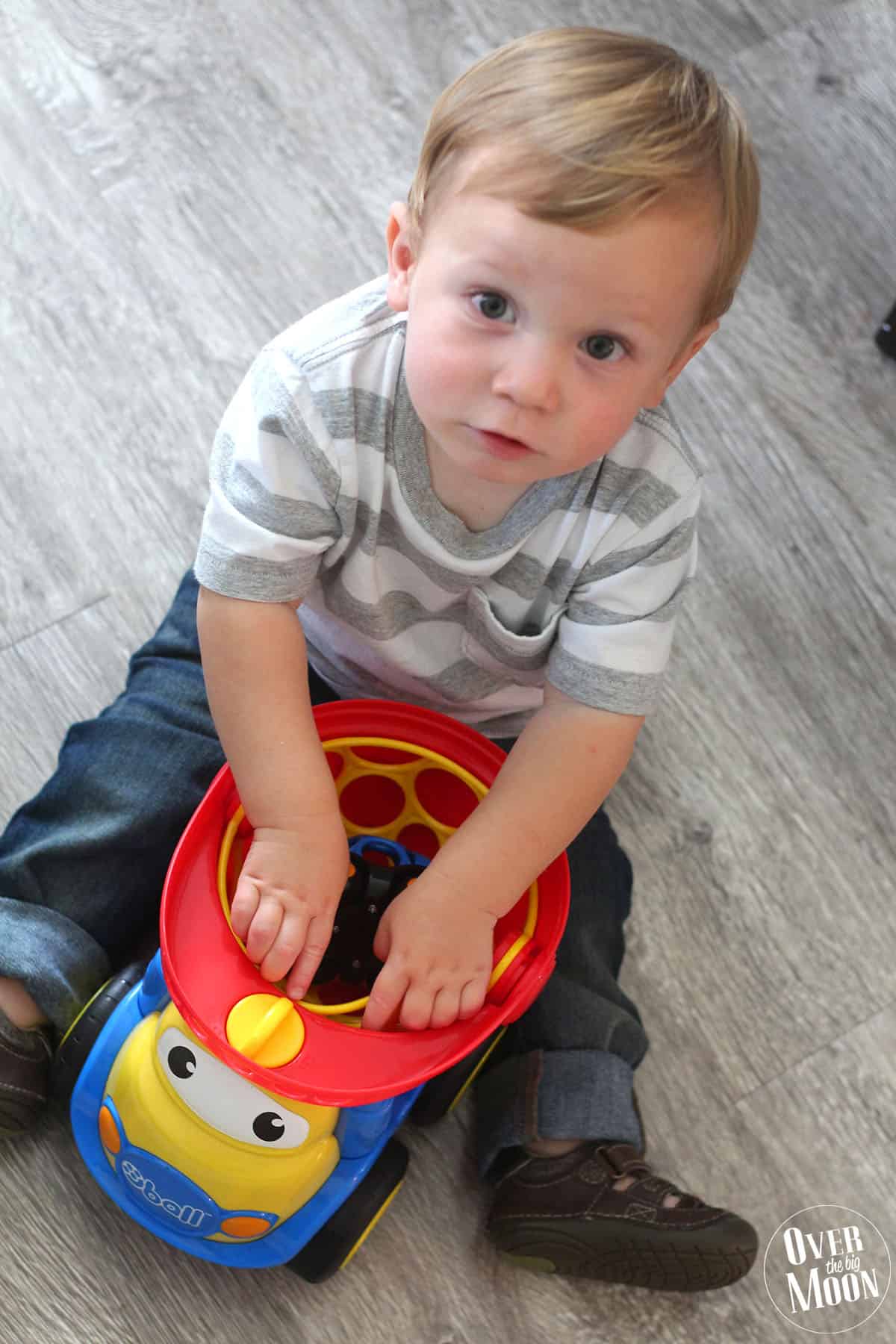 His favorite toy was the Oball Go Grippers Dump Truck™! He loved being able to put the cars in the dump truck part of the car and then pull the ball part of the truck up over the top! It also has a little yellow turn knob that locks the dump truck part, so that it stays locked down or can lift and dump!
Now I want to share the SUPER simple tutorial on how I made the cupcakes! Also, don't forget to enter the awesome giveaway at the bottom of this post for a chance to win the FULL Oball Go Grippers ™ toy collection!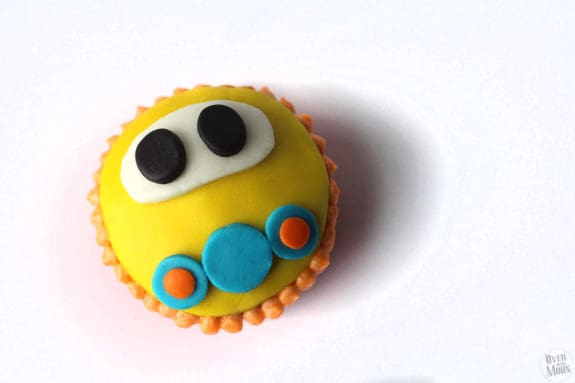 To start, go ahead and make your cupcakes. I just made up a box mix, but if you have a recipe you love, then go ahead and make it! After they are baked, if you have time, I suggest refrigerating or freezing them. The fondant goes on best if they're cold. However, cupcakes don't crumb like cakes and if you don't have time to refrigerate them, then they should still be fine.
Next, you need to make some fondant. I used this Marshmallow Fondant from Tastes Better from Scratch. I've used it a ton and love it. The only thing I do differently is that I add a little extra shortening. So, more like 1/2 cup vs the 1/3 cup she suggests. Her recipe will cover about 12 cupcakes w/ the decorations. So, if you're making 24 cupcakes, then you'll want to double this fondant recipe. Once made, I divided it up into 6 sections and colored 5 of them the colors I needed: yellow, black, blue, orange and red. I like to use the Wilton Icing Colors. The 6th portion of fondant will be left white! When dividing up the fondant you need the most red and yellow, so keep that in mind. You won't need very much orange, so for sure color a smaller section orange. You can even only color half the batch and then color more of it as you need it. Does that make sense?
Then just follow the step-by-step pictorial to put together your cupcakes. Keep in mind that this tutorial is only making a single cupcake. However, if you're making a large batch, then you can roll out large pieces of fondant and cut more then one cupcake at a time.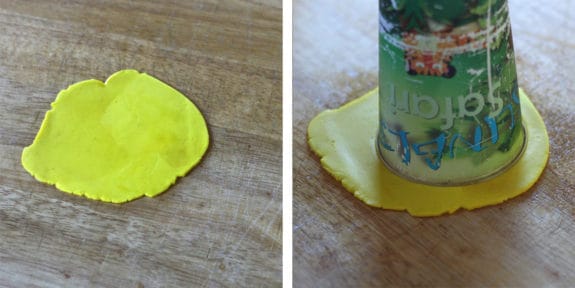 Take out the yellow fondant and roll it out. This will be used to cover the cupcake. You can measure your cupcake if you want and then make the circle by hand. But, I generally just find a cup or something circular that is the right size. In this case – an old kids cup! Push the cup down and twist it in a circle to make a sharp cut.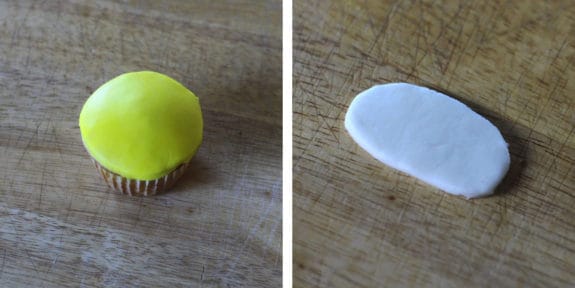 Go ahead and thinly ice the cupcake with a simple buttercream like this Vanilla Buttercream from Liv for Cake! Then apply the yellow fondant circle over the top of the cupcake!
Next take the white fondant and roll it out. Then make an approx 3 inch wide oval shape to go below the eyes. Just cut this by hand. It's super simple. If you mess up, no worries, just roll out a new piece and try again!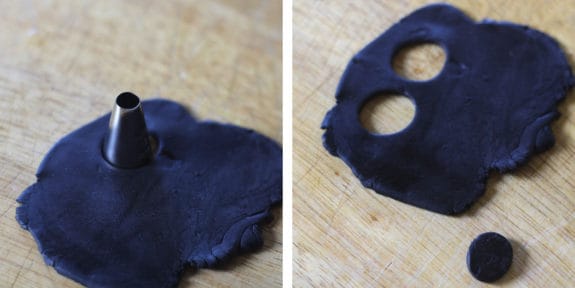 Next up – eyes! Roll out your black fondant. I used an icing tip to cut a circle and then used my fingers to push the sides in to make them more oval.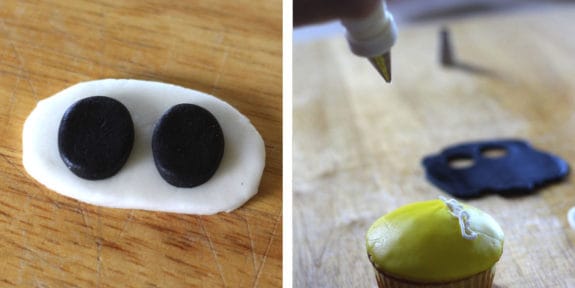 Use a small dab of the buttercream icing to apply the eyes onto the white background. (Note: Because this is a flat design, a buttercream will work to apply the pieces of fondant together. BUT, if it were a more elaborate design, I would use a royal frosting.)
Then apply a line of icing to the top of the cupcake underneath where you're gonna apply the eye section!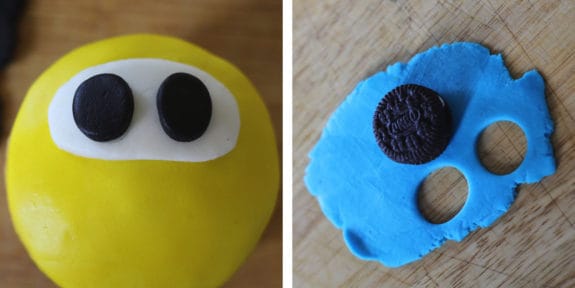 For the mouth section, you'll need 3 blue circles. With one of those circles slightly larger then the other two. I used an icing tip for the 2 smaller ones and then just looked around my kitchen for something slightly larger. What did I find you ask? A mini Oreo! haha! It totally worked perfect!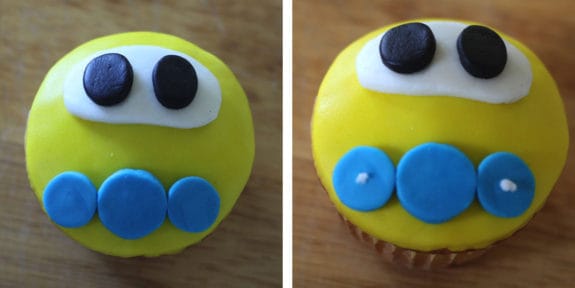 Then use the icing to secure the blue circles to the top of the yellow fondant to make the "mouth."
Next, roll out a small piece of the orange fondant and cut out two small circles to go on top of the two outer blue circles. Again, I used an icing tip to find my circle size. (I forgot to take a picture of this step, but you can see it pictured below.)
Apply the two orange circles using a small dab of icing!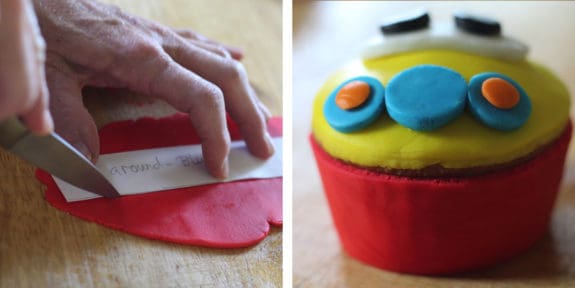 Now, at this point you can be done if you want! But, if you really want to finish them off cute then you can wrap the cupcake in this red "skirt." I made a template for this using a piece of paper. It's a 8″ x 1.25″ strip. Cupcakes are generally about 7 3/4″ wide, but I had a few where that were a little bit bigger. So, I suggest cutting them 8″ long and then trimming if you need to. You can wrap it in any color, but I wanted add red and I think it finished it off perfect!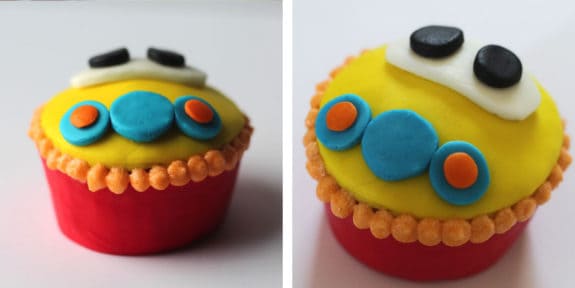 Lastly, to blend the seem between the yellow and red I just piped little orange circles all the way around. I used the same buttercream I had and just added a little orange coloring to it. I think they turned out pretty fun if I do say so myself!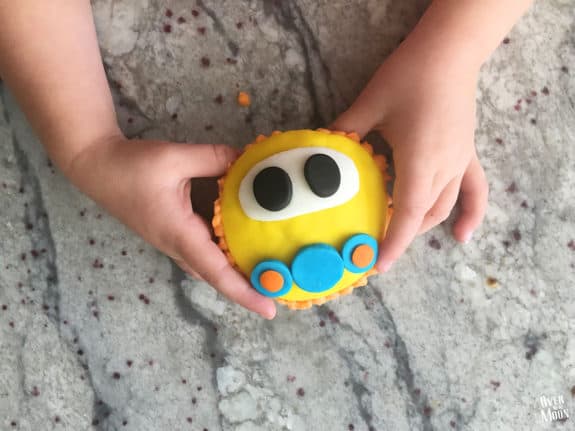 As much fun as the cupcakes were, there is nothing more fun than present time! We loved celebrating with the little guy and he absolutely loved all his Oball Go Gripper™ toys! The easy to grasp aspect of these toys will make them loved by any toddler!
You can buy the entire collection at Toys R Us. They have lots of different options: Oball Go Grippers™ Bounce 'N Zoom Speedway™, Oball Go Grippers™ Vehicle Assortment, Oball Go Grippers Loader™, Oball Go Grippers Dump Truck™, Oball Go Grippers Car Carrier™, Oball Go Grippers Race Cars™. You can shop this collection easily on Kids II too!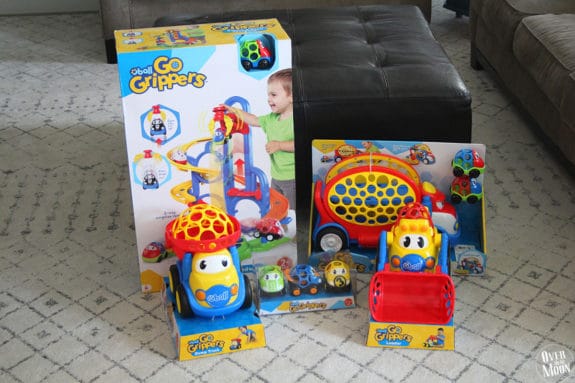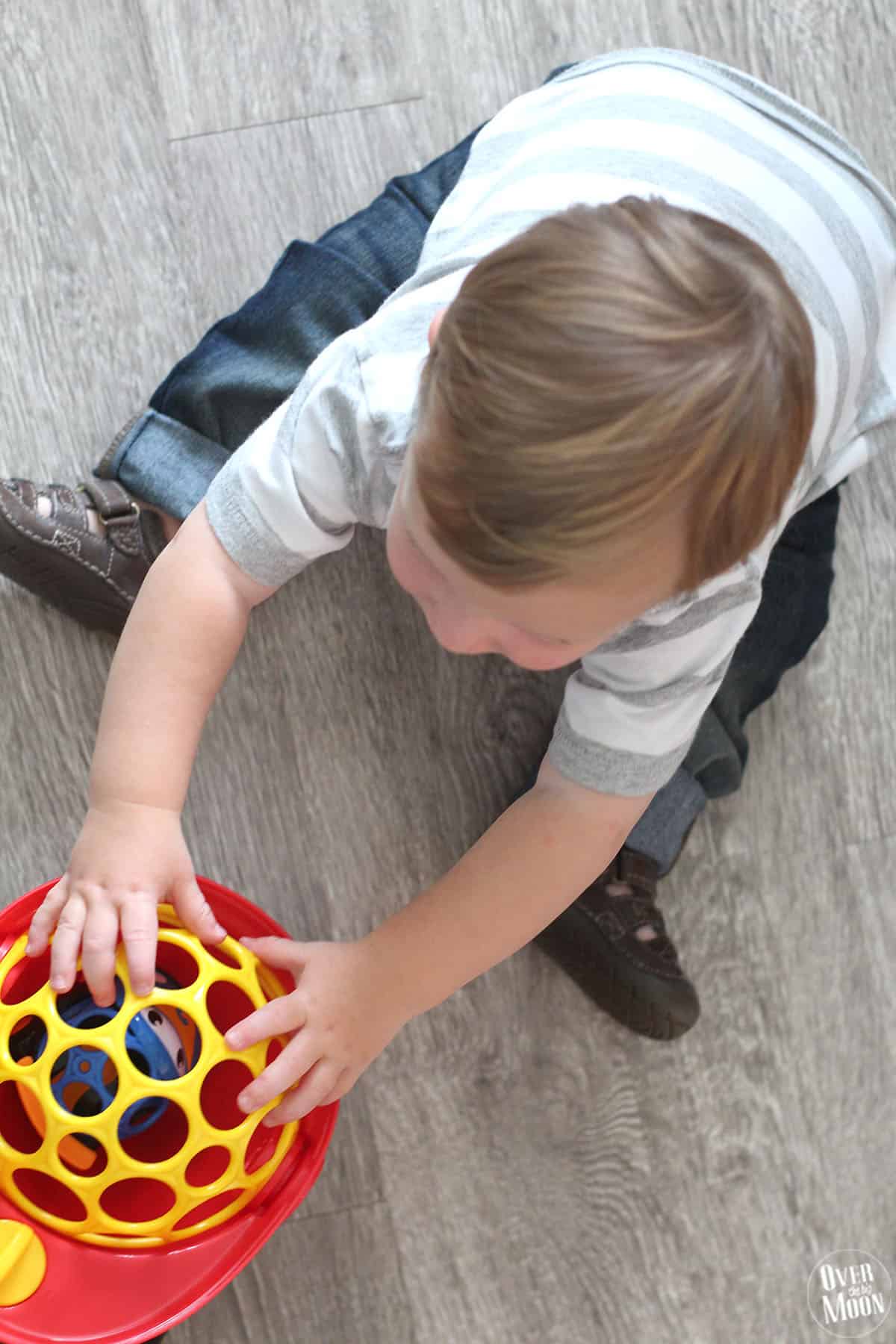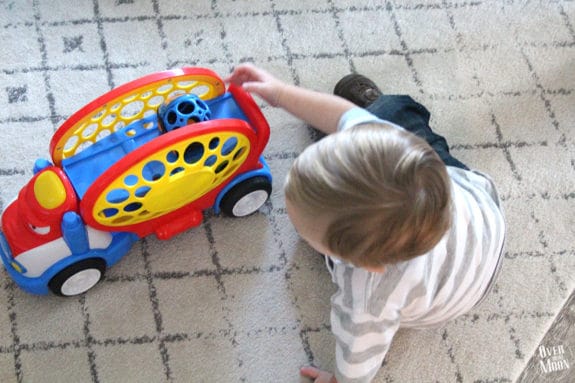 Want to see more about the toys? Check out this cute video:
Now for the fun giveaway! One winner will win the ENTIRE Oball Go Gripper™ Toy Collection! The giveaway will run from October 20, 2016 at 12:00am to October 29, 2016 at 11:59pm! The winner must be 18 years old and live in the US. GOOD LUCK!
GIVEAWAY IS NOW CLOSED! The winner is SUSAN! Thanks to all who entered!
---
Pam Dana
Pam is a stay at home working mama that enjoys all phases of life! Between her 3 kids, fur baby (a beyond cute Goldendoodle), wonderful husband, friends and working, she stays pretty busy! But, she is loving every aspect of her life! Here on Over the Big Moon, she loves to share DIY's, recipes, printables, organization tips and more!
---