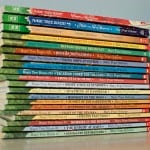 This was the year we started into kids chapter books in our home and I couldn't be more excited! I love to read and I really want to pass that onto my boys. I had dreams of bookshelves full of books…that is until the first book order form came home. At those prices, with our budget….YIKES! My dreams of bookshelves packed with books disappeared!
That is until I wandered into the children's book section of our local thrift store. JACKPOT! They have tons of great chapter books and ironically at least half of them look like they have never been read! All the books at our store are 75 cents. Another thrift store in town has them for 25-50 cents each. I decided to find a few good series to start with and build from there. The first was the Magic Tree House series.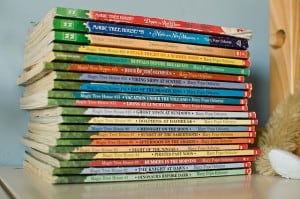 In just over 2 months we have collected 20 of them! It started to get confusing for me so I made myself my own handy, dandy, notebook!
I found a thin spiral notebook that fits inside my wallet. I wrote the series names at the tops of the pages and then I listed what books we have in that series. Since I keep this in my wallet I always have it so when I find new books I just add them inside. This is what it looks inside:

MY LATEST VIDEOS
MY LATEST VIDEOS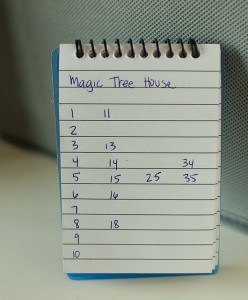 We have a great collection started and it just keeps growing! One very happy trip I found 8 Horrible Harry books in almost new condition. Those happily found themselves in Caleb's stocking this year and he loved them!
If you have a beginning reader just getting into Chapter books here are some series suggestions for you. I would say these are on average a second grade reading level.
Magic Tree House
The Boxcar Children
Cam Jansen
The Littles
Geronimo Stilton
Jigsaw Jones Mystery
Encyclopedia Brown
Junie B. Jones's
He also really likes The 39 Clues Series,
but they are a little advanced for a new reader but my son has grown into them pretty fast.
Bottom line – you don't have to break the bank to build a good library in your own home. Plus its fun to go searching for books and my boys get so excited to find ones we don't have.
I would love to hear what series your children are into! I need to start working on good books for a 3rd grader now!
SaveSave
---
Lisa
Previous author of Over the Big Moon. I shared my passion for home and family life! I love graphic design, DIY projects, cooking, and working in my garden! My favorite role is taking care of my husband and our 3 amazing and busy boys!
---