I am a Preschooler!
My Nathan Boy went to his FIRST day of preschool last week! He was really excited to be big like all his cousins and go to school! He had to be extra patient, because he started a few weeks later then all of them.
Being that Nathan is my oldest and this is his first time going to school, I knew I wanted to start a few traditions. So, here is what I came up with for the first year:
Tradition #1: The first being that he got to choose his breakfast! He chose French Toast! I think I am going to make some sort of chair cover or special plate or something that they get to use next year. Not sure yet……..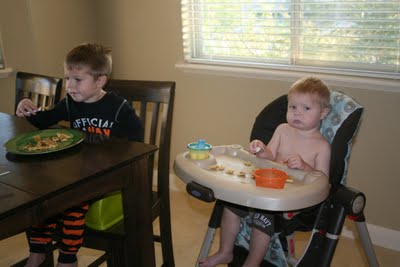 On a side note: See the chair N is sitting on? It's got be one of my best buys ever! Doesn't slide, easily movable, washes in the sink Such a great buy! Check it out HERE!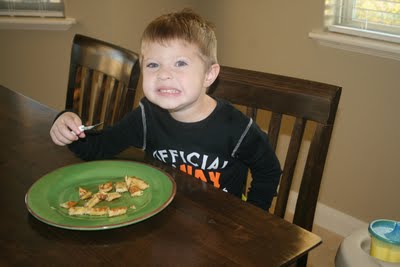 N's, not so attractive, French Toast smile!
Tradition #2: I wanted to have a picture of him on his first day of school, holding a sign. I saw a couple cute sets. I used a cute set from I Heart Nap Time!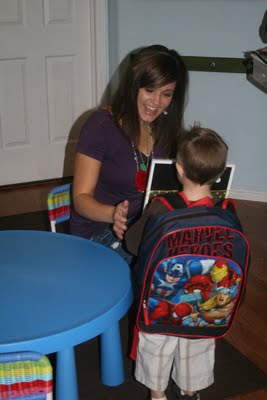 N giving his gift to his teacher!
I was a little nervous Nathan would get a little sad when I dropped him off, but nope. He went right in, gave his teacher her gift, hung up his back pack, got his name tag and ran off to play with his friend. So, I turned around and left! I was proud of him!
N's teacher brings them out to this tree for us to pick them up. Nathan was very last in line coming out, so it took him a second to find me..
That was also the point where I shed my first tear over the whole thing. He seemed SO big and he was SO excited!
This was about the time the tears TOOK me over! But, no worries. I pulled it together and I don't think N or any of the other moms noticed me being a baby!
Next year I think I want to start doing a Back to School dinner, where we set some school goals and Scott gives the kids Father's Blessings. It was sort of an after thought this year. All and all the first day of preschool was a huge SUCCESS!
Love you Nathan boy!
---
Pam Dana
Pam is a stay at home working mama that enjoys all phases of life! Between her 3 kids, fur baby (a beyond cute Goldendoodle), wonderful husband, friends and working, she stays pretty busy! But, she is loving every aspect of her life! Here on Over the Big Moon, she loves to share DIY's, recipes, printables, organization tips and more!
---