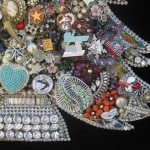 Jewel Trees
Today I want to share one of my favorite Christmas decorations, our jewel tree. My Mom made 3 Jewel Trees out of the costume jewelry that belonged to my Grandmothers. They are so beautiful and so fun to put up each Christmas. I seriously love to sit and look at all of the pieces and discover new ones all the time. It is such a great way to display keepsake jewelry rather than have it hiding in a box somewhere.
Here is the one made from my Grandma Gloria's jewelry:
And this one was made from my Grandma Irene's jewelry:
While in CA this last trip I was looking through my Moms jewelry box, Its something I like to do every time I go home. It makes me feel close to her even though she is no longer here. As I was looking at all of the cool pieces I decided I want to make a jewel tree from all of her jewelry too.
I am so excited and so nervous at the same time! I have other special pieces from my Grandma Irene that I am going to add into it and also quite few things from my Great Grandmother Lulu that I want to put into her tree too. I found a frame in her garage and today I bought the velvet and the rhinestone chains for the border. I also sorted through all of jewelry and got it all ready. Now all I have left to do is buy the thin plywood that it gets mounted on and put it all together.
Stay tuned for a full tutorial on how to create one and to see how mine turns out!
Wish me luck!
---
Lisa
Previous author of Over the Big Moon. I shared my passion for home and family life! I love graphic design, DIY projects, cooking, and working in my garden! My favorite role is taking care of my husband and our 3 amazing and busy boys!
---