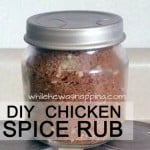 Sweet Chicken Spice Rub
This month I've got an easy little project that will double quite nicely as a Christmas gift for any friends or family that enjoy cooking (got any hard-to-gift-for men on your list?). My husband loves to cook on the grill. Our first married Christmas, he made smoked salmon in a snow storm, no lie. It was delicious, possibly because I was finally starting to come out of my morning sickness with our first and that was one of the first things I was able to eat and actually keep down! Now that there's that mental image in your head, let's get to this project!
Materials:
– A small, clean jar
– Small bowl

MY LATEST VIDEOS
MY LATEST VIDEOS
– Allspice
– Ground Cloves
– Nutmeg
– Chicken Bouillon
– Ginger
– Savory
– Spray Paint
Directions:
– Spray paint the lid of your jar if you need to. I used baby food jars to hold our spice rub, so to cover up the Gerber all over the lid, I spray painted it silver. Let dry thoroughly.
– While the lid dries, get out your spices and put the following amounts in a small bowl.
4 Tbsp chicken boullion
2 tsp ginger
1 tsp allspice
1 tsp ground cloves
1 tsp nutmeg
1 tsp savory
– Mix the spices up with a spoon or fork until they are combined well.
– When your lid is dry, put the spice mix into the jar and seal.
– Make a little label for your jar so you know what's in it. Get all cutesy and crafty and whip out your scrapbook paper! You may want to put the recipe on the label as well, so you can make more if you need to down the road.
– Seal and store in a cool, dry place.
This recipe will fit in a 4 ounce jar, adjust the amounts as needed to fit your jar.
That's it. Super quick and simple. Cross all those grillers off your gift list! Happy holidays!
Thank you Krista! I love this idea and will definitely be making some of these for some men I know!
Visit Krista at:
---
Lisa
Previous author of Over the Big Moon. I shared my passion for home and family life! I love graphic design, DIY projects, cooking, and working in my garden! My favorite role is taking care of my husband and our 3 amazing and busy boys!
---