Lauri Tall Stacker Pegs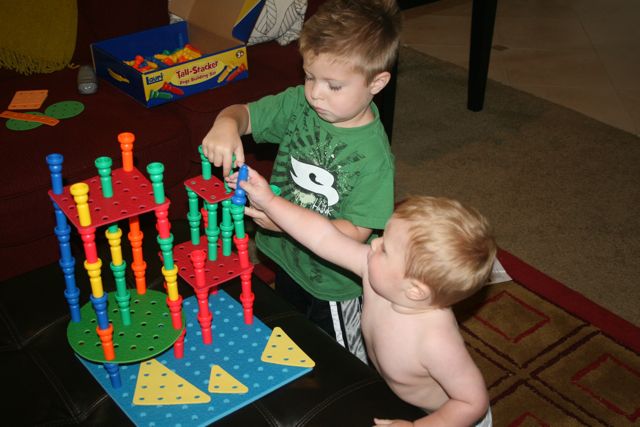 N @ 34 months building and trying not to let Baby J destroy his creation.
One of our new favorite activities in our house is to pull out our 
Lauri's Tall Stacker Pegs.
  I had seen them on a some blogs I follow and thought they would be a great toy that served multiple uses. Today during baby J's nap, N and I we pulled the Tall Stacker Pegs out and built some fun stuff.  Baby J woke up and we had to move to the "tall table," so N's creations didn't get attacked.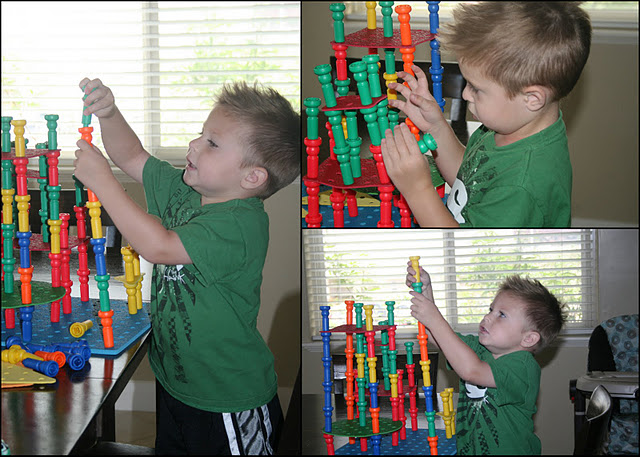 The toys says 3+ for age and we still definitely have to help N when he plays with them.  He can build some smaller stuff on his own, but to do anything like you see in the pictures it takes some help supporting some of the taller towers while he adds to them and then also coaching him on where the pegs may need to go when you add the different foam shape dividers.  He loves it though.
I have also pulled the set out and let N just build towers.  I will build a tower with a certain color pattern and have him copy it.  Then I'll tell him to make his own pattern.  He can copy my pattern, but he doesn't really get creating his own pattern yet.  We also use the pegs for color sorting and counting activities.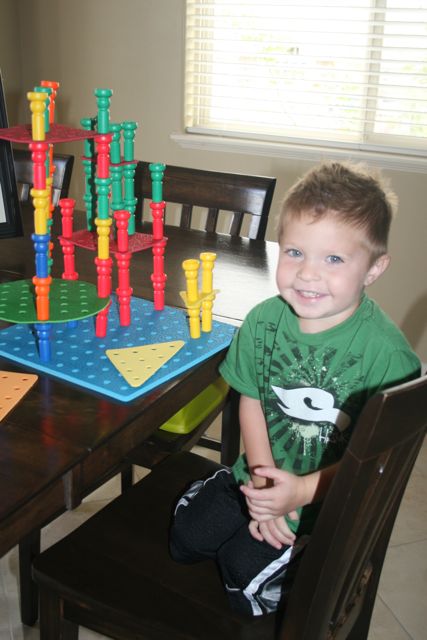 As you can see, he's pretty proud of himself when he builds!!!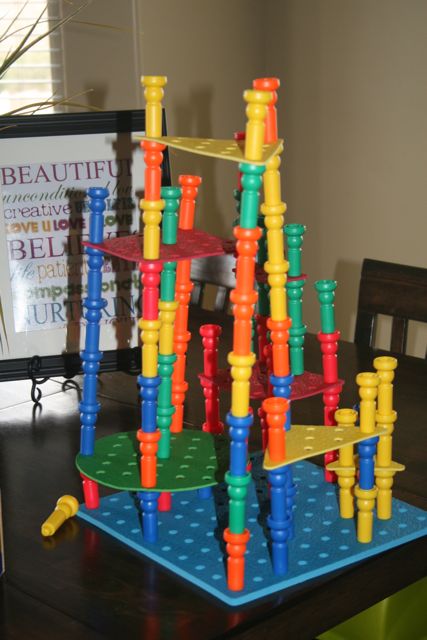 The finished product for today!
---
Pam Dana
Pam is a stay at home working mama that enjoys all phases of life! Between her 3 kids, fur baby (a beyond cute Goldendoodle), wonderful husband, friends and working, she stays pretty busy! But, she is loving every aspect of her life! Here on Over the Big Moon, she loves to share DIY's, recipes, printables, organization tips and more!
---