The Easter Bunny was nice enough to bring my son this cute pair of Dinosaur Jammies! My Nathan LOVES dinosaurs – so I was super sad when I noticed he had a growth spurt and within 3 months they were high water on him.
I hadn't gotten around to packing them up and I'm so glad I hadn't. I all of a sudden realized that I could easily hem the pants. Why had I never thought of doing this in the past? This would have saved me from buying many pairs of jammies. It is so warm here – that really they can wear shorts to bed until close to December. I know this isn't super genius or anything, but I thought I would quickly share it, just in case there are a few other mommies out there that always run into this problem.
To do it I just took a pair of the longer shorts from one of his other pair of jammies.

MY LATEST VIDEOS
MY LATEST VIDEOS
Then when I went to cut I just added an extra 1/2″ to the length, so that I had some fabric to fold under.
Then I turned them inside out and folded the fabric over about 1/2″ or so.
To make sure they'd were going to be the same length I fold the shorts in half – this way I could line them up more. If needed fold one of the sides more, etc.
Then I just threw them on my machine and sewed around the edges. I looked for a stitch that was similar to the one they had used.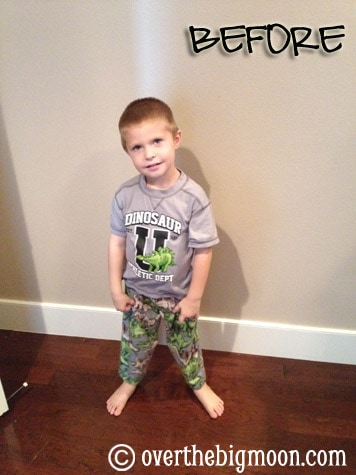 Viola! Finished product! Took me a whole 10 minutes too!
---
Pam Dana
Pam is a stay at home working mama that enjoys all phases of life! Between her 3 kids, fur baby (a beyond cute Goldendoodle), wonderful husband, friends and working, she stays pretty busy! But, she is loving every aspect of her life! Here on Over the Big Moon, she loves to share DIY's, recipes, printables, organization tips and more!
---