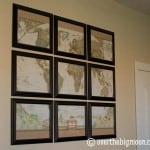 Map Wall Art
When we bought our first house we had an actual office! I was so excited to have an office and not have to cram the computer into our bedroom! I wanted to fill it with decor that was super classy. I especially wanted a big map on the big wall but I didn't want it to be boring. This is what I came up with.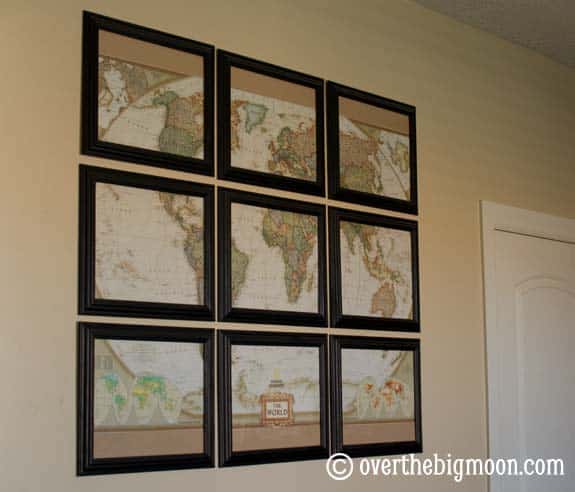 This was literally the first big home decor project I ever did and I still love it almost 7 years later! It was super easy and cost me about $60 to do. First I found my map. I looked long and hard because I wanted a beautiful map, and I found one by National Geographic
for about $20 at that time.
Next I found frames I liked. I bought mine at Walmart for about $3 a piece, so the total cost for the frames was just under $30. The only problem with buying your own map is that it doesn't fit the frames perfectly. My frames were 11×14 but the map was only 30 inches tall. To compensate for that I added a piece of frame matting on the top and bottom to make it fit. Michael's was great about cutting it to the exact dimensions I wanted and it was only about $10 if I am remembering correctly.

MY LATEST VIDEOS
MY LATEST VIDEOS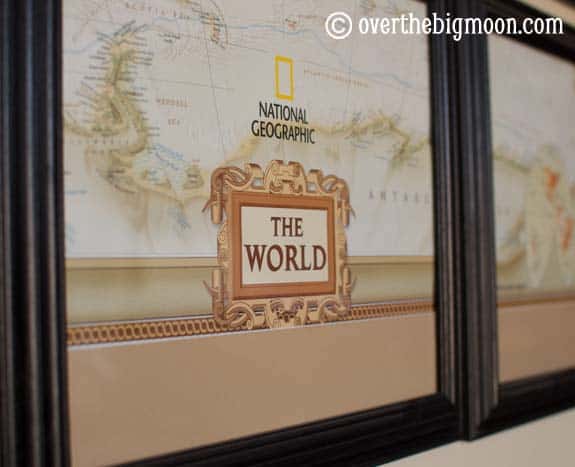 I though the mat would look weird but I actually really like the way it helps frame it out.
To cut my map correctly I started by finding the middle of the map. Then I measured 5 1/2 inches on each side of the center point. This way I knew my center piece would fit the middle frames, and the top and bottom pieces would be the same size. I did that on both sides of the map and then connected the measuring lines with a yard stick and cut it carefully into thirds.
As far as the width went my map was too large. It was 46″ wide and my frames were only 42″ wide. I started the same way. I measured to the middle and then measured 7 inches off of each side and cut it. That way my middle section was exactly 14 inches wide and perfectly centered. Next I measure 14 inches from the edge of the side pieces and cut the extra off the ends. It was about 2 inches on each side. I did this for all 3 strips and was left with my 9 pieces. You cant really tell the sides were cropped unless you know they were.
I used scrap booking sticky tabs to attach the map the cardboard insert of the frame. Once I had my map pieces mounted, I went to Michael's to have my mat cut to finish it off. This is one project where you want to measure twice and then double check with your glass to make sure your marks are lining up correctly before you cut.
One day I will have a library/office with cherry wood bookshelves, over-sized leather chairs, and lots of maps and globes! For now I love my wall map!
---
Lisa
Previous author of Over the Big Moon. I shared my passion for home and family life! I love graphic design, DIY projects, cooking, and working in my garden! My favorite role is taking care of my husband and our 3 amazing and busy boys!
---