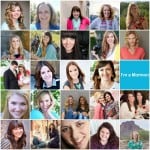 Meet the Mormons!

We belong to the Church of Jesus Christ of Latter Day Saints otherwise known as "The Mormons". We are proud of this part of who we are! We are excited to team up with over 65+ of us strong… to extend an invitation to see a film. A film entitled "Meet The Mormons". This film is not meant to be an "in your face" – you must join our church film. It is simply designed and produced to uplift and inspire you through six stories of those of our faith who have followed promptings to follow Christ more fully in their lives. We hope you take the opportunity to enjoy this film. We hope your hearts are made light as you feel the goodness that comes from following our Christ and Savior. All proceeds from the film will be donated to The American Red Cross. So not only will you be uplifted and inspired, your money will be going to an amazing charity!!

MY LATEST VIDEOS
MY LATEST VIDEOS
We also would like to take a moment and share our personal testimonies, stories of our own personal conversions, and our own stories of how following our Savior, Jesus Christ has changed our lives. The light of the gospel of Jesus Christ offers a joy and hope that only following him can provide. We hope as you click through and read our stories and testimonies of the Church of Jesus Christ of Latter Day Saints, you will feel uplifted and encouraged. We are by you! We love connecting with our readers, that is why many of us do what we do! Please be kind and considerate in your comments. It takes great bravery for us to open our hearts and our mouths to share with you such a tender and personal part of who we are. We share because we feel strongly the need to share the peace and the hope that is the Gospel of Jesus Christ.
Adrienne | Free Time Frolics , Camille | Chicken Scratch n' Sniff , Natalie & Rebekah | House of Sprinkles , Kathleen| Fearlessly Creative Moms
Emily | The Benson Street , Staci | The Potter's Place, Alyssa | Alyssa.Marie , Kristen | Capturing Joy , Aly | Entirely Eventful Day
Katie | Clarks Condensed, Larissa | Just Another Day In Paradise , Camille | My Mommy Style , Candice | She's Crafty
Anita | Live Like You Are Rich, Landee | Landee Lu , Tara & Devin | Salt & Pepper Moms , Mallory & Savannah | Classy Clutter Kelli & Kristi| Lolly Jane
McKenzie | Girl Loves Glam , Pam & Lisa | Over The Big Moon , Melanie | Forty Eighteen , Sky | Capital B Adell | Baked in Arizona
Andie | Maybe I Will , Shatzi | Love and Laundry , Robyn | Create it Go , Rachel | R & R Workshop
Tiffany | Feel Great In 8 , Katelyn | What Up Fagens? , Brittany | BrittanyBullen , Ginger | Ginger Snap Crafts , Stephanie | Crafting In The Rain
Chelsey | Cee Me Be , Amber | Crazy Little Projects , Kallie | Smitten By, Elyse, Kristen, Lauren, Steph, Kendra & Camille | Six Sisters Stuff Annette | Tips From A Typical Mom
Amberly | Life With Amberly & Joe , Taralyn | Keep Moving Forward With Me , Jessica | What Does The Cox Say? , Lisa | Mabey She Made It , Kiki | Kiki & Company
Kierste | Simply Kierste , Tayler | The Morrell Tale, Jennifer | My Daylights , Cambria | Live To Be Inspired, Danielle | Today's The Best Day
Amber | Dessert Now Dinner Later, Natalie | The Creative Mom, Bobbie | A Vision To Remember , Becky | Babes In Hairland
Lisa | Pebbles & Pigtails , Mandy | Sugar Bee Crafts , Krista | Reclaim, Renew, Remodel , Wendy | Musings, Miracles, and Mayhem
Nat & Holly | My Sister's Suitcase, Britni| Play.Party.Pin , Montserrat | Cranial Hiccups , Heidi | A Lively Hope , Ashley & Meegan | Flats to Flip Flops
Alexis | We Like to Learn As We Go, Amy | The English Geek , Mariel | Or So She Says Carrian | Oh Sweet Basil
Kirtley | The Gist of FIt | Aubrey | Dreaming of Someday, Natalie| The Messanos, Angela | Handmade In The Heartland
Pam and I are excited to be a part of this group. We are both Mormons. I was raised in the church and baptized at the age of 8. That doesn't mean I haven't ever doubted or asked for myself if the things I believe are true. That is what I love most about our church. We are encouraged to ask, question, and pray about what we are taught. Through this process I have found a deep and real relationship with my Heavenly Father. I know he cares about me. I know he knows me, who I am, and what I struggle with.
Being a mom is hard! Some days terribly hard. But through the power of prayer I can get inspiration on how to react and what questions to ask. I also receive inspiration when things are not right with my boys and can be more in tune to their needs through the promptings I receive. That assurance and support brings me so much comfort and power as a mother.
As Mormons we believe that our families are eternal. Meaning that in the next life we will still be married – "no till death do us part" in our church. We are sealed for time and all eternity! I was married to my sweetheart, John in the Los Angeles temple 12 years ago.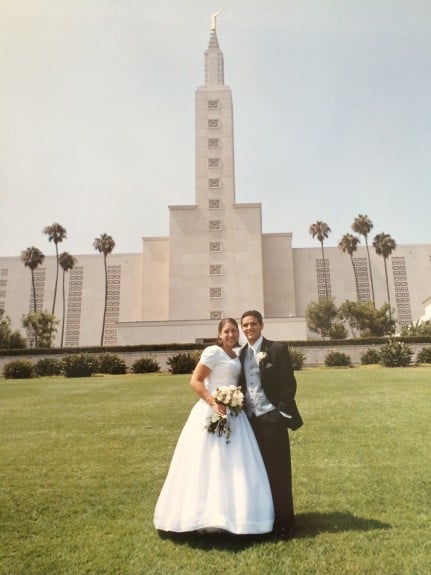 We have had our ups and downs like every marriage but because our marriage covenants are eternal we strive hard each day to be better to each other. Its important to us that we learn to be better companions and truly make each other happy. My forever looks pretty good 🙂
The gospel brings me hope. Hope that on a day when I lose my temper or say something I regret, that I can find forgiveness because of my Savior Jesus Christ. Knowing about him gives me confidence that I am important, special, and loved.
My Mom died 3 years ago and while I was sad, I know without a doubt that I will see her again and once again be wrapped in her loving arms. My faith in the plan our Heavenly Father has for us gives me a greater understanding of why I am here on earth. Knowing my purpose gives me a constant anchor despite all the opinions and fads out there.
Being a member of the church brings me so much happiness because I know I am daughter of God. I am fulfilled in my role as a wife and a mother because I know the purpose of our families.
If you have any questions about our church or want to know more you can find answers on lds.org or feel free to email me at lisa@overthebimoon.com.
---
Lisa
Previous author of Over the Big Moon. I shared my passion for home and family life! I love graphic design, DIY projects, cooking, and working in my garden! My favorite role is taking care of my husband and our 3 amazing and busy boys!
---