Mistletoe Magic
Did you guys see our Guest Post last week at
CraftOManiac
?  If not, here is what we shared!  It ended up being such a fun, easy and quick project!  Enjoy!
Pin It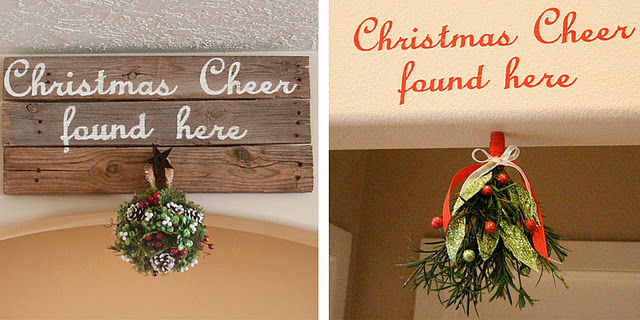 Lisa here! My Mom passed away this last February and I inherited most of her VERY large Christmas collection. As I was unpacking her decorations this year, I found the mistletoe ball that had hung in our home since I was a little girl. It brought back so many good memories! Being that it was made in the early 80's, I decided to give it a little makeover to update it.
The little red apples really seemed to date it. I pulled them out and added berries and some pine sprigs in their place. I also switched the plaid ribbon for some gold burlap ribbon. Just for fun (and for the memories) I added two apples back in on the top!
Next, I wanted to make a sign with a fun saying to hang it on each year. I love the look of old pallets, and knew I wanted to make my sign out of them. So, I went scavenging! After I found what I wanted, I put my hubs in charge of cutting and nailing the slats together.
I didn't want to paint the wood, so I used vinyl as a stencil.
With a cursive font it was pretty hard to attach, without it getting stuck into a big mess. I did about 4 letters at a time and cut the top and bottom into separate pieces. I laid the bottom down first, and then it was easier to line the top letters up.
It doesn't matter if its pretty, just make sure the edges of the letters are smooth and stuck down. If you want to keep your letters really precise, I would suggest taking a little caulk and running it along the edges of your letters. You don't need much! I usually put about a pea size on my finger and then run my finger along the edge and wipe off any excess. Just that little bit will seal up your edges. Since I wanted my sign rustic, I skipped this step.
If you are lucky, you might be able to find a handsome boy to do your painting for you like I did.
My 5 year old is a very precise painter! When the paint was mostly dry, I peeled the vinyl off very carefully. There was some bleeding, but I just took a razor blade and scraped the excess off.
I let it dry for about an hour before I took sand paper to the letters and distressed them enough to let a little bit of the wood grain show through.
Then I added my rustic star hook, as well as some wire on the back to hang it. Voila!
You can bet when I took this picture I was attacked with kisses!
We have had a lot of fun trying to catch each other under the mistletoe!
Pam also made a little mistletoe magic in her home! She applied her vinyl right onto the wall. Then she took her greens and some fun glitter sprigs from a pick that she cut apart, and added them together to make a little bouquet. She used her glue gun to attach them all together at the stem.
She wrapped the stem with ribbon about halfway down, and then she glued a little piece of ribbon over the end to cover it. This not only covered all of the stem, but also gave her a place for her pushpin.
She finished wrapping the ribbon and added her pushpin.
She used a little hot glue under the push pin to make it more secure and then just pushed it into the drywall in her doorway beneath her vinyl.
Now it's time for you to go create some Mistletoe Fun in your own home!
---
Pam Dana
Pam is a stay at home working mama that enjoys all phases of life! Between her 3 kids, fur baby (a beyond cute Goldendoodle), wonderful husband, friends and working, she stays pretty busy! But, she is loving every aspect of her life! Here on Over the Big Moon, she loves to share DIY's, recipes, printables, organization tips and more!
---