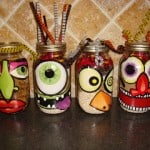 Monster Cookies in a Jar
Hi Over The Big Moon Readers! I am Lindsay from
Family Embellishments
. I am one of two contributors on Family Embellishments. Amy and I try to come up with fun activities for you to do with your families! We are two very busy Moms! I myself have 4 kids and Amy has 3. Amy is part owner in the
Mommyshop
in Overland Park, KS and I am also the creator of
My Family Meal Planner
. I elimate the question What's for Dinner? by planning 4 meals per week for an entire year, give you all the recipes and all the weekly grocery lists. I have many different meal planners available, family, light, for 2, crock pot only, meat optional, grilling, kids and lunchbox. Amy and I actually met because she fell in love with my meal planners and I fell in love with her creativity and we decided to give it a go on a blog. Here is a fun gift for you to make for Halloween for family, friends, neighbors, teachers, anyone! Enjoy and come visit us at
www.familyembellishments.com
.
We always get our nieces and nephews something for Halloween. They are getting older now, so it is harder to come up with something for all of them. This year I decided we would make Monster Cookies in a Jar and decorate the jars like monsters. The kids and I headed to Hobby Lobby, bought some jars and found some stickers that you can decorate pumpkins to look like monsters. When I bought these I thought they would be the same size as the pictures on the outside of the package, but they were much larger.
Here
are some from Oriental Trading that would work great. I have used these before on pumpkins, but didn't have time to order them this year. They would be the perfect size. We made due with what we had and I think they turned out great.
I let the kids pick out the monsters they wanted and decorate the jars. We bought the smooth Mason Jars at Hobby Lobby and they happened to be 50% off that week too.
Here are the jars. Next we added the monster cookie mix as follows:
2 cups old-fashioned oats
1 cup brown sugar
1/2 cup M&M's
1/3 cup sugar
1/2 tsp baking soda
1/4 tsp salt
1/2 cup mini chocolate chips
Layer the ingredients in the order given into a wide-mouth 1 quart canning jar. Make sure to pack the brown sugar before adding the M&M's. We used the bottom of our ice cream scooper for this job and it worked great. We also topped our jars off with more M&M's to add more color and fill the jars.
Then we added the rest of the directions to the top of the jar.
In a large bowl, cream 1/4 cup softened butter, 1 egg, 1/2 cup peanut butter and 1/2 tsp vanilla.

Slowly add the Monster Cookie mix in this jar until well blended.

Form dough into 1 inch balls, place on a greased cookie sheet and bake at 375
˚
F for
12 minutes.
You can click
here
for a printable of these tags.
We decided to embellish the jars a little more with some pipe cleaners to make hair.
You will also notice the jar on the far left has already made cookies in it. One of our nieces is in college and lives in the dorms, so I made her a jar with the cookies already made. Then we just made one jar per family for the rest of the nieces and nephews.Thank you for having me Lisa and Pam!
---
Pam Dana
Pam is a stay at home working mama that enjoys all phases of life! Between her 3 kids, fur baby (a beyond cute Goldendoodle), wonderful husband, friends and working, she stays pretty busy! But, she is loving every aspect of her life! Here on Over the Big Moon, she loves to share DIY's, recipes, printables, organization tips and more!
---