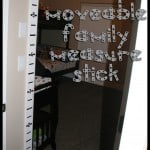 Moveable Measure Stick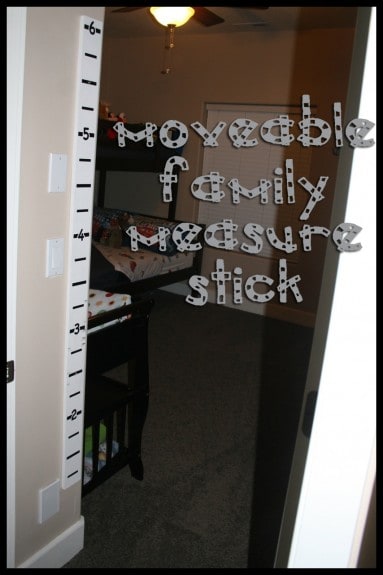 I am SOO glad that our Family Measure Stick is moveable! We have lived in 3 different houses since Nathan was born and it has been so great just taking it with us!
To make it we just got a piece of wood that was measured just over 3″ wide and is 5 ft tall. The piece of wood that I got was already pre measured out 5 ft tall, but if you were having one cut you could have it be however tall you want to make it. Just be sure to take into account the height of your baseboard. I wanted our measure stick to go to 6 ft tall on the wall, so we just hang it a foot off the ground.
I then had my husband cut out a vinyl for our markings on the measure stick. But, I believe Lisa just painted hers on by hand. I was just too lazy to do that where I had access to a vinyl plotter.
The boys love measuring themselves every six months or so! Okay, I'll retract that a little. Jeffrey likes to copy what Nathan does, but only stand there about 3 seconds and then run off. Exhibit A: Happy and Cooperative Nathan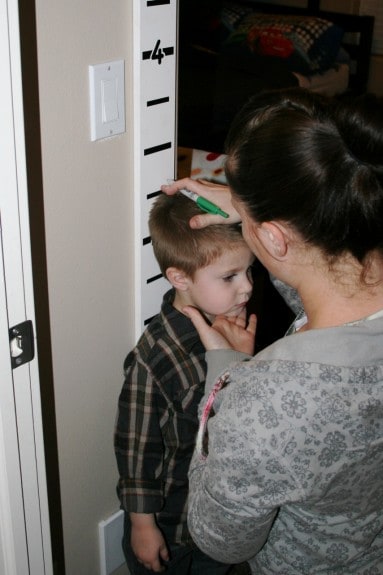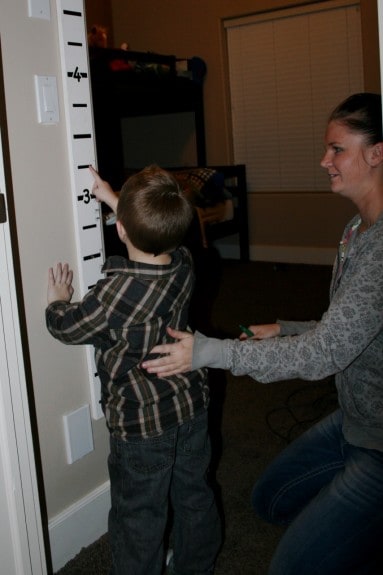 Exhibit B: Barely standing still and then running off Jeffrey!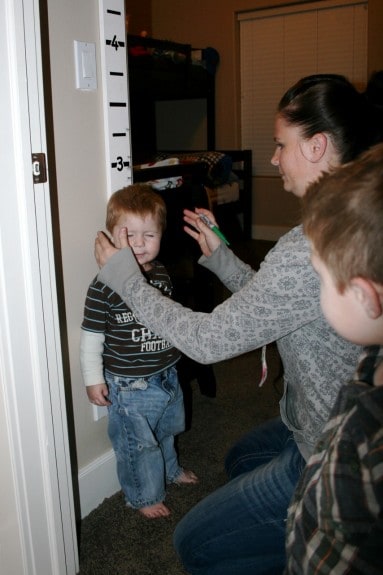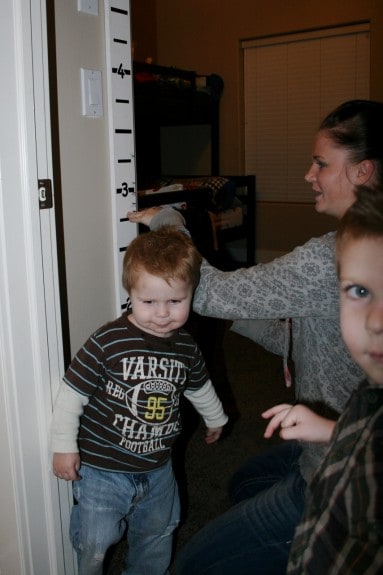 At least I was able to get my hand at the top of his head before he ran off!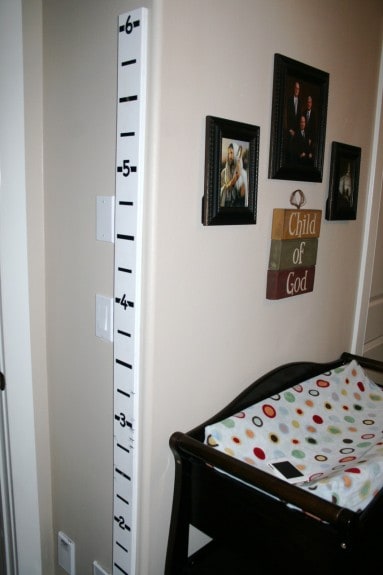 I mark the boys on separate sides of the yard stick, so it's easy to compare their height difference at certain ages. But, if you had more then 2 children, you could easily just use different color markers. To attach it we screwed it into the wall, at the 2 1/2′ and 5 1/2′ markings. Then, I took a black marker and colored the screws. That way you can barely tell!!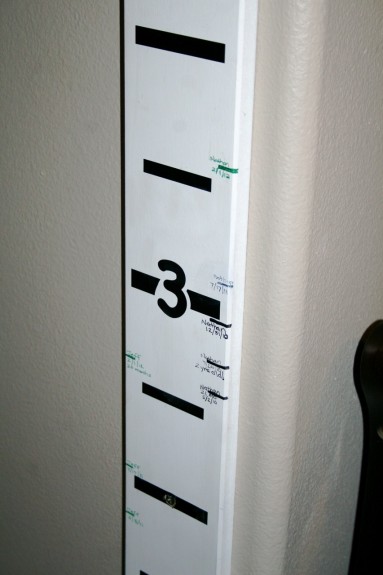 I wanted to share the vector file for the measure markings, so if you have access to a Silhouette or a vinyl plotter you can make yourself a Moveable Family Measure Stick!! I'm offering it as an .ai or .eps. Also, we will be including a Free Vinyl Cutout of the Measuring Marks in our First Group Giveaway later this month! So watch for that! Have a great week everybody!
[wpdm_package id='15657′]
[wpdm_package id='15663′]
---
Pam Dana
Pam is a stay at home working mama that enjoys all phases of life! Between her 3 kids, fur baby (a beyond cute Goldendoodle), wonderful husband, friends and working, she stays pretty busy! But, she is loving every aspect of her life! Here on Over the Big Moon, she loves to share DIY's, recipes, printables, organization tips and more!
---