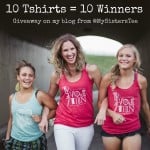 My Sisters TEE Giveaway – 10 Shirts = 10 Winners!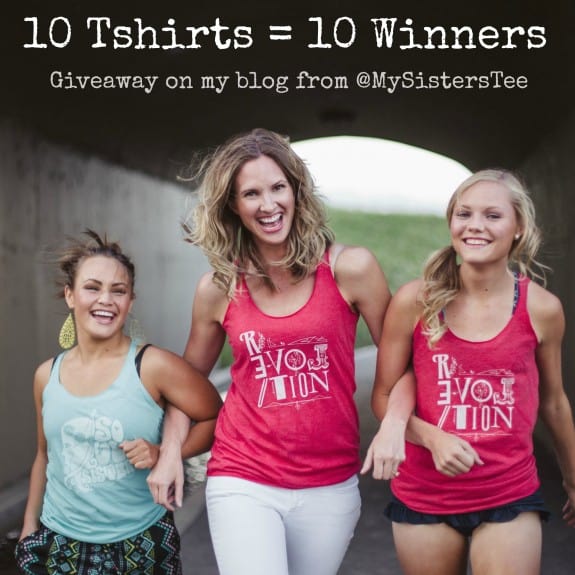 Hey everybody! Have you heard of My Sisters TEE?!? My Sisters Tee is a t-shirt company created by 2 adorable sisters that believe that even though we are all different, we are all the same! I love everything that these woman believe in! What do they stand for?
"Our passion is creating uplifting and inspiring designs that make the women who wear them look great and feel even better.
There is too much division in this world. Let's come together." – Aly & Alicia
I am so happy to be a part of this giveaway and introduce you to this amazing company if you haven't already heard of them! I'm not gonna lie – I pretty much only wear t-shirt and jeans everyday! I have gone through stages in my adulthood where I try – try hard – to want to be more girly. But, it's just not me!

MY LATEST VIDEOS
MY LATEST VIDEOS
My shirt says Revolution and I feel like the last year I have really been through my own little Revolution – emotionally! I have fully accepted me and who I am! Sure, there are things about myself that I'd like to improve and change. But, I love me, just the way I am. And, when I finally get the energy to get rid of my Mtn Dew baby (ha!) then awesome, but until then I am me!
Now back to the awesome shirts! They are rocking comfy and can be used for any occasion! I stayed true to me and styled it super simple and comfy! And for sure mommy approved (you know – constant picking up, snack making, wiping bums friendly, etc)! For more outfitting inspiration and ideas on how to dress it up check out their blog! My outfit details are below!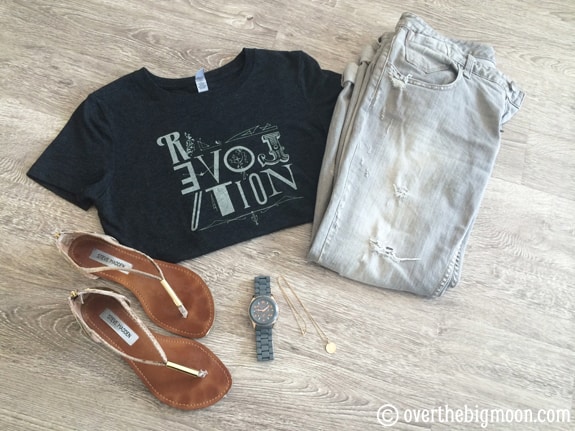 Shirt: My Sisters TEE (buy here)
Pants: Free People Gray Denim from Blue Linen Boutique (Similar here)
Shoes: Steve Madden Flats from Blue Linen Boutique (Similar here)
Watch: BKE from Buckle (BKE watches are my favorite! They're super affordable, but comfy and nice!)
Necklace: Custom Lettere D from Charmed Collections
On this particular day I was doing some housework and then me and the kiddos ran a few errands! I literally had my son snap this picture of me right as I finished cleaning my kitchen and we were heading out to grab some groceries!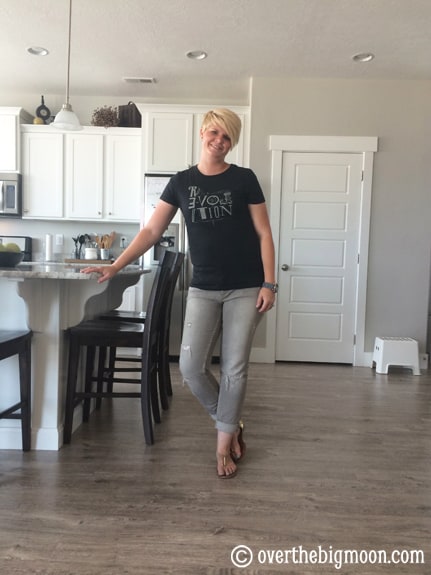 Now, it's your turn to get a chance to win one of their cute shirts! Just enter below! The giveaway begins today, July 17th and will run for 1 week!
And now for a fun outtake of my and my little crazy nugget, Jeff! I love this kid!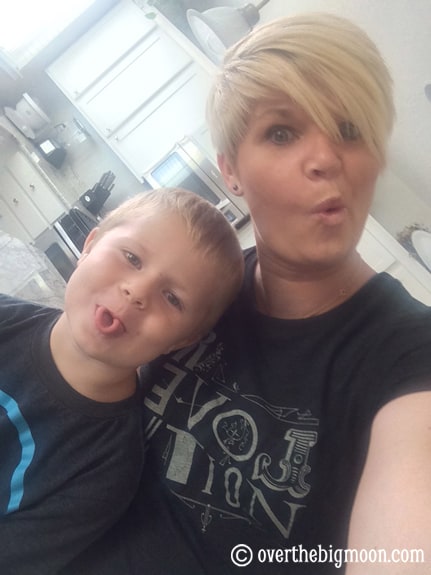 ---
Pam Dana
Pam is a stay at home working mama that enjoys all phases of life! Between her 3 kids, fur baby (a beyond cute Goldendoodle), wonderful husband, friends and working, she stays pretty busy! But, she is loving every aspect of her life! Here on Over the Big Moon, she loves to share DIY's, recipes, printables, organization tips and more!
---